The 2019 Spirit of Mazda award recipient will receive not only the accolade, but a scholarship valued at $2,500. Meet the 20 nominated autocrossers and 20 road racers. Voting begins.
Over the years, some outstanding representatives of the Spirit of Mazda (SoM) have been chosen as recipients of the monthly award. Among them are individuals such as Dave Wheeler and Jim Downing (pictured above).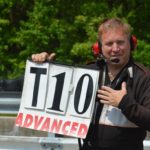 "This has been our most special award we have," commented David Cook, business development manager, Mazda Motorsports. "We are fortunate in our industry that we get to work with, year-after-year, truly wonderful people who have built their legacies in this sport. And in one simple moment," Cook continued, "this sentiment struck me. During the 2016 Mazda Racer Dinner at the SCCA Runoffs, we announced Jim Downing as a most recent Spirit of Mazda award winner. During the dinner, Jim shared stories about how the HANS device came to, among much more. Just after the dinner concluded, Dave Wheeler, a fellow SoM recipient and owner/operator of Advanced Autosports, and I started chatting.  I'll never forget this conversation because of how Dave said it. He turned to me and said, 'Listening to Mr. Downing tonight, seeing him part of the Spirit of Mazda family, I realized how significant it is to be part of it myself.'  Dave Wheeler was one of the most important and impactful people in our sport. A legend himself. When I saw his emotions and sentiment, I realized we truly had a special family and bond, forged to last forever."
The Spirit of Mazda award continues, transitioning into an annual one. And with this evolution has come a more significant prize for the recipient.

The 2019 Spirit of Mazda award recipient's prize: The overall winner will receive a $2,500 Mazda scholarship towards 2020 racing purposes. These funds can be used for any combination of Mazda competition or stock parts, SCCA or NASA entry fees, and Hoosier or Toyo Tires. In addition, the recipient will receive the 2019 Spirit of Mazda jacket.

The nominee selection process: Racers and team members have recommended numerous deserving racers for the award throughout 2019 to Mazda Motorsports. Working through these recommendations, Mazda Motorsports selected 20 brand advocates from the autocross community and 20 from road racing as 2019 Spirit of Mazda nominees.

The voting process and timeline to determine finalists and the overall recipient:
To select the six finalists: The two groups of 20 nominees will be kept separate at this first stage; voting will commence on Friday, January 3, and conclude end of day Wednesday, January 7, 2020.
To select the overall 2019 Spirit of Mazda award recipient: The top three vote-getters within each group will each move into one group of six finalists; voting will commence on Thursday, January 9 and conclude end of day Wednesday, January 15, 2020.

The seven principles to consider when you vote for a Spirit of Mazda nominee:
Integrity – We keep acting with integrity toward our customers, society and our own work.
Basics/Flawless Execution – We devote ourselves to the basics and make steady efforts in a step-by-step fashion.
Continuous Kaizen – We continue to improve with wisdom and ingenuity.
Challenger Spirit – We set a high goal and keep challenging to achieve it.
Self-Initiative – We think and act with "self-initiative."
Tomoiku – We learn and teach each other for our mutual growth and success.
One Mazda – We think and act with the view of "Global" and "One Mazda."
The view and vote for the 20 autocross nominees, click here.
The view and vote for the 20 road racing nominees, click here.
Over the years, notable legends in the world of Mazda Motorsports have been nominated and chosen as possessing the right character and the Spirit of Mazda, including Jim Downing, Daryl Drummond, Steve Bertok, Jonathan Black, Sarah Montgomery, Tom Fowler, Liam Dwyer, Johanna Foege, Sean Hedrick, John Mills, Alex Phelps, the late-Ann O'Malley, the late-Dave Wheeler, Jesse Prather, Mark Drennan, Eric Anderson, Selin Rollan, Chris Graham, Ademir Fedumenti, Preston Pardus, Deana Kelley, Linda Duncan, Julian and Brian Garfield, Justin Hille, Blake Clements, Chris Haldeman, Heath Patterson, the late-John Carter, James Wilson, the late-Glenn Phillips, Derrian Taylor, Charles Espenlaub, Tara Johns, Joey Jordan, Guy Ruse, Jonathan Goodale, Ara Malkhassian, and Luis Rivera.