Founder of MazdaMovement.com uses technology and social media to spread his love for the brand and sell a few cars in the process
Mazda and Mazda Motorsports fans who are active on social media likely have been exposed to Heath Patterson, whether they know it or not. The founder of Mazda Movement, he has thousands of visits to his Web site, nearly 10,000 fans on Facebook and more than 25,000 followers on Instagram. But he not only spreads the Mazda gospel by going to gatherings and motorsports events armed with cameras to produce plenty of stills and video, but also by making happy customers as part of the sales team at Classic Mazda in Orlando, Fla.
"I met Heath in Austin at a ride-and-drive event that Mazda was hosting for dealers at an F1 trip," says Chad Rogers, general manager at Classic Mazda. "He wasn't one of the dealers; he was just an individual who had started a social media Mazda page and he was a guest of Beasley Mazda. They had him filming and posting things."
But it wasn't the first time he had seen Patterson; Rogers recognized him because he had been to many Mazda events in and around Orlando, near Patterson's home in Sanford. As the two were talking, Rogers thought that maybe Patterson could do some things for his dealership. One thing led to another, and a few months later they were talking about the possibility of Patterson joining the sales team.
"He immediately became one of our top salesmen, largely through his social media efforts and dragging his own customers in from all over. He'd have people he sold cars to post their experience on Facebook, and one deal would lead to another. He was very knowledgeable – he had all the product knowledge and everything you need to be successful in sales. A year-and-a-half or two years later, we made him a team leader manager," Rogers says.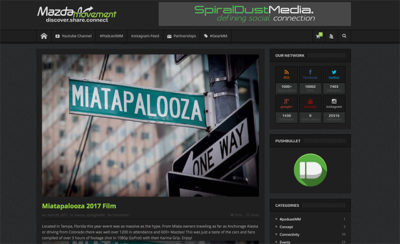 Patterson continues to run Mazda Movement, traveling to events near and far to chronicle the love of the brand. He recently went to Tampa to produce a video of Miatapalooza, a gathering of more than 600 Mazda owners with their cars. The dealership is happy to give him the time, because his activities promote the brand they are selling.
It's his social media production that has earned Patterson the Spirit of Mazda; specifically, Rogers says Patterson embodies the tenet of "Continuous Kaizen: We continue to improve with wisdom and ingenuity." Rogers explains that if someone calls about a car, Patterson will go produce a short video of the car to send them; after they buy, he produces a thank-you video. And Patterson's social media activities have garnered notice far and wide.
"Mazda is fortunate to have a huge family of very passionate enthusiasts across the globe. Over the years, Heath has put himself into the position of being a benchmark for what it means to be a leader in the Mazda community," says John Doonan, Director, Mazda Motorsports. "From enthusiast events to communicating about current products via social media, to attending race events and supporting our racers, he has been a shining light for the brand. And at his day job, he is an outstanding example of Mazda customer service as part of the sales team at Classic. All of us are pleased that the community recognizes what we see when it comes to Heath's contributions to the Mazda brand."
For creating a true Mazda Movement, Heath Patterson is a Spirit of Mazda award winner.