Champion autocrosser travels the country to compete, always seeking to improve her craft
There are those who seem to hit that right combination of having fun and taking motorsports seriously. Yes, it's supposed to be fun – why do it if it's not? But winning is also nice. Deana Kelley seems to have found the right mix to not only be one of those people who everyone likes to hang around with at an event, but also study the sport to become good enough to be a champion.
Kelley followed up her 2016 SCCA Solo National Championship in C Street Ladies with a second-place finish this year in her Miata. She ran a number of national-level Solo events, often driving herself across the country to compete. The fact that she does that while having fun and bringing enjoyment to those around her only adds to the appeal.
"One of the most interesting aspects about her is that she takes the initiative to travel all over the country, running more events than most," says her occasional co-driver Dave Ogburn III. "She does that with a lot of fun involved; she's one of the most fun people I've raced with and she probably has more friends in the paddock than anybody in the Solo scene. She's kind of like a light bulb – people are attracted to her."
Echoes fellow C Street competitor Ron Bauer: "Deana's outgoing, jovial and sarcastic personality is infectious, and not only made us fast friends, but is also endearing to everyone who comes in contact with her."
Deana and her husband have worked on developing their ND Miata into a winner, although not by following the path set by others. Rather, they've done their homework on car development and tire testing, as well as on the driving side.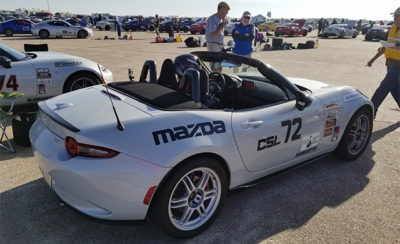 "I had the pleasure of co-driving with her this year and got to see first-hand how Deana and her husband Travis Kelley have applied Continuous Kaizen to making their ND battle-ready for Solo competition," explains Ogburn. "From the get-go, she wanted to work together and improve by reviewing data and video before and after each event – but this was not just a one-way street. Her extensive experience autocrossing the ND MX-5 helped me to adapt quickly and try to get the best out of my own performance. It is clear from her first- and second-place finishes the past two years at the SCCA Solo Nationals that she embodies the Challenger Spirit. Despite Solo Nationals ending only recently, I know she is already game-planning on how to improve her and her car's performance in 2018."
It's not only her desire to improve and having fun while doing it that makes her Spirit-of-Mazda worthy, it's that she also embraces the autocross tradition of lending others a hand when they need it.
"One of the biggest reasons she deserves this award is because of her willingness to help out where she can," says Bauer. "When I needed parts at the 2016 National Championships, she was the first to offer whatever I needed from her car, messaging me as soon as she heard about it. I can't think of a better person to present this award to."
Self-initiative, Challenger Spirit, Continuous Kaizen (continue improving with wisdom and ingenuity) and even Tomoiku (learn and teach each other for mutual growth and success) are all tenets of the Spirit of Mazda that Deana Kelley's friends and competitors say she embodies. For that, she is the Spirit of Mazda award winner for September.