Idemitsu Mazda MX-5 Cup Rookie of the Year is admired for his racing prowess and attitude
There's no doubt that Selin Rollan is a talented racer. He won the Mazda Road to 24 Shootout after finishing second in one of the most hotly contested Spec Miata races in Runoffs history. He then went on to win his second race in the Idemitsu Mazda MX-5 Cup presented by BFGoodrich® Tires, finish third in the championship and, of course, was named Rookie of the Year. But being a great racer isn't necessarily enough to be worthy of the Spirit of Mazda. There's more to it than that.
"There are a lot of things with Selin," says friend and fellow Spec Miata racer Preston Pardus, who beat Rollan at the Runoffs in 2017, but saw Rollan go on to win the MRT24 Shootout. "First, the person he is – he will help anyone. He's approachable; you can have a conversation about anything with him. His knowledge of cars – if you're talking about racing, he knows a lot. And when I was going through a difficult time, he was one of the main people supporting me."
Rollan not only races Mazdas, he sells them. Rollan works as a salesman at Classic Mazda in Orlando, Fla., home to another Spirit of Mazda winner, Heath Patterson.
"Being a Mazda salesperson, he's promoting the brand," says Sick Sideways team owner and Rollan's teammate, John Dean II. "He's more in the Mazda atmosphere than most of us, because he's in there every day trying to sell Mazdas. And he's very passionate about racing Mazdas and he's been doing it for many years."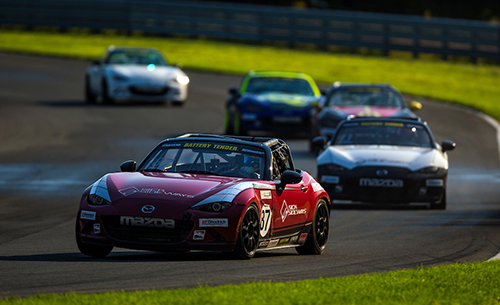 Dean says Rollan is aggressive on track and fun to watch, and inspires other drivers. He also says Rollan is cool under fire when the race isn't going his way – he just puts his head down and moves forward. The first pro race Rollan won was one of those. The team was late getting the car to grid so he had to start from the back on a wet track. Rollan drove through the field for his first professional win.
"He's got a strong mental character when it comes to stuff like that," says Dean. "I've seen him emotional now and then, but he deals with it pretty well. He moves off to the side and lets it go; he comes back and he's focused and goes out and drives fast."
Pardus echoes Dean's thoughts on Rollan's focus and ability. "There were a lot of times in Spec Miata where he might not have had the best handling car, or something was wrong with it, and he's able to put himself in a situation and get the job done," says Pardus. "At Indianapolis last year for the Runoffs, he started ninth and was second by the end of lap one. And there are many times in MX-5 Cup when he started at the back and drove through the field; he's just so good at positioning and situational awareness."
For Flawless Execution and holding up the principal of One Mazda, Selin Rollan is the Spirit of Mazda award winner for August.