Panic Motorsports tech has mastered the art of flawless execution
"He is the hardest working guy in motorsports," says Panic Motorsports owner Steve Bertok, without a hint of hyperbole. "You've heard the joke that every shop has that one guy who is filthy by 8:30 a.m.? That's Jonathan Black. He dives right into everything."
But it's not just enthusiasm and hard work that makes Black, Panic's tech and race strategist, worthy of the Spirit of Mazda winner – it's the attention to detail and making sure everything is done absolutely properly.
"He is hell-bent on winning," says Becca Bertok, Steve's wife and co-owner of Panic Motorsports, who has known Black since they were in seventh grade together. "You don't really see it in enthusiasm, but you see it in detail. He's very quiet and reserved, but he's going to make sure that whether it's Steve's or one of our clients' cars that it is done the right way, without question."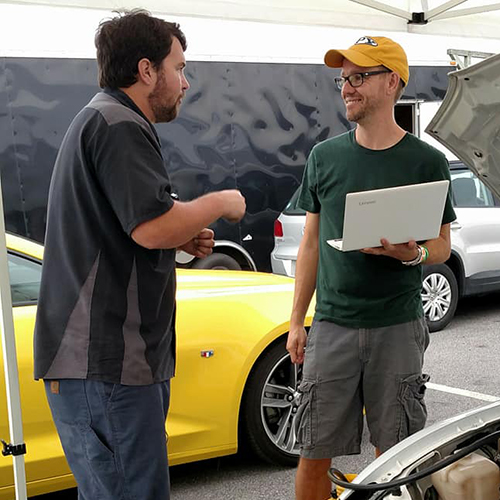 Black is not only a great tech, but a pretty good driver as well, running Spec Miata and occasionally Touring 4 in an MX-5. "Somehow he learns by osmosis, because for the little time he gets in the car, he's really pretty quick," says Steve.
That helps Black with chassis setup and data analysis, which are a couple of areas where Steve says Black excels. As in the other things, it just comes down to an excruciating attention to detail.
"He's got just enough OCD about him that he always does the job 100 percent," says Steve. "It's always the same way and repeatable and I know the job is going to be done right. He does all my data work and chassis setup, and the setups are always right. When it comes to data, he's always got data to share with customers and other people in the paddock. If you want a 2:21 lap or a 2:25 lap, he's most likely got data and video. He can help anybody at any level."
For Flawless Execution, Panic Motorsports' Jonathan Black is the Spirit of Mazda award winner for May.