Spec Miata racer and driver coach is the Spirit of Mazda award winner for January
There's no getting around the fact Blake Clements is a fast Spec Miata racer, but it's what he does off track that has earned him recognition as possessing The Spirit of Mazda. "He's a really good ambassador for Mazda," says Tom Fowler, owner of OPM Autosports. "He is heavily involved in Spec Miata both as a driver and as a coach. He's a very recognized name around the paddock, he's outgoing, and very passionate about Spec Miata and Mazda racing; and he's also very fast. We enjoy having him as one of our members and one of our customers because he does run up front and he represents us very well.
"He also goes out of his way to work with a lot of our people that are new to tracks or new to racing, and he does video and data with them. He does a lot of coaching – he coaches for myself, he coaches for X-Factor racing," Fowler continues. "I think at the Sebring Majors he had eight or nine customers he was coaching, all Spec Miata drivers. We had a couple of new guys that had never run Sebring before, and Blake will go out of his way to do some lead-follow with them on the first test day, look at some of their data ,videos and help them with some reference points. He's busy doing his own racing and data and working on setup with me, but he goes out of his way to help the new people."
Chris Haldeman, owner of X-Factor Racing as well as being the 2017 SCCA National Championship Runoffs polesitter in Spec Miata, credits Clements with much of his own success. Haldeman also says that he doesn't know anyone that would say they don't like Clements, although they may not like being passed by him. "I remember when I first came to the class, Blake was already on top of his game," Haldeman notes. "He would come by on a test day [so fast] he would pull the stickers off the car, and I aspired to race with him. I remember my first win was over him, which made it pretty cool."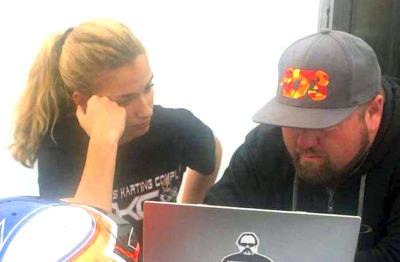 Clements does a lot of coaching outside of Spec Miata, in karting and other forms of racing, and he's constantly trying to get his pupils into Spec Miata. "He is always suggesting Spec Miata as a way for younger people to get into the sport," says Fowler. "As they move up from whatever they are doing – karts, quarter midgets, whatever – he knows it's a good step to get into Spec Miata and see how good you are at road racing. It's a wonderful training ground to see how good you are. He coaches a couple of pro drivers in Pirelli World Challenge and he tries to get them into Spec Miata for more seat time because he knows what good training it is."
Based on what his peers say about him, Clements clearly possesses many tenets of The Spirit of Mazda, from Continuous Kaizen to One Mazda. But it's his Tomoiku – learning and teaching others for mutual growth and success – that stand out over the rest.
"He has total dedication to the craft," says Haldeman. "He's with my guys at the track, working on making them faster, as late as 10 or 11 o'clock at night trying to get through everyone. He's fully prepared with binder, track notes, race videos. He has an amazing work ethic."