Having started racing at age nine, Texas-based racer Deriann Taylor, 20, has been dismissed by many throughout her career for being a female racer. But those who know her, know she is not only a multi-time championship racer, she embodies the Challenger Spirit. Now, more will know her story as the Mazda community voted her to be the person most deserving of the Spirit of Mazda award for the month of January.
Each month, our community nominates those who embody the core values of Mazda. Five finalists each month are determined, and the Mazda community votes who is the most deserving. Nominated for her Challenger Spirit, Ms. Taylor sets high goals and never stops challenging to achieve them.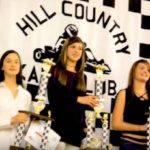 In 2005, Ms. Taylor, pictured center, started her racing career by claiming Rookie of the Year honors in the Hill Country Kart Club. The accolades only continued, winning the Yamaha Junior One championship in 2006; the Yamaha Supersportsman championship in 2007; the Tag Junior championship as well as the Region 4B Tag Junior Championship in 2008 and 2009; Southwest Roadracing Association Region 4B S5 125cc Junior Shifter championship; and in 2012, she competed in cars for the first time – ran four races in the Teen Mazda Challenge, Spec Miata Texas region, finishing 6th in the championship.
Ms. Taylor's championship winning ways continued in 2015 when she claimed the Teen Mazda Challenge crown, Texas region. With her on-track and off-track performance, she earned a nomination for the Mazda Road to 24 (#MRT24) Shootout.
While she has proven her meddle with her on-track championships, what differentiates Ms. Taylor from many other competitors is her Challenger Spirit, which some say is innate. When she was only 11 years old, she went to her first club race outside of her home track. When she arrived, she was told that she did not have the correct tires to participate in the event. She walked the track in search of old tires! As luck would have it, or we would argue as the luck that she created would have it, she found an old set of tires in the dumpster. Her father patched the tires and sent her out with the 8-11 year old competitors. On those patched, old tires, she won the race and set a track record for her age group! The officials told her that since her birthday was in December, she could run with the 12-15 year olds. So she did on the same set of tires, coming in P3 and setting another track record for that age group.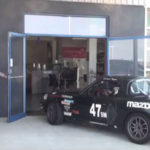 "Throughout my racing career, I have been dismissed simply because I am a girl," commented Ms. Taylor. "It has taken me a long time to earn respect. I have raced since I was 9 and have never looked back or veered paths. Nothing can stop me from reaching my goals." For your challenger spirit, the Mazda community commends you. Also, Mazda commends you for working with a Mazda dealership to get your Spec Maita race car on display in its store.
Her racing goals: "Continue up the MRT24 ladder, competing in the IMSA Continental Tire SportsCar Challenge by age 21," commented Ms. Taylor. With her spirit and fortitude, we won't be surprised if she is setting more records in the IMSA WeatherTech SportsCar Championship.