Five new Mazda team members were nominated for the Spirit of Mazda award for the month of November. Your votes have been tallied and the winner has emerged.
Mazda congratulates Tara Johns for being recognized by the Mazda Motorsports' community as the individual who is most deserving of representing the The Spirit of Mazda for the month of November. Johns joins seven other Mazda racers or team owners who have been selected since the Spirit of Mazda award commenced.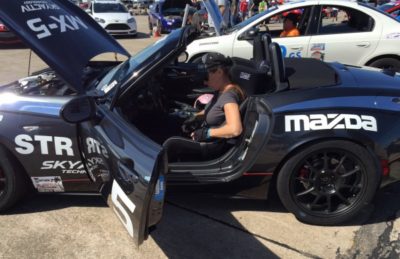 Selected by Mazda Motorsports and SportsCar magazine to help develop the 2016 MX-5 car for Street Touring R competition, Tara Johns has proven she has the talent behind the wheel; she had garnered four championships heading into the 2015 Tire Rack Solo National Championships. When she was nominated and then won the Spirit of Mazda award for the month of November, it was no surprise to us at Mazda. Johns co-drove the 2016 MX-5 with four-time champ Ron Bauer and Dr. Erik Strelnieks, who has more than a dozen Pro Solo Championships and more than half a dozen Solo II National Championships. To gain more insight into Mazda's core values that Tara Johns embodies, we turned to Dr. Strelnieks.
Tara embodies One Mazda, working exclusively with Mazda vehicles since she started racing in 2003. In 2015, she primarily motored her 1995 Miata R package, but piloted a 1993 2-Rotor RX7 in SSML, Dr. Strelniek's wife's 1993 RX7 3-rotor in SSML and the 2016 STR MX-5 exhibition car. In addition to this loyalty to driving Mazda's, which we truly appreciate, three more core values rise to the top.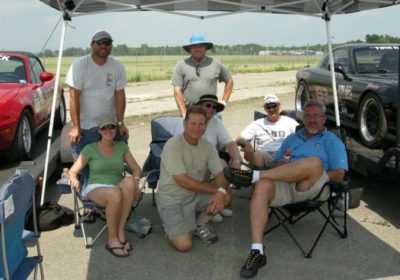 According to Dr. Strelnieks, "She always sets high goals by competing in classes that are the most competitive. She hoped to do that this year in SSML, but unfortunately, the class of five (three other Nationals Ladies Champions) did not come together. She's always displayed a high-level of integrity and this presented her another chance to show it. She had promised my wife that she would drive our car for the 2015 Solo National Championships; despite this lack of competitors in her class, not making it eligible for a National Championship, she honored her word to my wife and piloted it. This, of course, went against her competitive spirit. (Even though she could not reign in another championship, we too commend her for integrity.)
Johns also participates in the SCCA Street Survival program, teaching our young drivers to grow into competent and safe drivers on the road. Dr. Strelnieks and Mazda also honor her for representing Tomoiku – learning and teaching each other for mutual growth and success.
Related Content:
March Spirit of Mazda: Luis Rivera
April Spirit of Mazda: Ara Malkhassian
May Spirit of Mazda: Jon Goodale
June Spirit of Mazda: Dave Wheeler
July Spirit of Mazda: Tom Fowler
August Spirit of Mazda: Mark Drennan
September Spirit of Mazda: Guy Ruse
October Spirit of Mazda: Joey Jordan