S.A.C. Racing owner not only provides cars for champions, but he has raised a champion himself
Elivan Goulart knows quite a bit about what makes a champion. He's won SCCA National Championships in Formula 500, Spec Miata and STU, as well as the 2016 Pirelli World Challenge Touring Car A title driving an MX-5. He gives much of the credit for his success to the man who owns S.A.C. Racing – a man he also knows as his father – Ademir Fedumenti.
"He put a lot of time, love and effort into the sport, specifically with Mazda," says Goulart. "His place in history goes back to the '70s and '80s in Brazil. He's always tinkering to the last little bit to gain that extra edge while still playing by the rules, and we really respect him for that. He's a great man, always studying the sport, studying people, and he's done very well."
Anthony Geraci is a client of Fedumenti's, having raced with him since 2012. He echoes Goulart's sentiments about pushing the envelope – but always within the rules – and his love of the sport. "He loves to see the evolution not only of the car, but of the drivers; so when you talk about passion, it's at every level," Geraci says. "He's been a big part of the advancement in my racing career and I'm blessed to have him in my life, because he's not been just a business associate, he's become like family. I can't tell you how many races, and there's always been at least three teammates other than myself, and none of us have ever missed one race. The word is perseverance. No matter what, he got us on track. I've never experienced another team that has gone over and above like him."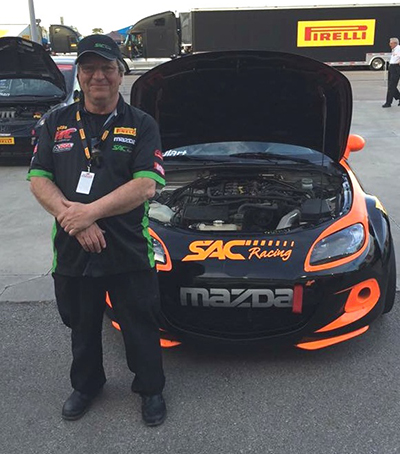 Last year, S.A.C. Racing defended its TCA championship, this time with Matt Fassnacht winning the title and Goulart finishing second, after switching from the NC MX-5 to the MX-5 Cup car. Not only that, S.A.C. won Crew of the Year and Team of the Year, despite Fedumenti suffering a stroke mid-season yet committing that the team would finish the year.
"That speaks volumes about stepping into a series and becoming a huge force to be reckoned with," says Goulart. "That was a high achievement and I think it brought a lot of joy to him. More importantly, though, being his son, he's also been a huge mentor to me, from karts all the way to racing, and it gave him a lot of joy to see the development. Of course, we have our family time that we argue back and forth, but always in the spirit of getting better. Together, it really helped us excel and move forward. And he just loves the Mazda brand."
It's one thing to be loved by family and the people who are driving for you. It's another to be loved and respected by competitors, and Geraci says that Fedumenti has achieved that.
"In every business, you're going to have that person that people love to tease – his peers, his competitors," he says. "But they also have mutual love and respect. They know he's the guy they love to tease, and he's the fighter that's going to come back at them. But he's well respected because he's the person they'll go to when they need something. Not just on the team level, but on a series level, you can talk to any competitor in the paddock and they won't have one bad thing to say about Ademir Fedumenti."
For Flawless Execution and Continuous Kaizen, Ademir Fedumenti is the Spirit of Mazda winner for February.