Young Runoffs champion is well liked by everyone in the paddock
Not many outside of the Southeast had heard of Spec Miata racer Preston Pardus, but the 2017 SCCA National Championship Runoffs at Indianapolis Motor Speedway certainly changed that when he walked away the champ after a thrilling battle that involved, among others, Selin Rollan, Chris Haldeman and Michael Gagliardo. But while he unequivocally proved his driving chops with that performance, it's his attitude outside the car that makes him popular in the paddock.
"That kid doesn't have an enemy in the world," says Jim Drago, who rents a car to Pardus. "He's got a great personality, really nice – almost too nice. He gets along with everybody and I don't think there was anyone that wasn't truly happy when he won, because he's a really good kid. He's been moving up and up. Ironically, he's never won a Majors race and he's never won a Super Tour race. So his first real win was at the Runoffs."
The past few years have been tough on Pardus, as he fought a battle with cancer. To come out on the other side of that and take on some of Spec Miata's best, and win, is testament to a lot of hard work.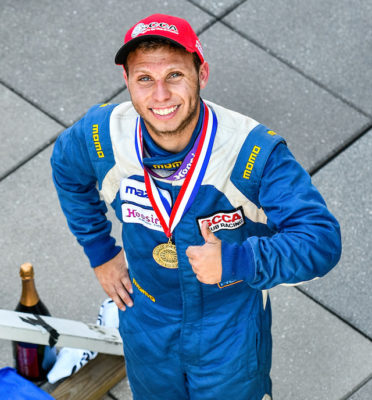 "The list of qualities that embody the Spirit of Mazda…Preston Pardus already has all of them," says friend and fellow SM racer John Davison. "The hard work and dedication that he and his family have put in over the past couple years has really come to fruition in what most would say is his breakout year in racing. In 2017, he earned his first SCCA Majors podium, which helped propel him to become the SCCA Runoffs champion at Indianapolis Motor Speedway. His skills behind the wheel, however, are only just a part of what make him a deserving Spirit of Mazda winner. He is a true champion both on and off the track."
Davison echoes much of what Drago has to say about Pardus, who went a long way toward earning his "P-Money" nickname at the Runoffs. That includes his likability and popularity.
"It would be difficult to find one person that has anything against Preston," adds Davison. "He is a role model, a good person and a loyal friend to many. Even at just 20 years of age, he handles himself with more class and maturity than most people I have ever met in my life. He is always willing to go out of his way to help out another competitor with tips, video and data analysis, setup advice, and more."
That indicates that Tomoiku – Learn and teach each other for mutual growth and success – is one Spirit of Mazda quality that stands out with Pardus. So, too, is Continuous Kaizen – continue improving with wisdom and ingenuity. "He's very methodical," says Drago. "He makes very few mistakes. He takes to coaching really well – I've been helping him with strategy, when to be aggressive. He's constantly improving himself."
Davison says Pardus, who has a 2015 MX-5 as his daily driver, also represents Mazda well by having a clean, well-prepared car and with the great video edits he puts on his YouTube channel.
For all he's accomplished, and in doing it with style and friendship, Preston Pardus is the Spirit of Mazda award winner for September.