E Production RX-7 racer has helped a lot of people get into racing, and stay in racing, thanks to his desire to share the sport and Mazda.
Guy Ruse grew up in Daytona Beach. His father raced on the sand long before Daytona International Speedway was built – in a truck, no less – and organized boat races on Lake Lloyd after the speedway was constructed. Yet, although he has been to every Daytona 500 and has raced himself in a variety of racing mediums for years, including sportsman stock cars all around Daytona Beach and the last three decades in SCCA, Ruse had never raced at the famed circuit until the 2015 SCCA National Championship Runoffs, when he had the opportunity to race his E Production RX-7.
So it was only appropriate that, at the Mazda dinner on Wednesday night of Runoffs week in Daytona Beach, he was named the latest winner of the Spirit of Mazda award.
It's not so much that despite his family being involved with racing in Daytona since its earliest days and he finally had the chance to race there that he was honored, although it made the whole thing pretty cool. No, it's more about the selfless commitment he's shown to other Mazda racers, and would-be Mazda racers.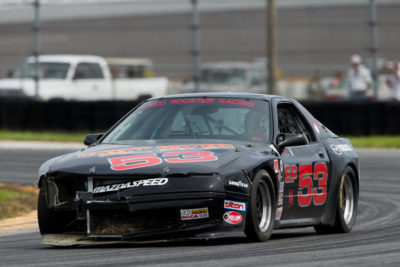 "I started racing sports cars, and the first thing I raced was a Mazda," Ruse says. "I joined MAZDASPEED in 1987; my original member number is 1000. I build Mazdas for other people as a hobby. I also loan my car out – I have two of them."
That's right. Ruse has two Mazda race cars, the E Production car and an Improved Touring S car. "I loan out my ITS car. I loaned it out this year to a guy that had never raced before. He's got two RX-7s and he joined SCCA and started doing the PDX and Time Trial stuff and he said he'd love to try racing. So I said, 'Take my car.' He went out and raced and he's in love with the sport now." He also loaned it out the prior year to a racer whose car broke and he needed something in which to qualify for the Runoffs. One of the people he loaned a car to, David Caswell, was the person who nominated Ruse for the Spirit of Mazda.
While Ruse has spent most of the last three decades racing Mazdas in SCCA, he and his family have a rather interesting racing past. His father had a gas station in Daytona Beach, right by Bill France's – as in the promoter of racing on Daytona Beach, the founder of NASCAR and Daytona International Speedway. Ruse's father, George, was talked into racing on the beach. His father also started the Halifax Outboard Racing Association, which promoted boat races on Lake Lloyd in the DIS infield. His mother was a nurse and helped staff the hospital at DIS in its early days. Guy Ruse's uncle built sportsman cars, and Guy and his brother raced them at small tracks around Florida.
Now, in addition to the SCCA road racing, he also does some desert racing and is a five-time SCORE Baja 1000 class champion in the 2/1600 class. He's enjoyed his years racing Mazdas and looks forward to more.
"I've been racing SCCA since 1987 and always in Mazdas. I got to hang around and do things with all the Mazda people – Jim Downing, [Roger] Mandeville…. I help people build Mazdas. I got involved with the MAZDASPEED program and I've tried to help them out, and tried to use them to help other Mazda people. I've helped many people build motors – I was one of the only people in the Boulder, Colorado, area that had all the machines and equipment to rebuild a rotary engine, which I still do for people that don't want to spend thousands and thousands of dollars," he says
Keep in mind, Guy Ruse has a day job as an electrical engineer. The rest of this stuff is just a hobby, one that he enjoys sharing selflessly. If there is a greater representation of "One Mazda," it's hard to think of what that might be.
Related Content:
Spirit of Mazda: Guy Ruse
Spirit of Mazda: Luis Rivera
Spirit of Mazda: Ara Malkhassian
Spirit of Mazda: Jonathan Goodale
Spirit of Mazda: Dave Wheeler
Spirit of Mazda: Tom Fowler
Spirit of Mazda: Mark Drennan