During the month of May, we received submissions for April's Spirit of Mazda Award. Coming in from Mallory, Alex Phelps' wife, is a story we believe many Mazda racers can appreciate. Alex's dedication and self-initiative (one of the seven core traits representing the Spirit of Mazda) for the betterment of the sport has helped earn him Mazda's appreciation and recognition.
Story told by Alex's wife, Mallory:
Can you remember what you were doing at the age of 26? Maybe in school finishing your degree, starting your first true career job, or even still figuring out what you wanted to do with your life? My submission for the Spirit of Mazda Award, Alex Phelps, is light-years ahead of any of those possibilities. In fact, this driver and fabricator has already helped change the face of motorsports.
As a third generation driver and second-generation fabricator, Alex has achieved more in his short career than most begin to dream of. Born into the original family of Hard Dog Fabrication, he was raised in Mazda Miatas and roll cages. His racing career began in his grandfather's Showroom Stock B 2007 MX-5 at the age of twenty after convincing his family to join him and return to racing after a six-year hiatus. Alex co-drove the first season as the primary driver in the South Eastern Division's Endurance Championship Racing (ECR) series with his grandfather Steve and father Craig. Including a race at VIRginia International Raceway with all three generations in the car, Alex went on to sweep the season, secretly running under his grandfather's name who planned on retiring from racing after the season. Steve Phelps was crowned the ECR champion in SSB for 2007 and, as a reward, left the MX-5 to Alex.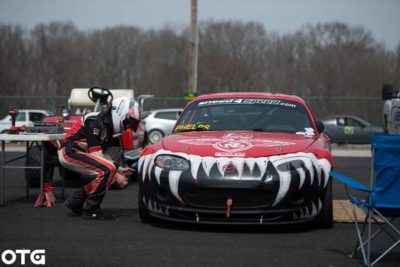 After the 2011 season, Alex continued as the only Phelps left in racing for 2012 and refused to give up on his racing dream. To help offset the costs of the season, Alex drove the MX-5 from his home at VIR, where he worked at the time, as far as seven hours away to Roebling Road. In fact, while caught in a torrential downpour on the way home from Roebling, he called out to nearby friends in order to find somewhere dry to stay. This included a high school friend that he now finds himself lucky enough to call Mrs. Phelps. Determined to carry on the family tradition of the previous generations both being Southeastern SSB champions, Alex went on to claim both the South Atlantic Road Racing Championship (SARRC) and ECR titles in the last year of the Showroom Stock B class. As an added bonus to a dream year, the North Carolina Region SCCA voted him its "Driver of the Year.
After that Alex, converted the car into an STU lightweight, and, with the thought of being the "little fish in the big pond," hand-painted monster teeth across the front bumper. Now known as "Sharkbait," the combination of car and driver has claimed STU titles for SARRC and ECR in 2013, took a year to run NASA for work purposes in 2014, and returned to SCCA in 2015 to reclaim both SARRC and ECR titles as well as another North Carolina Region Driver of the Year award. Most recently, Alex and Sharkbait have been through a total rebuild for STU in hopes of competing at Mid-Ohio for the SCCA National Championship Runoffs in 2016.
(Alex, pictured far left.) Don't let me fail to mention the amount of hard work and dedication Alex has put into his career as a fabricator. It started from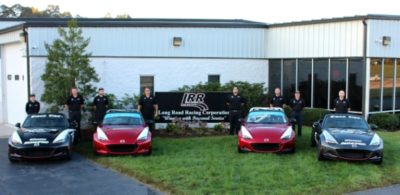 his days as a child in the original Hard Dog Fabrication shop and continued after his family sold the business. He helped his father with custom roll cages at Craig Phelps Custom Metal, and has since been determined to raise the bar on safety and welding standards in modern roll cages. Spending years doing production work, custom cages, and many other parts, Alex was finally able to live out his dream of building a car for Mazda thanks to longtime family friend Glenn Long of Long Road Racing. Move forward to just over a year later and Alex is Head of Fabrication at Long Road Racing and has been one of the very few people to have his hands on every single MX-5 Cup Car in existence. His obsession with detail and holding himself and his team to higher standards are evident in every one of the GMX-5 cages. In order to adhere to a tight production schedule, Alex would refuse to stop at normal hours to ensure completion of as many cars as possible for the debut race at Mazda Raceway Laguna Seca, all while continuing to build and race his own car.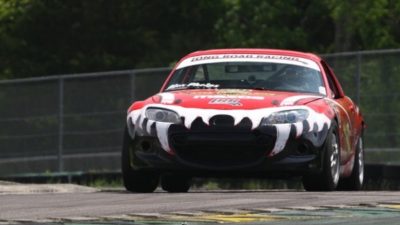 If you are ever able to do so, take the time to talk to him and just listen to the passion and hunger he carries for this sport. He lives for it. My words will never do justice to the work ethic and drive that he possesses or to the devotion to making his dreams a reality. Financially, he is not the typical candidate to go racing, but that will never stop him. He relentlessly chases a dream that most fall short of, but I fully believe he can make it a reality. I am nominating him for this award not because he needs recognition for all of the work he has put in, but because he has EARNED it.