Mazda MX-5 Cup and Continental Tires SportsCar Challenge team owner is regarded as family by many in the paddock.
Quick, name one driver that has competed in almost every Mazda MX-5 Cup race on the series' history? Who has the most top-five finishes? Hint: the answer to both questions is the guy that has the largest fleet of cars in the Idemitsu Mazda MX-5 Cup Presented by BFGoodrich® Tires paddock. There are more cars with that big ALARA Racing "A" on the hood than any other in any given MX-5 Cup field, and one of them will be driven by owner Ara Malkhassian, perhaps the series' biggest supporter and cheerleader.
That's one reason Malkhassian has been selected as embodying the Spirit of Mazda, the second recipient of Mazda Motorsports' new award, after Luis Rivera.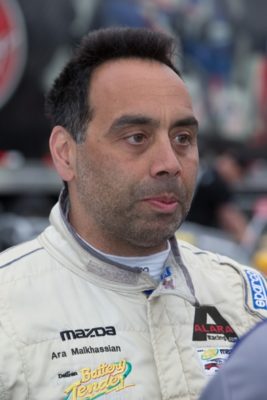 Racing aside, though, "He's one of the most charismatic, eclectic people in the paddock. If you know him, you love him. He's excitable and loves to laugh," says Justin Piscitell, who not only finished second in the 2010 MX-5 Cup driving for Alara Racing, but also recently won a Continental Tires SportsCar Challenge Street Tuner pole in Alara Racing's MX-5 at Mazda Raceway Laguna Seca. He also coaches Alara's drivers.
"He really helped me out career-wise when I raced with him," says Piscitell. "I did my first season of pro racing and he really showed me the ropes and helped me out and he was the world's greatest teammate. When I wasn't racing and started getting into coaching, he kind of helped me put my name in the heads of some of his drivers and that was how I was able to get a coaching career going. He lets me work out of his trailer, I get to coach all of the guys that drive on his team. He's never asked me for anything in return. He's family, and to everyone else in the paddock, he's family as well."
In addition, he's a big believer in Mazda. In the ALARA Garage, Malkhassian's storage facility for high-end and classic cars, sits a corner full of Mazdas – Malkhassian's personal collection.
He's also a fierce competitor, in a relaxed sort of way. Christian Szymczak won the 2013 MX-5 Cup with ALARA Racing, and wanted to continue with the team enough that he sat on the sidelines for a year as Malkhassian put his Continental Tires SportsCar Challenge program together.
"I jumped through hoops to stay with this outfit," says Szymczak, who finished third at Mazda Raceway with Piscitell. "I deferred my scholarship money because I didn't want to drive for anyone else. I knew this was a winning outfit and I didn't want to go anywhere else. That's what I think of him. I was willing to do whatever it took to drive one of his cars."
Szymczak joined ALARA after running the 2012 season with another team, when Malkhassian approached him and asked Szymczak to join his team.
"I knew he was running a solid outfit. his cars seemed really good and I liked the atmosphere. He's a really honest guy, he's a really nice guy. He wants to win – everybody on the team wants to win – but at the same time he's also more relaxed.
"Ara is running that kind of ship," Szymczak continues. "He knows how to get the right crew people together and the right people on the car. That's what we've done with [the Continental car], that's why it's so good. It's him knowing the right people to hire, the right engineers, and putting all the right pieces together. And at the same time, being a real cool guy to be around."
That attitude, and the Challenger Spirit of setting high goals and challenging to achieve them, are why Ara Malkhassian embodies the Spirit of Mazda.