Engine builder, car builder, racer – Jesse Prather does it all with honesty and integrity
In racing there are drivers, there are mechanics, and there are car and engine builders. Some try to do it all, but very few are successful – much less to the level of winning three SCCA national championships and building cars and engines that have clinched many more titles. But Jesse Prather is that person.
Driver, mechanic, car builder, engine builder, parts engineer – he's done it all. Not only did he win three straight national championships – two in F Production and one in E Production – in a Miata he built, his father won two more GT-Lite titles in the same car. Last year at the Runoffs, Jesse had 32 engines competing; two of the engines he built were in national championship-winning cars. He also made the debut of his Tom Thrash-tribute EP RX-7 that year, driving the first-gen car to a third-place finish.
But there were many years in between his championships and last year that Jesse didn't compete at the Runoffs. The reasons were simple, notes his father Kent Prather, himself the winner of eight SCCA national championships: He felt he needed to take care of his customers.
"I've learned you have to have integrity," says Kent. "I'd say I taught him integrity and honesty. Because sometimes you make mistakes, and when you make a mistake, you can remember that mistake and tell the customer that mistake, and you don't lie to them, and you work out what it's going to take to fix it. Also I'm very particular as a machinist. There's no question he learned all that and improved on it."
Notes friend and engine customer, as well as 2017 F Production National Champion Eric Prill: "While Jesse still competes at a national championship level, his focus is on the success of his customers. Like any other driver, he's working to stand on the top step of the podium every time he races, but there's nobody more excited than Jesse when one of his customers achieves their goal, even if they beat Jesse to get there."
Last year at the Runoffs, Jesse took time out of his own car prep to put on a seminar for the new EGMT transmission from Mazda Motorsports, answering questions as he tore it down to change gear ratios. But the questions didn't stop there.
"We have a picture … he goes to put the transmission in the car, and his legs are sticking out and there are three other sets of legs sticking out too," laughs Kent. "They're not in there helping him; they're in there asking questions. In all of that, he never gets rude or flustered, which is a characteristic I don't have. He's got that, 'I'll take care of my customer before I take care of myself' attitude."
Jesse worked with his father for years, including the period when he was winning at the Runoffs. Eventually, Prather Racing, Kent's company, ran out of space and Jesse Prather Motorsports was born.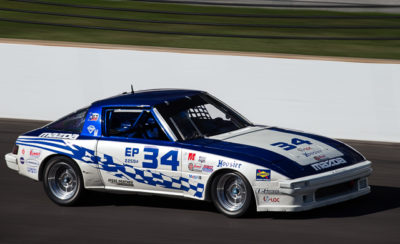 Not only has Jesse turned into one of the top engine builders for Production-class racers in the country, he builds great cars, too. He has designed several parts – such as a coilover setup for first- and second-generation Miatas, and an oil pan baffle – that are sold through Mazda Motorsports. Those parts are tried and tested on his own racecars.
Even his own championships are the result of making a customer happy, Kent explains. The Miata in which he won those titles was originally built for a customer. "The customer didn't like the car," Kent explains, "So we bought it back for what we had in it. We only had this two-week period to qualify for the Runoffs, but [Jesse] raced the four races and qualified. Building that Mazda Miata for that guy out of a 300,000-mile car taught us a lot. Then we got successful in the Miatas and other people wanted our stuff."
Those national championships wouldn't have come without driving talent, another quality Kent says Jesse has in spades, nurtured through years of growing up at the track watching his dad and others compete. Kent says racing is like playing a piano – there are a lot of people who will practice for years and they're never going to get it – Jesse, however, is a natural driver.
Obviously, being named a recipient of the Spirit of Mazda award goes beyond any one discipline in this case.
"He likes to play hard, he likes to work hard, and he has tremendous integrity and honesty," says Kent. "I think it's the honesty that separates us from others – sometimes bad stuff happens and you just have to take it like a man and take care of it. That leads you to doing good work."
For hard work, for excellence, for honesty and integrity, Jesse Prather was voted by the Mazda Motorsports community as the July winner of the Spirit of Mazda.