The legacy of Glenn Phillips will forever live. He the February 2016 Spirit of Mazda award recipient – posthumously. Below is his heartrending story told by Rick Paul.
Two Days in May: A Race Team's Extraordinary Effort to Honor Their Team Leader
Very few of us are lucky enough to really see the sport of motor racing from the inside. Whether it be F1, NASCAR, IndyCar or a dirt track near you, it is nearly impossible to explain the addiction, the passion and the drive that powers the drivers, mechanics, owners and sponsors. At face value, it makes no sense – dangerous, time consuming, expensive, frustrating and often without much material reward. Sometimes it seems that the number of visits to the bank are only exceeded by the number of visits to the hospital.
For over 20 years my son Tim and I have been lucky enough to be involved… no, committed to the sport of motor racing. Committed like a pig is to breakfast. We have been beaten, busted, crashed, broke and hurt. Somehow it doesn't matter. The only thought is how to regroup, rehab, improve, and get back to the track. It is an endless cycle of obsession. A HOPEFUL obsession. Always looking to move up the grid; make the perfect lap; beat your best time; make it flat through turn 1. Baby steps – hopefully forward, but sometimes backwards; sometimes landing on your ass; sometimes on your head; and always the impatience to do it again; start over; find a ride; find the money – never give up.
Behind the pit lane, however, there is something more than piles of tires, tool boxes and trailers. Behind it there are the most capable, most interesting and motivated bunch of characters ever assembled. I say that without reservation. Surely lots of other activities and sports attract fine people and fans. But none that I know who accept the full measure of commitment and risk required in racing. Hogs not hens, tireless in their work. The car breaks or wrecks? It gets fixed before the next session. All day. All night. A 700 mile non-stop drive or just a short ride back to the hotel at 2a.m. Pre-dawn warm ups, where the smoke from the hot headers rises into the darkness, and the exhaust gasses sting your eyes underneath the canopy. Freezing or sweltering makes no difference. No 9-5'ers allowed. An exclusive club.
And these folks never complain. They get little of the attention, but are responsible for so much of the success in whatever form it takes. Sometimes just getting to the grid is heroic and invigorating. A quick repair, or an all-night rebuild. They simply take in stride.
We have experienced this unrelenting commitment at every level – from karting, to dirt ovals, to asphalt bullrings, to the finest road courses in North America. Same story. Wonderfully talented people who share the dream and do the work to make it happen. Sharing ecstatic successes and devastating disappointments. And it's not just podiums or poles, although we have had our share. No, the dream is achieved by being involved with the friends and competitors you meet along the way – the mechanics; engine builders; coaches; sponsors and supporters who make it possible. Not to mention family – who have tolerated the obsession and suffered along with us – and sometimes against us – on many an occasion.
But this story is about a particular man. A man who embodied all of the above and then some. A guy who became a close personal friend. A mentor to my son. A man revered by all who knew him. A man with no quit, who laughed at every obstacle. Glenn Phillips owned and operated GTP Motorsports in Candia, NH. He was the perfect package – experienced; patient; demanding; comical; capable and… committed. Even in a sport FULL of can-do types, Glenn was special. Nothing was too difficult, or God-forbid, impossible. He wore his heart on his sleeve and took an interest in racers and teammates beyond the race track. To call him a business owner, a team owner, an engineer, or a crew chief doesn't do him justice. He was all that and more. A repository of vast race car knowledge. He knew the car setups for every track and had a story from every one of them too. A man who knew and appreciated the history of our sport and was passionate about its future. Who loved the old timers and the young hopefuls in equal measure.
Their passion was his passion. I trusted him with my son's life. And then he would pull your pants down…
But this story isn't really about all the things that Glenn was, or what he meant to us. This is the story of just two days at Watkins Glen International in May of 2015. Two days that we – and a hundred others – will never forget. Two days we wish didn't mean as much as they do. Watkins Glen International. Dear Old Watkins Glen. Glenn's favorite track in the world. We'll call it Glenn at the Glen.
Glenn had been sick for half a year – prostate cancer that had spread. Nasty, invasive and impossible to get a hold of. Glenn had lost his wife Mary to cancer just a few short years ago. Now the fight was his. He was worried. And sick. And tired. He was exhausted from the fight. But he told me, "If cancer is gonna kill me, it is gonna have a hell of a fight on its hands." No idle threat – man, he fought hard. There were treatments that made him ill. Random, system failures that knocked the hell out of him. Trips to the ER and sometimes a hospital room. None of us could know what he must have endured. And always there was the hope and prospect of a remission; a wish for more time; a chance. "If I can just make it a couple of years there are lots of new treatments on the way," he said. He worried about his family. He worried about his friends and his racing family. He would call me sounding desperately tired and sick and then proceed to discuss ideas for the next race for an hour or more. Ways to make Tim go faster. To just GET to the next race. It was his tonic.
As Glenn got weaker, we missed a few races. We concentrated on our Mazda MX-5 Cup program; partly because we knew Glenn was in trouble; partly because we knew we couldn't effectively run the F2000 car without him. Nor did we want to. In April of 2015, Glenn told us he wanted to make the Watkins Glen F2000 Championship Series race in May. He timed his treatments so that he might have the strength to make it to the track that weekend. The #06 Van Diemen had sat untouched since Glenn had engineered and manufactured us a podium at that same track in October of 2014. Not much was going to be done to the car before the upcoming race weekend. It was going to be "run what you brung."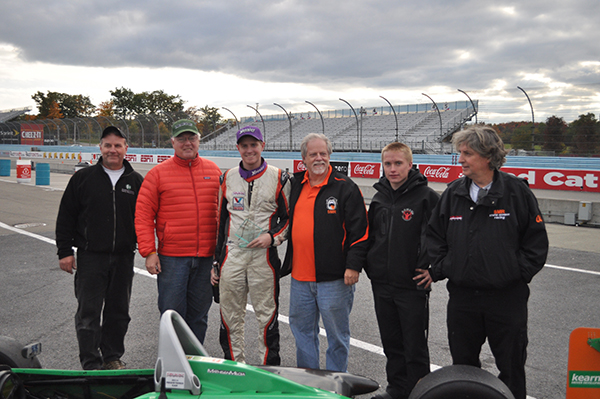 As we got closer to May, we really didn't know if we could pull it off. But the F2000 Series folks were behind us 100 percent. Friends and other teams gave us everything we needed to get to the race. We rolled the car out on Thursday afternoon and on Friday morning we tried to get the cobwebs out. Tim was focused and unusually quiet. Jim Kearney was making sure Tim was mentally ready for the task at hand. Matt McDonough brilliantly stepped in to engineer and crew chief the car; ADSA Wright was there; ANZE suspension was there, and many more. And we all wondered – will Glenn make it?
Sure enough, mid-morning on Friday here comes Glenn riding into the paddock in a friend's brand new Porsche. He slowly exits the car, visibly tired and maybe a little hesitant. Perhaps worried about what the reception will be. Yet, it doesn't take long for the concern to disappear. The paddock is a family compound. A circus family perhaps, but a family nonetheless. Most everybody knows Glenn has arrived. Happy faces, hand shakes and good wishes turn to laughter and gentle insults. Glenn brightens and laughs – but he is here for business and starts guiding Tim's attempt to win the pole position. Tweaks and adjustments. Private conferences with Matt and Tim. Some flying laps and more tweaks. Tim and Glenn are nose to nose, discussing what the driver needs to make the car faster. Glenn is Glenn. He laughs at himself when he says to me, "I think I went the wrong way on the shocks – I am all 'messed' up!" I laugh along with him as I help him over the pit wall. All is well. We get the car into the top 6 in final practice whittling away the deficit. Not bad for a tired car, a rusty driver and a team leader who is running hard on empty. The practice day ends with Tim and the team yearning to find a little something extra in qualifying the next morning.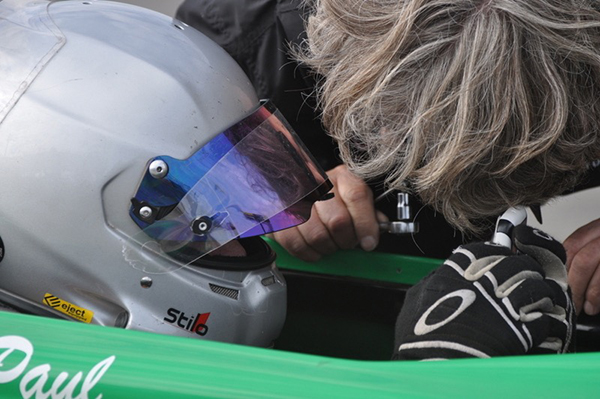 Glenn has done all he can do. He knows that waves of nausea and exhaustion from the chemo are coming any hour. He thinks he can hold out for a team dinner before he needs to head home to New Hampshire and fight another battle. The folks at the Seneca Lodge are cajoled into loaning us the backroom in the pub -the famous Seneca Lodge of Formula One and Indy car fame. Where the ghosts and trophies of the greatest drivers and teams in the world share the bar stools with the current crop of hopeful Stewarts, Donahues, Andrettis and Foyts. They are there. You can feel them.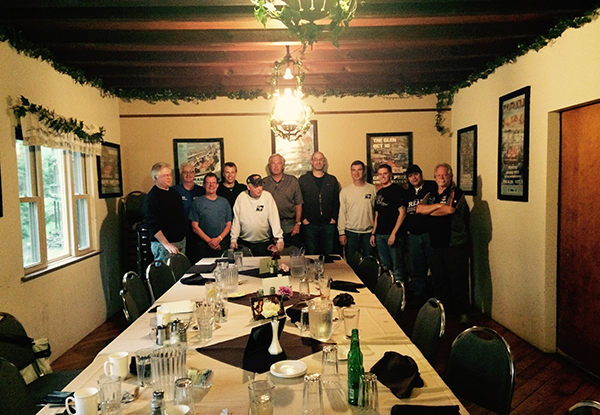 A dozen or more of Glenn's racing family fill the room. Pitchers of beer and stories. Even though Glenn is exhausted, he is energized and sparkling as he tells some old yarns, and some I have never heard before. Many can't be repeated in public – at least among "normal" people. The laughter is loud and long. It goes on for several hours. We are in the right place, at the right time, with the right people. People stop in to say hello to Glenn and add a detail or some color to the conversation. It is a beautiful evening.
And then – it is time for Glenn to leave. Time to get back home and get ready for the next desperate clash with cancer. He has a five-hour drive back home in the Porsche with Nathan Ulrich. They need to get home as quickly as possible. Glenn was proud of the fact that he been able to drive the car for awhile on the way to the track earlier in the day, AND that he gotten a speeding ticket that he said, "I'm not going to worry about." As he left he told us he would be on the phone with us for qualifying in the morning and would help in any way he could. He would be on Race Monitor. A gentle bear hug and off he went. We retired to the bar for another beer.
Saturday morning dawns damp and drizzly as is the norm for WGI. The discussions center on rain tires vs. dry and appropriate chassis set ups for the changing weather. Will it stop drizzling? Will it dry during qualifying? Isn't that the sun peeking through the clouds behind us? Nothing unique about these discussions at Watkins Glen – at least there is no snow in the forecast. Has anyone talked to Glenn yet?
We knew he is back at home monitoring the timing and scoring. Some phone calls are made to confirm our choices. In the end, Matt and Tim decide to go for a full, dry setup. Maximum effort – a one time attempt to get it exactly right. Jim Kearney has Tim mentally primed and focused on an aggressive and mistake free attempt to squeeze EVERYTHING out of old #06. We don't have the best car, but we can compensate with a perfect set up, a perfect run and all risk accepted. The track is wet – no doubt about that. But it seems to be drying. As qualifying proceeds, Tim is able to bounce around the top three or four – perhaps on sheer force of will. Now first! Then P3 again. Changes. Now P2! Everyone is in the moment. The time sheets show the top cars swapping best times lap after lap after lap. Kearney is out back by the Bus Stop watching and encouraging Tim via radio through that tricky and slick section – noticeably faster now, but still P2. Pit. Another change.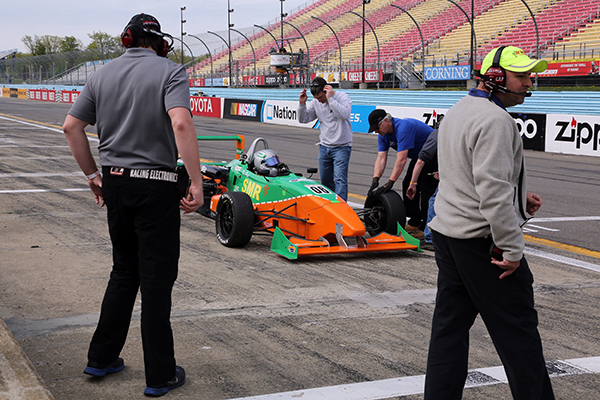 Now time is the enemy. A decision is made to take ALL the wing out! It will make the car faster in a straight line, but sacrifice cornering stability. He has fallen to P3 sitting in the pits while the changes are completed. It takes what seems to be an eternity to finish the work. Front wing adjusters refusing to line up smoothly. The clock is ticking down. The track is drying and times are coming down. It is now or never. There is only enough time for one more flying lap. Tim leaves the pit and heads down the track onto Glenn's favorite turn on Glenn's favorite track. I can feel him watching the Race Monitor. We can all feel his spirit. This is going to be it. All or nothing. The driver knows what is at stake. We hear from Jim that Tim has gone through the Bus Stop crazy fast. Maybe so fast that it will cost him time through turns 8-9. The checkered flag is out. Only a few cars left on track. We can hear the wail of Tim's car approaching the final corner and then we see him come on to the front stretch-engine screaming and wet spray still flying up behind the car. He looks like he is using every inch of the track, nearly up against the wall on his left. He flies under the waving checkers. We all look down at our screens waiting for the update. He flashes past us. A second or two drags on forever while the Race Monitor updates.
And then… Pole by 1.6 seconds! Impossibly fast! As I look up I see the most amazing wide-eyed exultation on every face in our pit. They have done it! They have put Glenn on the pole at the Glen. We know he is beaming back in Candia, NH. This was for him. This was for Glenn. Glenn at the Glen again. We will NEVER forget that moment. That day. That result.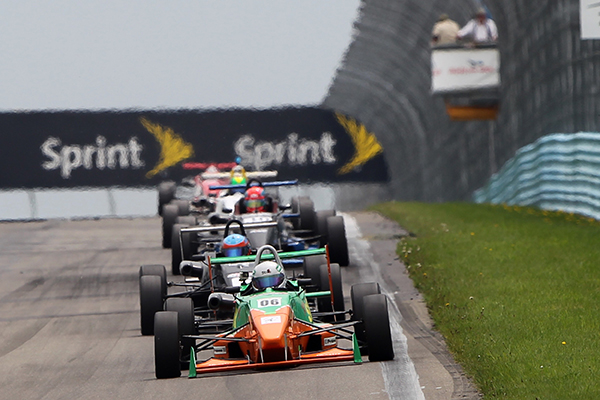 The rest of the story is that Tim ran 5th in the race. But 5th was just a postscript. Old #06 had given everything it had. Tim had given everything he had. Team GTP had given everything it had. Everyone had been bacon not eggs. But Glenn had left nothing on the plate for himself.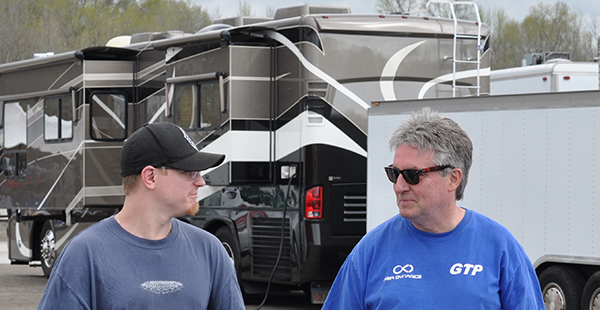 On June 13, 2015, Glenn Phillips passed away on his 61st birthday. He had made it back to his favorite track. And he was on the pole. As it should be. As it was for two days in May at Watkins Glen International.