If Dos Equis wants a racer to be its most interesting man in the world, it may choose Charles Espenlaub.
Charles Espenlaub is:
A. A fierce competitor in anything he drives.
B. A great driving coach.
C. An entrepreneur making the racing world a safer place.
D. A man with impeccable integrity and desire for continuous improvement.
E. All of the above.
The answer is obviously E, which is why Espenlaub has been selected as embodying the Spirit of Mazda, becoming the latest recipient of the award and following Tara Johns.
While Espenlaub has not been piloting a Mazda lately, he is as ingrained in the Mazda family and motorsport as anyone. He is the only person who has had a hand in selecting every Mazda Road to 24 (MRT24) Shootout winner from Andrew Caddell in 2006 through Glenn McGee this year. Espenlaub cares about the sport and mentors those who desire and put the hours in to learn.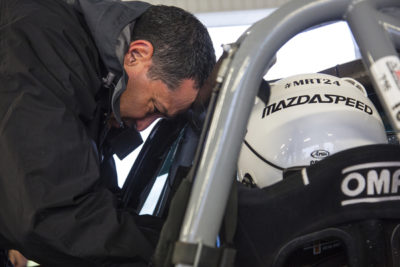 With Mazda having invested over $1,000,000 in the MRT24 Shootout, it has sought industry experts to make the best selections. This takes judges who continually assess, measure, and make adjustments. It also takes people who bring experience, wisdom, and personality to the often tense process of selecting one $100,000 scholarship winner from the finalists. Charles Espenlaub embodies these traits. He makes certain the winners are fast, professional, and when possible, unflappable during what is often the most stressful day in their racing career to date. For these reasons and more, he has been the staple of the judging panel since the inception of the Shootout
On the track, Espenlaub was a key Mazda team member who delivered race wins, podium finishes, and contributed to manufacturers' championships in both the SPEED World Challenge Touring Car and Rolex Grand-Am GT Championship. He never forgets his grassroots beginnings and continues to race at events such as NASA's 25 Hours of Thunderhill.
While racing and coaching keeps him busy, Espenlaub is the CEO of Safecraft Restraint Systems. After his race car caught fire during his run in the 2009 25 Hours of Thunderhill race, Espenlaub documented the occurrence to share how others could avoid a similar fate. For more on this, read the article, "Fighting Fire," by Charles Espenlaub.
It's Mr. Espenlaub's integrity and kaizen principles of continuous improvement in all aspects of his career that creates a special place in the hearts of the Mazda Motorsports' family and the entire motorsport community. The Mazda family recognizes these attributes and accomplishments, and thanks him for them.