Spec Miata racer took on World Challenge Touring Car B in a Mazda2 with impressive results.
Nominated by his peers as one of five for the Spirit of Mazda award in October, the Mazda community has selected Joey Jordan as the most deserving. Winning four races in five starts is about as close to the Spirit of Mazda principle "Flawless Execution" as it gets. That's what Jordan did when he contested the final two weekends of the 2015 Pirelli World Challenge Championships driving the CorkSport Mazda 2 in Touring Car B.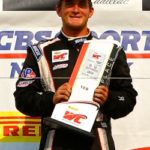 The team didn't start the first race at Miller Motorsports Park due to a broken axle, but landed on the podium in the second race at the Utah track, Jordan's first. From there, he won every race to close out the season, including sweeping the weekend in the finale at Mazda Raceway Laguna Seca. The kind of performance along with a dedication to Mazda throughout his so-far-short racing career are the things that earn one Spirit of Mazda recognition.
"Having known Joey since he was literally knee high, it is incredible to have seen him grow into a fine young man," says Charles Espenlaub, owner of Safecraft Racing and a professional racer who spent some time racing for Joe (Joey's father) and Jim (Joey's uncle) Jordan's Protomotive race team in World Challenge. "He is the spirit of Mazda, a truly good guy that is enjoyable to hang with in the paddock and a fierce competitor on the track. His ability to 'flick the switch' from easy going to focused driver and executing his job flawlessly on the track makes me proud to have him in the Mazda family."
Joey Jordan had been racing in Spec Miata before his World Challenge starts, and attributes racing in that competitive class to his performance in the TCB car. Of course, Jordan kind of grew up in the sport as well, and likely picked up a trick or two along the way.
"As long as I can remember, I've wanted to be a race car driver, and I watched my dad and uncle racing, and they were always racing Mazdas," Jordan says. "So I was kind of born into it. I remember coming to all these World Challenge races when they were running Touring Car and wanting to be that driver, wanting to do this. It's pretty cool when you have these little kids running up and wanting autographs from you…that was me. It's a little bit of a shell shock, dream-come-true kind of deal."
If his performance in World Challenge TCB at the end of the season was any indication, he better get used to signing autographs. In the meantime, he says he'll continue to race Spec Miata when he can, and you can bet he'll continue to demonstrate the Spirit of Mazda along the way.
Related Content:
Joey Jordan: Groomed in Spec Miata
Spirit of Mazda: Guy Ruse
Spirit of Mazda: Luis Rivera
Spirit of Mazda: Ara Malkhassian
Spirit of Mazda: Jonathan Goodale
Spirit of Mazda: Dave Wheeler
Spirit of Mazda: Tom Fowler
Spirit of Mazda: Mark Drennan