Lately, you've heard a lot about Sarah Montgomery. She's a marketing student at the University of Louisiana at Lafayette; a philanthropist; an accomplished clarinetist and singer; and a professional race car driver who earned the 2015 Idemitsu MX-5 Cup presented by BFGoodrich® Tires Series' Spirit of Mazda award for her Challenger Spirit. Respect and admiration are growing for her outside of even those circles, however.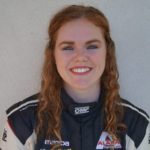 For the month of March, our entire Mazda racing community was asked to vote for who it believed was the most worthy of receiving the Spirit of Mazda award within the entire Mazda motorsport community. It shouldn't be a surprise that Sarah Montgomery took the honor.
In "Why Race MX-5 Cup: Sarah Montgomery," Montgomery spoke about her dream of racing and her path to making it a success. Not only did her story impress us at Mazda, but the local news station in the Monterey, CA area that interviewed her during her 2016 Idemitsu MX-5 Cup debut at Mazda Raceway Laguna Seca this past weekend. (See the interview here.)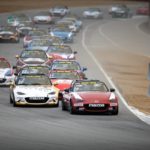 Montgomery is poised to have a strong season both on and off the track with ALARA Racing. But what is impressive and resonates with so many is not just how quick she is getting behind the wheel, but her attitude, determination and work ethic off the track.
For the month of March, Montgomery was nominated for the Spirit of Mazda award due to her Challenger Spirit and Integrity. In a sport that control is not always in your hands, though you would like it to be and you may think it is, one's attitude is a key pillar to sustainable success. Some people have it; some don't. It's the same for racers, but arguably tested more often and in extreme environments. So for those who meet the 21-year old from Lafayette, La., it is easy to see that her attitude differentiates her.
Montgomery has the "Southern Charm" that is infectious. Her positive and outgoing spirit not only keeps her lifted, but those around her. And when the going gets tough, not only does she get going, those around her rally for her. They want to work hard for her and do. No matter the situation, she continues to push and so does her team. Sarah Montgomery is the ultimate challenger and the recipient of the Spirit of Mazda for March 2016.