Lifelong Mazda enthusiast and accomplished Mazda racer enjoys helping others at the track.
As a kid in Puerto Rico, Luis Rivera was working with Mazdas before Mazdas were even sold in the United States. As his son, Tony, says, he "bleeds Mazda blue."
Brand loyalty, however, is not the reason Rivera is being hailed as possessing the Spirit of Mazda. That spirit encompasses seven major traits that all lead to working together in the same direction:
Integrity
Basics and Flawless Execution – making steady efforts in a step-by-step fashion
Continuous Kaizen – continuing to improve with wisdom and ingenuity
Challenger Spirit – Setting high goals and challenging to achieve them
Self Initiative
Tomoiku – Learning and teaching each other for mutual growth and success
One Mazda
These are the traits that Mazda the brand and Mazda Motorsports aim to achieve, so it only makes sense to recognize them in others who celebrate the brand and its products, often by racing those products and proving their worth in competition.
"There is a special spirit here at Mazda that I have never experienced in any other organization," says John Doonan, Director of Mazda Motorsports. "It is the spirit and will to never stop challenging ourselves to be better. It is the spirit to always operate and compete with integrity, while striving for excellence at all times. Throughout our company history we have 'taken a road less travelled' and that makes us unique. Whether it was a dedication to making the rotary engine relevant for road car use or our new approach to building efficient and safe road cars through SKYACTIV Technology, Mazda has been a consistent leader.
"It is with these key attributes in mind that we initiate the Spirit of Mazda Award for dedicated and loyal racers that emulate what the Mazda brand and products stand for day after day. That is why we started the Spirit of Mazda initiative. We are fortunate to have so many amazing individuals that embody this spirit. It is important to us to recognize these members. Each month, the Mazda community will be able to nominate those they feel demonstrate these qualities. We will select one each month to honor him or her," Doonan continues.
In Rivera's case, one attribute in particular stands out – Tomoiku. Rivera has been a student and teacher of Mazda for his whole life.
"He's a very quiet person," says Tony. "He just kind of does his own thing and he's really good at helping people out even if they don't have the money to pay him. He's just been around it a long time."
Luis now has his own Mazda racing support shop in a converted barn in Angleton, Texas, not far from the MSR Houston racetrack, where he works on customers' Spec Miatas. He raced Showroom Stock Miatas in the early '90s along with Randy Pobst, Michael Galati and John Saucier, and now races an ST Lite Miata while building a '91 RX-7 for STU. As Tony points out, though, it was long before racing entered the picture that Luis fell in love with Mazdas.
"He grew up in Puerto Rico. I believe his first job was at a Mazda dealership in the '60s. His first car was a Mazda 1000 Coupe. When the R100 came out, he was the first one who grabbed an R100, put a 12 A in it, and he would go beat up on everybody at the local dragstrip with a little rotary car," Tony says.
Luis was in high school when he was working at that Mazda dealership after school, and he was the only one there that really understood the new rotary engine, so it fell on him to make sure they were ready for delivery to customers. When he moved to the States, he worked as a tech and service manager at Mazda dealerships in Southern Florida and was always the go-to guy for the rotary engines. Then he opened his own independent Mazda shop that he ran for three decades. Tony says he's now semi-retired, enjoying his own racing and taking care of a few customer cars.
His own racing came fairly late in life, about the same time Tony – who has had his own career of note both as a driver in club and pro racing and as an engine builder, technical director of SCCA Enterprises, driving instructor and race team manager – caught the racing bug.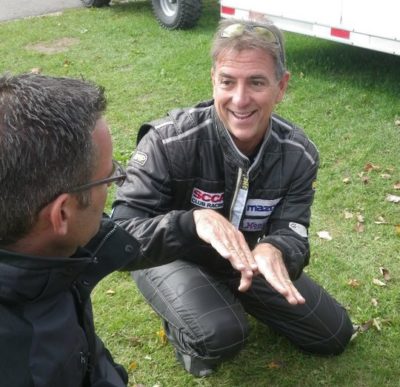 "He had a family to raise," Tony says. "I think he and I actually started racing right about the same time. He had customers that had road race cars, but he could never go to the track. I came back from spending a weekend with one of the customers at the track and I told my Dad he had to find a way to do it. It was a lot later in his life that he finally got the opportunity, once the kids were older and out of the house."
That desire to give continues, notes Luis's wife, Bonnie. "He is the first one at the track – or by phone – to help out another racer that is having car trouble, almost always before even getting to his own car to prep or repair for a race," she says.
For putting family first, for taking care of customers and always being ready to lend advice – and being the very epitome of Tomoiku – Luis Rivera is the first Mazda racer to be honored with the Spirit of Mazda.