Joey Jordan had an impressive run in Touring Car B at the end of the 2015 Pirelli World Challenge season; he attributes much of his performance to racing in Spec Miata.
Joey Jordan grew up in racing, and in Mazda racing in particular. His father Joe and uncle Jim both worked in the automotive industry – Jim had a stint working at Mazda North America – and ran a race team that competed in SCCA Pro Racing's World Challenge Touring Car Championships with Mazda6s and elsewhere as well.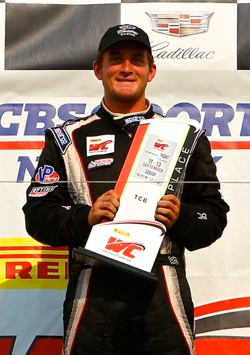 The young Jordan had shown promise in Spec Miata in NASA's Teen Mazda Challenge. But when he stepped into the CorkSport Mazda2 to race in Pirelli World Challenge Touring Car B at the end of the 2015 season, his performance was still a revelation; he started five races, scored five podium finishes and four victories.
"I definitely attribute it to how I developed in the racing world, which was in Spec Miata and the Teen Mazda Challenge," he says of his success. "It's such a great little car and the series is so competitive. It is an amateur series, but any of those top 10 guys in Spec Miata could come here and do what I'm doing. It's such a great way to learn. It's prepared me; I took a step up to the next level and I'm already being successful."
Much of that, he says, comes down not to learning how to go fast, but how to go fast well.
"What separates me and the other drivers, that I've noticed, is not raw speed. If you look at the qualifying times, we're pretty close. But if you look at the last part of the race, I'm able to continue to carry that speed and keep consistent, which is exactly what you learn from Spec Miata. In Spec Miata, you've got to run 10-tenths qualifying laps every lap of the race if you want to win. I'm more used to that. In the beginning of the race, I'll be right there with everyone; but toward the end of the race, I'll stretch it out. That's something I really got from Spec Miata," he explains.
Jordan notes that he intends to keep racing Spec Miata wherever he can, and says that new SM racers should stick with it and keep trying to get better. "Once you get to the top, you'll be able to run up front anywhere."
He's proven that with his performance in World Challenge TCB. And the story of how he got the opportunity is a lesson in resourcefulness as well.
"We've known Derrick Ambrose and CorkSport for a while; we've towed his car around while he was chasing the Runoffs. We kind of worked out a deal where both of us needed infrastructure to help him get to Daytona. We helped him out with that, so it's kind of like a friendly, long-term relationship where it worked out best for both of us. I'm promoting his company pretty well here, getting these wins, and hopefully I'll help out his company," Jordan says.
Jordan doesn't have 2016 plans nailed down, but you can bet that whatever it is, his Spec Miata experience will help him make the best of it.