With the four regional events of the GT-3 Challenge presented by MPI complete, a new top-two in the point standings has emerged: Paul Young of Commerce Township, MI and Ken Nelson of Novi, MI, respectively.
Crowning the Champion: Young and Nelson head into the final Round of the season at the SCCA Runoffs with the inside line to earning the grand prize of the GT-3 Challenge Series – a coaching day with 2x Daytona 24 Hour champ and former IndyCar competitor Max Papis – along with additional prizing. . If a Mazda racer wins the championship, he/she will earn 100 Mazda contingency points valued at ~$1,500 to acquire parts (see page 18 of the Mazda contingency awards document here.) And if he or she claims the Runoffs championship, he or she would earn an additional $5,000 in contingency awards from Mazda. (Points for the overall championship are distributed based on the SCCA system: 25 for first; 21 for second; 18 for third and so on. Runoffs counts at 4x the points of regional GT-3 Challenge races; racers may only accrue points from the best four regional GT-3 Challenge race finishes plus the Runoffs.)
While the championship is still up for grabs at the Runoffs, the Ave Motorsports United Challenge, noted below, is down to a competitor vote between Young and Nelson that will take place at the Runoffs. (Racers will submit their silent votes to Mazda Motorsports at Mazda Motorsports' trackside support trailer – paddock location: N-1033.)
For the betterment of the GT-3 class, eight other racers join Young and Nelson by earning Mazda's GT-3 Challenge Tow Fund Bonus (this is in addition to Mazda's standard tow fund). Referencing the point standings below, Young to Guy Laidig (the top 10), are eligible to submit a contingency awards claim to Mazda within 45 days following the Runoffs, regardless of the make of vehicle.
$200 (if towing 351-500 miles to Road America)
 $300 (if towing 501-750 miles to Road America)
$400 (if towing 751-1,000 miles to Road America)
$500 (if towing 1,001-1,500 miles to Road America)
$600 (if towing 1,501+ miles to Road America)
Note:
Mazda racers: Please submit your claim by filling out the claim form

here

.
Non-Mazda racers: Please mail your W-9 and an invoice to Mazda Motorsports, Attn: Contingency Requests, 1421 Reynolds Ave., Irvine, CA 92614

Trophies: The top five racers in the final point standings will each receive a trophy designed by MPI. They will be shipped direct to the racer.

The partner contributions:
MPI: Max Papis coaching day with the GT-3 Challenge champ (2019: Mazda racer Jeff Dernehl). Max worked with Jeff during the test day at the Hoosier Super Tour Road Atlanta event July 24, 2020. (The value of a coaching day with Max is $10,000.) MPI also provides the trophies, which will be awarded to the top five racers in total season GT-3 Challenge points (see below for points calculations.)
AiM Sports: Three $500 gift certificates. Last year, it was a Solo 2 DL and a SmartyCam. Due to AiM's expansive product offering, AiM wanted to open it up to give the racer any choice he or she desired. Also, with participation increasing, more offerings were important to AiM.
Hoosier: One set of race tires. Hoosier tires helped Jeff Dernehl win the 2019 Runoffs and GT-3 Challenge championship, and is supporting many others racers with its offering.
Goodyear: One set of tires for the daily driver. Goodyear is known to provide a very competitive race tire – as 8x SCCA Runoffs National Champion and 2x Le Mans competitor Michael Lewis proves each time he wins on them.
Ave Motorsports: Thanks to Tony Ave of Ave Motorsports, the racer who attends the most 2020 GT-3 Challenge races, including the SCCA Runoffs, will receive $1,000. Fitting is that the tie breaker would be a vote among the GT-3 Challenge competitors, selecting the person who works hardest to rally the other racers. And, of course, Tony withdrew his name from the pot. But we at Mazda Motorsports did decide to call it the "Ave Motorsports United Challenge."
Penske Racing Shocks: One $500 gift certificate – for product or service. This adds to the considerable number of certificates Penske is providing Mazda racers in Spec Miata and Spec MX-5.
Bell Racing Helmets: As technology continues to develop, helmets often do more than just protect. Each raffle winner will receive 50% off any Bell helmet, making this prize very valuable.
Mazda Motorsports: Each driver in the top 10 of the Challenge points standings entering the 2020 SCCA National Championship Runoffs, regardless of make, will earn a tow fund bonus to compete in the Runoffs. Michael Lewis, for example, earned $600 for his Buttonwillow performance. (He is also eligible for Mazda's Runoffs tow fund bonus). Every Mazda racer who finishes in the top 20 in a GT-3 Challenge race earns between $150 and $300 (on top of Mazda's standard GT-3 contingency awards). The GT-3 Challenge National Champion, if a Mazda, earns Mazda $1,500 worth of product (parts or merchandise from MazdaCollection.com). And, Mazda ensures all racers, regardless of make, earn a raffle prize (token of appreciation) at each event they attend
Mazda racers are also eligible for Mazda's Contingency:
U.S. Majors contingency payouts: 1st = $600, 2nd = $350, 3rd = $150, 4th =125, 5th = $100
Runoffs race payout: 1st = $5,000, 2nd = $2,500, 3rd = $1,500, 4th = $1,250, 5th = $1,000
Runoffs tow fund: up to $600, which is in addition to the Tow Fund Bonus outlined above,
Majors or Regional championship payout
Per-race GT-3 Challenge bonuses: 1st = $300, 2nd = $275, 3rd = $250, 4th = $225, 5th = $200, 6-15th = $175, 16-20th = $150)
Note: Mazda's GT-3 contingency awards at GT-3 Challenge events are not subject to reductions regardless of the number of racers.
GT-3 Challenge presented by MPI Schedule:
Rounds 1 & 2: Buttonwillow Raceway Park, SCCA Hoosier Super Tour, February 21-23
Rounds 3 & 4: Michelin Raceway Road Atlanta, SCCA Hoosier Super Tour, July 25-26
Rounds 5 & 6: Road America, SCCA U.S. Majors, August 15-16
Rounds 7 & 8: Pittsburgh International Race Complex, SCCA Hoosier Super Tour, August 28-30
Round 9: Road America, SCCA National Championship Runoffs, October 3-11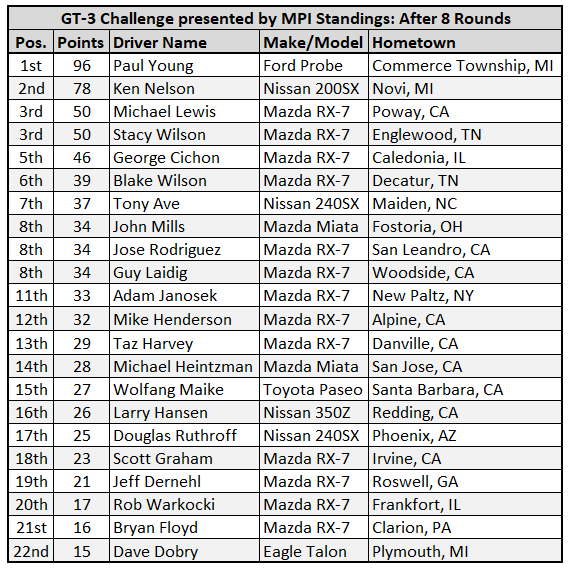 Building Momentum
2019 saw GT-3 up more than 30% in SCCA U.S. Majors participation; 2020 started off with great success (double digit racers at Buttonwillow Raceway in February). The question is whether the momentum returns in the second half of 2020. The partners have remained resolute.