Mazda's new contingency points can be used to purchase items from the Mazda Collection
As a general rule, Mazda racers are a proud bunch. Whether they are racing Spec Miata, Super Touring or have Mazda power at their backs in formula cars and prototypes, they like to fly the Mazda and Mazda Motorsports colors proudly. With Mazdas new contingency points bonuses, racers can acquire competition parts, Mazda apparel or merchandise.
"For many years, we've heard our racing customers and their requests for motorsports apparel," explains David Cook, Manager of Business Development for Mazda Motorsports. "At many of the events we travel to and support, such as the NASA Championships, the SCCA Runoffs and Solo Nationals, we would bring swag to give to our customers. But we didn't have an established program where any customer at any time could purchase exactly what they wanted, for themselves or as a gift. Now we've got it with the Mazda Collection and mazdacollection.com, which can also be accessed through MazdaMotorsports.com."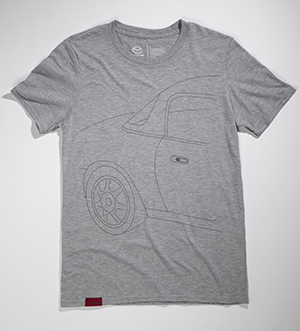 The Mazda Collection is a range of higher-end apparel themed around Mazda models and Mazda motorsports' activities, ranging from Spec Miata to the current Daytona Prototype international program to the 24 hours of Le Mans-winning 787B. There are two lines – Motorsports and Essence, both featuring a range of t-shirts, polos, sweatshirts and hats to cater to nearly every Mazda enthusiast.
"Because of the interest in the apparel and merchandise, we are adding it to the offerings for those who earn Mazda contingency points," says Cook. "They can apply those points to competition parts for Miatas, to apparel, to the merchandise, or a combination of all three. We want to give more choices to our customer – the more options the better."
Which items will be eligible for purchase with points can be seen on here, on pages 28-43. And with it, Mazda racers can show their pride at the track or during the week. That, in itself, is a point of satisfaction for the Mazda Motorsports team, notes Cook: "We're proud when they wear their Mazda gear."