Penske Shocks and Mazda Motorsports have once again teamed up to deliver a professional race quality damper at a cost-effective price for Mazda racers.

Feature to benefits: The new single adjustable shock for the NA/NB Miata offers 16 clicks of adjustment that allow you to tune the compression and rebound, while using the same performance parts as all other Penske Shocks lines of performance shocks. This adjustability allows the racers to tune their shocks to fit their feel, as well as to adjust for track to track, or weather differences.
Who is this shock for? These shocks will be a great addition to your track car, or race car, and they can even perform dual street and track use for customers.
"This is a continued evolution from what we (Mazda and Penske Racing Shocks) learned during the Spec Miata shock development," said Josh Smith, Technical Development for Mazda Motorsports.  "We have built on these developments, along with those from Spec MX-5. We are additionally working alongside SuperSpec Cup teams and Flyn' Miata to develop (including on-track testing) this single-adjustable package for the first two generation Miatas."
Penske Advantages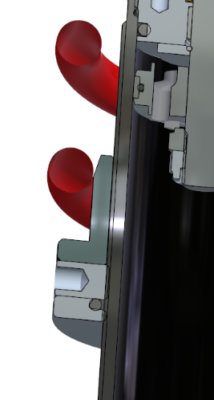 Uses existing Mazda upper mount with simple modification
Billet aluminum components
Rebuildable
Consistent performance
Hard chromed steel shaft provides strength and low friction
Proper bump stop that prevents abrupt damper bottoming
Durable Delrin spring guide that protects the body while keeping springs properly aligned throughout travel
Race-spec spherical bearing allows for freedom of motion
Same great features as the Spec Miata threaded body shocks:
Eliminated a separate coil-over sleeve to integrate it into the shock in order to 1) eliminate the spring contact/wear on expensive components and 2) improve heat dissipation.
Reduced wear. The coil-over shock allows for the proper amount of clearance between the spring and more expensive aluminum components. Because the ride height adjustment threads are machined directly on the shock body, there is increased clearance to the spring. The spring is also properly guided by a plastic component, which is more typical in motorsports. The slippery plastic component is meant to properly guide the spring coils as the suspension compresses. This smooth operation reduces wear and provides smoother spring operation for better performance.
Improved heat dissipation. The elimination of a secondary threaded ride height collar covering the body of the Penske shock allows for better heat dissipation. The extra thick aluminum collar is like wearing a winter coat in the summertime, increasing running temperatures, and potentially causing the shock oil to break down faster. More consistent performance and longevity should result from the more efficient design.
Integrated a new ride height adjustment system to offer more accurate ride height adjustment:
The new, integrated ride height coil-over system provides a more positive, accurate method of adjustment. The first version by Penske Racing Shocks (i.e. the two-piece collar system) allows for the potential of ride height adjustment error as there was potential for the collar to rotate during adjustment. The integrated coil-over system is standard in motorsports because every turn of the ride height adjuster results in an accurate, repeatable spring preload. Previous adjustment equaled 0.125" of vertical movement per turn; the new coil-over system in 0.100" per turn.
Added self-locking hardware to remove the complication and hassle of locking screws:
The included Penske ride height adjusters include tool-free locking features to simplify adjustments. Adjusting ride height has been made easier by quickly unlocking and re-locking the adjuster without tools.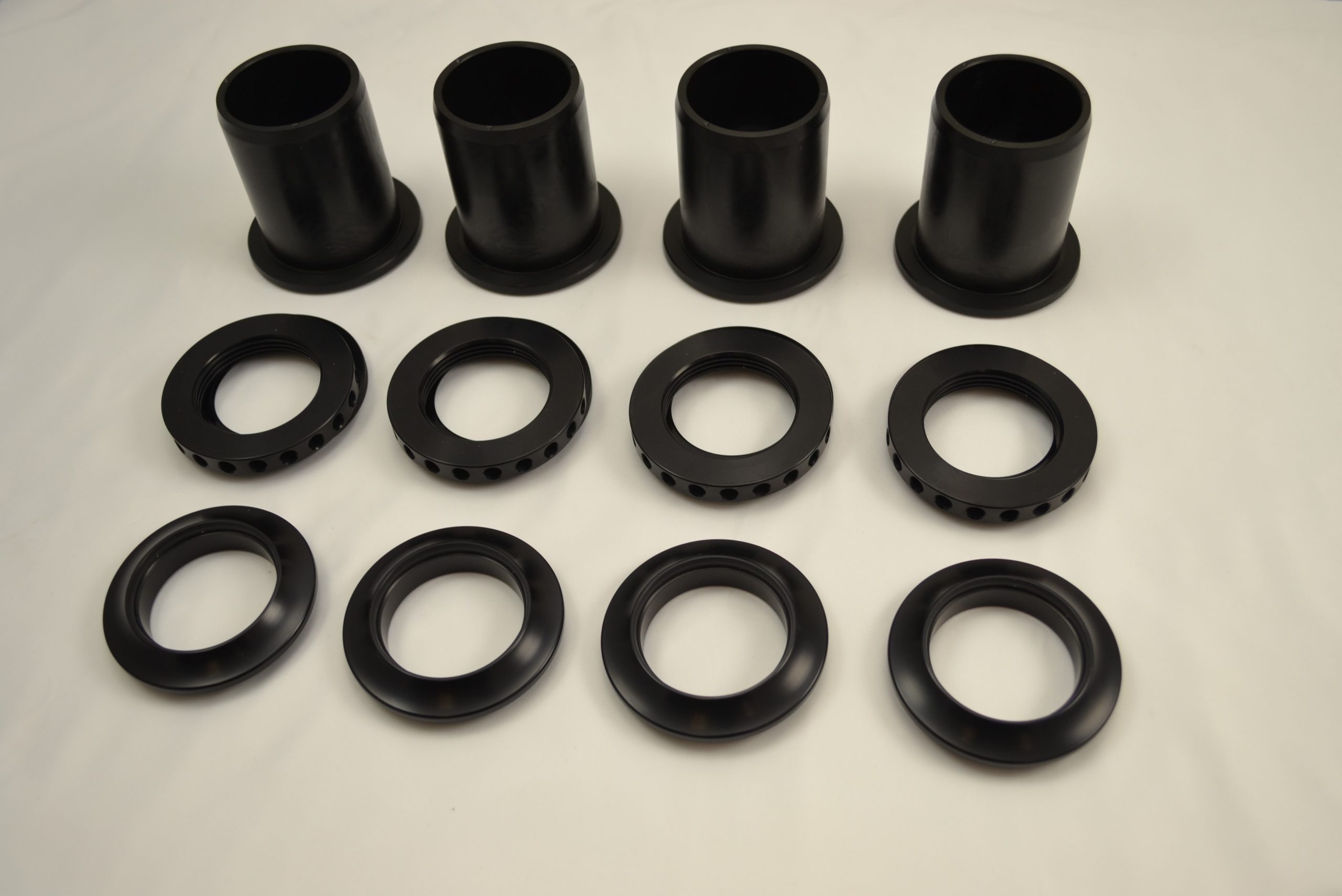 Shock & hardware part numbers:
Single adjustable front shock – 0000-04-5275-SA
Single adjustable rear shock – 0000-04-5276-SA
Top Mount kit – Penske Racing bearing – 0000-04-5283
Top mount kit – Penske street Rubber – 0000-04-5284
NB top hat machined to 15/16" – 0000-04-5280
Spring hardware kit 2.25" – 0000-04-5282
Spring hardware kit 2.50" – 0000-04-5281
Spring options: (5" springs require helper spring)
Front spring 2.25" diameter – 5" length – 800lb – 0000-04-8800-05
Rear spring 2.25" diameter – 5" length – 500lb – 0000-04-8500-05
Helper spring 2.25" – 0000-04-HLPR-EB
Helper spring 2.50" – 0000-04-9926
Front Spring 2.50" diameter 6" length – 700lb – 0000-04-9700-06
Rear Spring 2.50" diameter 7" length – 325lb – 0000-04-9325-07
Shock dyno graphs
Install Instructions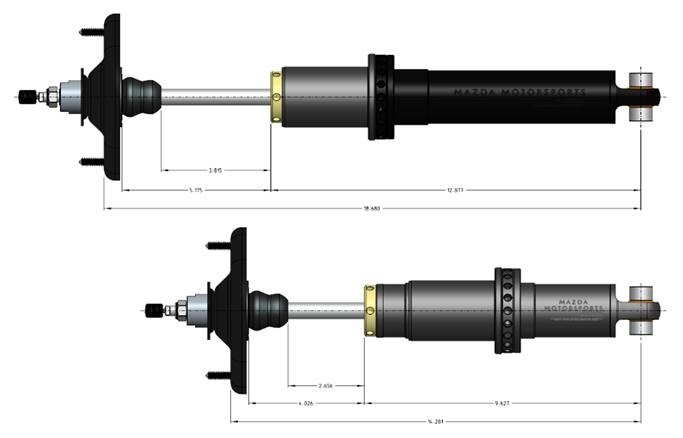 Related content: Spec Miata Penske Racing Shocks: Shim, Dimensions, Shaker Rig & More – Reminder – Mazda Motorsports