After the five regular season events in the 2021 GT-3 Challenge presented by MPI, we have what looks like a 12 to perhaps 14-contender race who all have a shot at the overall championship.
With 24 GT-3 racers competing across the five events, 14 are within 40 points. And with the championship event to be held at the SCCA Runoffs later this year carrying a 4X points multiplier (100 points for the Runoffs champ; 84 to second; 72 to third, etc.), any of these racers could end up claiming the overall championship.
Last year, 2X Le Mans competitor Michael Lewis came close to earning the overall GT-3 Championship – when he won his 10th Runoffs championship – but fell just short of Paul Young in total points. Paul's consistent top results during the regular season coupled with a podium at the Runoffs was too much for Michael who ran fewer GT-3 Challenge events due to the schedule favoring the East Coast racers. This year, however, with two West Coast events, the Poway, California racer competed in both, coming away with 74 points, putting him third heading into the championship event, just behind Paul Young and Taz Harvey, the current point leader.
Taz Harvey, owner of Dublin Mazda in Dublin, CA, started racing motorcycles. Riding on the USA national team in the International Six Day Enduro in West Germany in 1989, Taz earned an F.I.A. Gold Medal. The next year at the ISDE in Sweden, he finished with a Bronze Medal, the only American to finish 2 ISDE's on an 80cc bike. And in 1991, Taz moved into cars where he has continued his level of excellence in motor sports.

Prizes & Awards
Paul, Taz, Michael or another talented GT-3 racer will earn the GT-3 Challenge grand prize – a day of coaching from Max Papis, IndyCar and Daytona 24 Hour winner. If a Mazda claims the overall GT-3 Challenge championship, the racer will also earn parts support valued at $1,500 from Mazda. If that racer is the Runoffs champion as well, he would earn an additional $4,000 payout as part of the standard Mazda Runoffs champion's purse.
To help support the culmination to the exciting GT-3 action, Mazda created a tow fund to help the top 10 regular season racers based on Challenge points tow to the Runoffs. With a three-way tie for 10th place, 12 racers (regardless of Make) have earned this tow fund that can be collected post-Runoffs event. And of course, with the regular season bonus payouts from Mazda, and the partner contribution from AiM Sports, Penske Racing Shocks, Goodyear Tire & Rubber Co, and Hoosier Racing Tires, the GT-3 Challenge presented by MPI racers have received special support to help further encourage the great racing participation.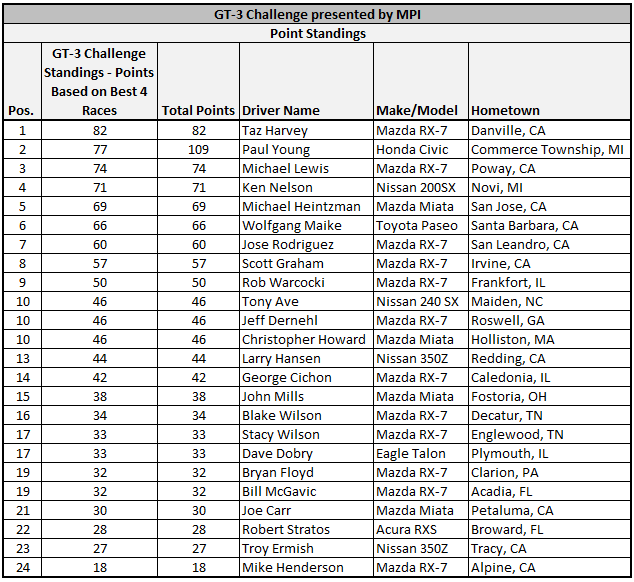 As seen on MazdaMotorsports.com within the Mazda Contingency Awards Guide: