Mazda Motorsports sat down with AJ Zarcone, current star in the NASA Teen Mazda Challenge program, and multi-karting championship winner, to learn more about his racing journey.

Mazda: You started in karting and moved to cars; how has the transition been?
AJ: Since I began racing karts at 6 years old, I have always had strong support and encouragement from my family. I am the one in the car but there is a team of people working diligently to help me achieve my goals – from my parents who are at every race to my mechanic/tuner who is like a big brother and my coach who inspires and motivates me.  Now, moving into cars and racing in TMC, the support has grown to include a few others that I now consider part of my extended family.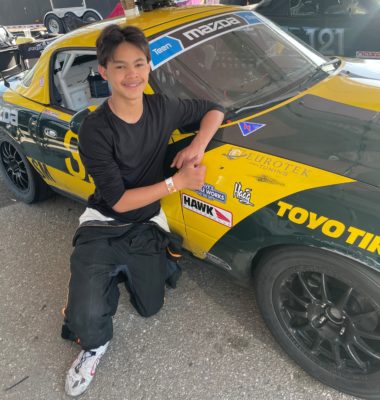 Mazda: Family support is key. Can you share some about your values?
AJ: I am half Wisconsinite and half Asian/Pacific Islander.  I suppose this is where I began to understand the impact that two halves can have on the whole.  Each side of my family contributes principles and attributes that help me be successful.
From my father, I learned the value of a strong work ethic and dedication.  This means doing what is necessary to make sure I am ready – mentally and physically – for each event.  I've also learned there is more that goes into being a successful driver than on-track performance.  While practice behind the wheel, physical fitness, endurance training, proper nutrition, and increasing mental strength are all essential to elite performance, connecting with others in the racing community is equally as important for long-term success.
Mazda: Being 14 and working both hard on and off track must keep you busy. And on top of it, you're a freshman in high school. How does being a rising freshman affect your racing and vice versa?
AJ: They are synergistic. Achieving my racing goals requires discipline in my academics but racing also helps me in my academics. This fall, I will enter the International Baccalaureate program at Spring Valley High School in Las Vegas, Nevada. My family has stressed the importance of education to me since I could walk.  I've learned that an undesirable outcome is an opportunity to learn. Dissecting missteps requires attention to details.  Plus, it takes intelligence and experience to listen to advice and coaching – and to incorporate that with my own instincts.

Mazda: It appears to us that you are working hard to achieve your dreams. Is it all work?
AJ: It may sound like all work and no play, but this is where the other half of me comes in. From my mother I have learned how not to race through life. The Asian/Pacific Islander lifestyle is one that's built on joy and gratitude, family and generosity. Sometimes when you work so hard on something and focus so acutely on your goals, you can forget to have fun and enjoy the ride.   But as I harness strength from both sides, I can follow my drive to achieve my goals and – even though I'm trying to get from A to B as fast as I can – I will enjoy the journey that is my racing career and be grateful to all who are working alongside me to help me get there.
Mazda: How did you come to the decision that transitioning into sports cars was the right step for you and how is it going?
AJ: When transitioning to cars, I couldn't think of a better program than Mazda grassroots racing.  The Miata, in my mind, was the next logical step from karting. The amount of support Mazda puts behind this program is fantastic.  Less than a year later, I am currently 1st in the Teen Mazda Challenge racing in my region competing against great and deep competition.

Mazda: What are your goals as you look to close out this season of racing?
AJ: I want to keep progressing up the sports car ladder, which is why I am working so hard on and off the track. I am hopeful to be a contender for the MX-5 Cup shootout and scholarship. I'd like to compete in Idemitsu MX-5 Cup presented by BFGoodrich® Tires next year.
Mazda: At only 14 years old, we are impressed with AJ's focus to grow both on and off track. The future certainly looks bright.