It's not every day you sit down with a driver of this caliber. That's because a driver of this caliber doesn't come along every day. Watching his quick progression in Spec Miata and Spec MX-5 in 2021, it's easy to see grassroots racing is just a temporary stop on his journey. And during this journey, we at Mazda Motorsports held a Q&A.
Mazda: Tell us about some of your karting accomplishments?
Connor: I have been fortunate to have competed at the highest levels of karting in both the US and Europe. Success didn't come right away; but over the past few years, I have won six national championships, the Mini Rok World Championship in 2017 and the FIA Karting Academy Championship this past year. I was only the second American ever to win the Mini Rok World Championship and I was the first American ever to win the FIA Academy Trophy Championship, which was also won by Charles Leclerc in 2011!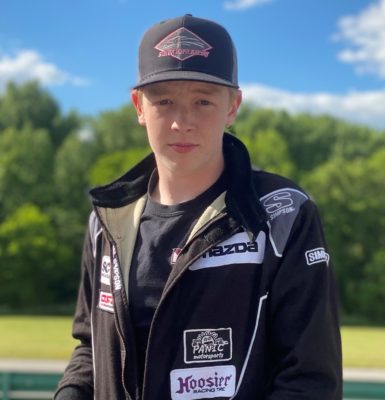 Mazda: To compete at that level is impressive. Can you share insights into what makes you so successful?
Connor: With all the time I've spent on and around tracks, I've learned racing isn't just what you do on race day. You can't just show up on Saturday or Sunday and expect to win. The hard work is done Monday through Friday getting prepared both physically and mentally. Karting, specifically, has enabled me to learn the fundamentals that translate into success in cars. Car control, the ability to quickly learn new tracks and identify proper racing lines, using data/video analysis to improve each session and developing good vision and awareness in heavy traffic. Everything happens very fast in karts and while there are new things to get used to in cars such as weight transfer, shifting and heel/toe techniques, there seems like there is much more time to react and think in cars.  Racing on many different karting teams has also taught me the importance of teamwork and being able to work with a lot of different kinds of people. You can't win races alone so it's important to be a good teammate and earn the respect of your competitors. Whether working with someone, comparing data and video, comparing setups or just wanting to be raced the way you race other people, building those good relationships always helps in the end.
Mazda: How did you come to the decision that transitioning into sports cars was the right next step for you?
Connor: A lot of karters have gone the open wheel route in the past with either USF2000 or F4. While those are cool cars, I decided to start with Spec Miata and Spec MX-5 for a few reasons. First off, where else are you going to find fields of 40, 50 or even 60 cars or more that battle in close wheel-to-wheel racing like we saw at VIRginia International Raceway SCCA Hoosier Super Tour event this year? I can't think of a better way to find that kind of competition and the great experience that comes with it. It doesn't even matter where in the field you are since there's always someone with nearly equal speed to race. Also, while no racing is cheap, the Spec Miata and Spec MX-5 classes offer reasonably priced ways to get into cars.  Mazda and its partners help with this also with strong support with prizes and the potential to earn scholarships in the ladder program. This level of support just isn't seen anywhere else as far as I know. Mazda really helps grassroots racers by providing an affordable race series with evenly matched cars that are easy and fun to race. Lastly, it didn't hurt that my older brother also raced Spec Miatas and my family has owned our car for a few years which also helps to keep costs reasonable.
Mazda: Now that you've transitioned to sports cars, what are your goals this year?
Connor: Being new to cars and in very competitive series (Spec Miata and Spec MX-5), my goal has been run in the top 25% of the field. Recently, I achieved my goal and more at the VIR Super Tour event. I qualified second and finished with two top 10 race finishes and a second-place podium finish in Sunday's race! More recently, I got two first place finishes at the SCCA Memorial Monster, after two exciting races with my teammate, Charles Mactutus. Two pole positions and top fives at the June Sprints have capped off a great start with a lot of learning.
Mazda: What does the rest of this year look like on the racing front?
Connor: This year I will be finishing out my last year doing a full schedule in karting. I plan to try to go to the FIA Karting World Championship for the last time to see how I do against the world's best drivers of my age. I'm looking forward to doing more car races including the Spec MX-5 Challenge. I'm super excited to see how I do in these series against the competition that they provide!
Mazda: What are your goals after this year?
Connor: My goal is to make a living in sports car or stock car racing as I believe those are the best ways to go. I know that it will take a lot of hard work, but I am confident that I have the dedication to give it a good shot. While doing all of this, I still live the normal life of a high school student in 9th grade. "Racing isn't everything," my dad always tells me.  He always emphasizes the need to keep up my grades so I have other options if racing doesn't last.  I'm hoping, one way or the other, I get to stay involved in this sport for a long time.
Mazda: We believe it quite likely, with Connor's talent level and work ethic, that he will not only be in the sport for a long time, but a force.