After two of the five regional events in the 2021 GT-3 Challenge presented by MPI we have seen growth yet again in GT-3, as well as parity. Eight podium finishers and three race winners are among the 17 racers who have entered the GT-3 Challenge thus far.
Reviewing the first two seasons of the GT-3 Challenge (2019 & 2020), the name of the game to claim the overall championship and the ultimate prize – a day of coaching from Max Papis, IndyCar and Daytona 24 Hour winner – is podium finishes with at least a race win. Though, last year, it took a little more. More participation was the additive to the winning mix that helped Paul Young of Commerce Township, MI claim the overall championship overall Michael Lewis, 10x SCCA Runoffs champ and 2x Le Mans competitor as the battle came down to the final event held at the SCCA Runoffs championship event.
In 2021, Taz Harvey of Danville, CA (also owner of a Mazda dealership – Dublin Mazda, and pictured above) sits at the top of 17-car field. Events 3 & 4, one held on the East Coast and the other on the West Coast, each take place May 1 & 2. Repeating a double-win weekend for Taz will be a challenge with the likes of Jose Rodriguez, Michael Heintzman, Mike Henderson, Troy Ermish, and, of course, Michael Lewis likely to be in the mix. One slip, and we could 2019 champ Jeff Dernehl re-take the lead, as he sits tied with sports car legend Tony Ave for 2nd overall in the series, each winning and placing second at Michelin Raceway Road Atlanta in March.
Newcomer Blake Wilson, son to 2016 SCCA Runoffs National Champion Stacy Wilson, has emerged as a new threat to the old guard. Son sits just above father after two events; but, don't be surprised if father retakes the lead later this season. Undoubtedly, a proud predicament for Stacy, as it is for Mazda.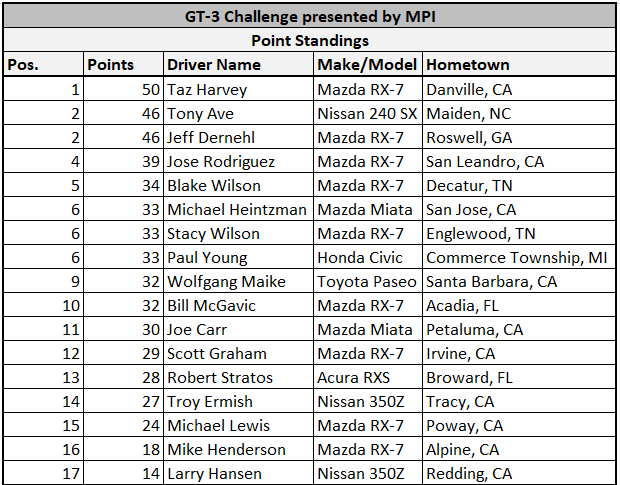 2021 GT-3 Challenge presented by MPI Race Schedule (SCCA U.S. Majors or Hoosier Super Tour Events):
Event 1: Feb 19-21, Buttonwillow Raceway Park
Event 2: March 19-21, Michelin Raceway Road Atlanta
Event 3: April 30-May 2, Pittsburgh International Race Complex
Event 4: May 1-2, Buttonwillow Raceway Park (Change of course layout)
Event 5: July 11-12, Road America (CAT Nationals)
Event 6: Sept 25-Oct 3, Indianapolis Motor Speedway (SCCA National Championship Runoffs)