Three club racers will advance to MX-5 Cup presented by BFGoodrich® Tires; while two karters will advance to Spec MX-5 Challenge as NASA Teen Mazda Challenge drivers.
Braselton, Ga. (Nov. 18, 2020) – For two days, nine grassroots Mazda racers contended for three Mazda scholarships to compete in the 2021 Mazda MX-5 Cup presented by BFGoodrich® Tires; 10 go-karters vied to be part of the Mazda's first club racing factory team that will run in the Spec MX-5 Challenge Series as NASA Teen Mazda Challenge drivers.
The MX-5 Cup Shootout's top scholarship is valued at $110,000, with two additional ones added this year, each worth $75,000. The Spec MX-5 Shootout awarded two drivers equal support – a factory-supported effort in club racing.
The 19 finalists competed at the historic Michelin Raceway Road Atlanta. A longtime partner of Mazda's, Michelin/BFGoodrich®, not only supported this effort by providing these drivers access to the 2.54-mile historic track, but contributed to the MX-5 Cup scholarships, and helped in the judging process. The other two judges: pro driver and coach Andrew Carbonell, and Mazda Motorsports' business development manager David Cook.
NASA, PAGID Racing (brakes), Penske Racing Shocks, Toyo Tires, and Mazda have all partnered with one another to help support the two club racing factory team recipients. In addition to Mazda, the other partner on both projects is PAGID Racing. Whether it's Spec MX-5 Challenge or MX-5 Cup, racers get their stopping power thanks to PAGID Racing, known as a leader in pro sports car racing for years; now a leader in both club racing and pro.
The judges for the Spec MX-5 Challenge Series/TMC program: Max Papis of MPI, former Formula One driver, ChampCar race winner, and two-time Rolex 24 At Daytona winner along with Cook.
Shootout, Day One: Monday morning kicked off with greetings and a track walk with Max Papis winner. Scheduled next was physical assessments by PitFit Training, the leader in motorsports; however, just as COVID-19 has changed the way we do everyday tasks, it changed the format of this year's Shootout. Instead, of the physical assessments, the interview process began earlier. Sessions were conducted in-person between Max Papis, Pete Calhoun of BFG, Andrew Carbonell, Cook and the drivers. Due to COVID-19 concerns, three planned judges – Lisa Caceres and Zach Rubin from NASA, and Josh Smith from Mazda – all remotely conducted day one interviews. When finalists were not being interviewed, they were given two written assessments questioning them on brand representation, racing budgets, event preparation and track knowledge.
"We've gotten to know the candidates over the years and particularly over the last 12 months," Cook said. "We knew it was going to be difficult to pick a winner, and that didn't change after day one."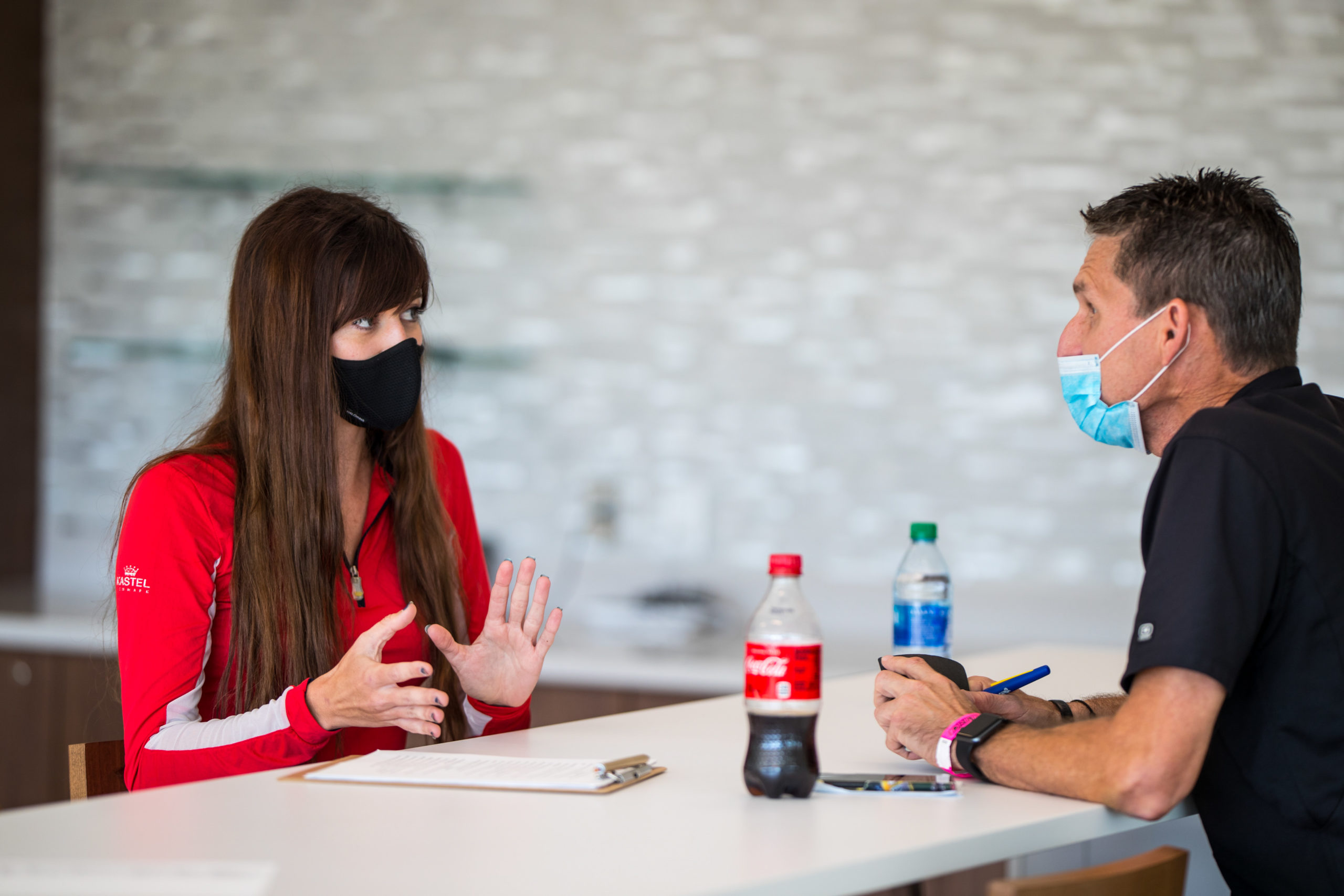 Shootout, Day Two: Tuesday morning focused on track skills. Each finalist had four or five 18-minute lapping sessions. Each MX-5 Cup driver received their own set of BFGoodrich® tires and Spec MX-5 finalists received their own Toyo tires they needed to manage through the full day of running. Between sessions, data were collected, and tires were swapped by MX-5 Cup series partner Flis Performance, who prepared the three identical Mazda MX-5 Cup cars for the contest. Panic Motorsports and W2 Motorsports teamed up to support the four Spec MX-5 cars.
It wasn't just about who could turn the fastest lap of the day; the judges wanted to see consistency and the willingness to learn and apply feedback.
"On track, some performed better than others today, but it's just one day, so we're considering all the data points we've collected," explained Cook.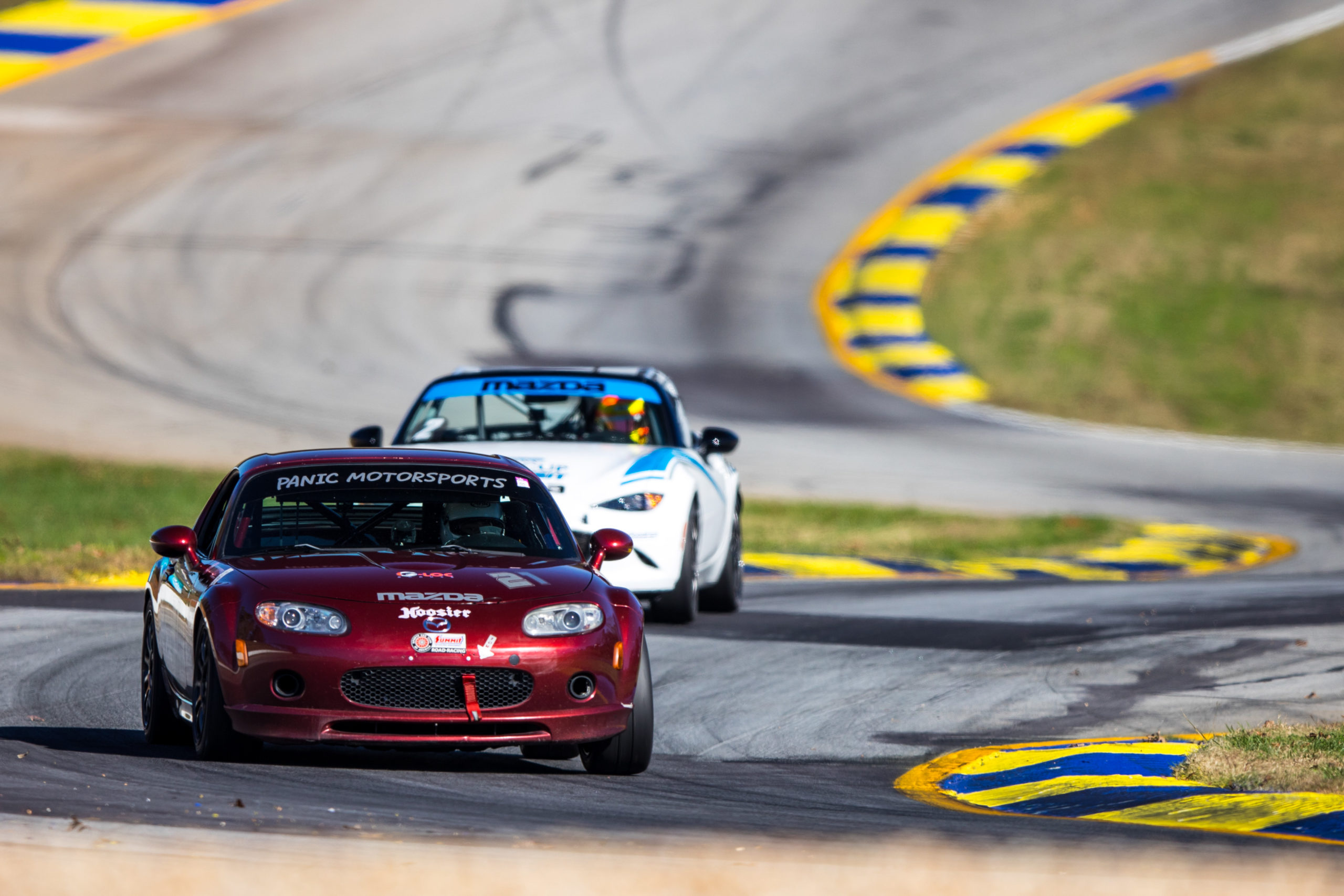 MX-5 Cup Shootout Winners:
When the track went quiet, it was time to pick a winner. This year, the judges chose Aaron Jeansonne for the top scholarship in MX-5 Cup.
"Aaron was the runner up last year," Cook said. "He was well-prepared last year, but even more so this year. He also ran a couple Spec MX-5 Challenge events this year and a Spec Miata event. That gave us three more data points to reinforce that he's not only fast and prepared off-track, but he has great race craft and awareness. That extra confidence that we gained this year, took away that unknown from last year."
Jeansonne is a former Team USA Scholarship winner and only weeks ago was named the Spec MX-5 Challenge Series Emerging Talent Champion and Invitational Champion.
"This is surreal," Jeansonne said. "I had so much I had to do this year to improve. I had a pretty good showing in last year's MX-5 Cup Shootout and I really tried to take everything to heart and the feedback and all the areas I needed to improve. I worked tirelessly to make those improvements.
"I want to thank Mazda Motorsports, BFGoodrich® Tires, PAGID Racing, and Flis Performance for putting on this event. I want to thank Mazda for everything they do to support grassroots racers. They do a lot for us and I'm honored to be a part of the Mazda family."
This was the 15th MX-5 Cup Shootout that Mazda has held and it's never easy to pick a winner. In light of this, Mazda chose to add a scholarship valued at $75,000 for the runner-up in 2020. That prize was awarded to Chris Nunes of Alpine, California.
"We're going to invest it all into an MX-5 Cup program for next season," Nunes said. "This has been an amazing opportunity. We're here with the top Mazda racers in the country and I'm honestly in shock right now. It's a very good feeling."
Also new to this year's MX-5 Cup Shootout is a $75,000-valued scholarship for an outstanding female finalist. Savanna Little, of Austin, Texas, was named the winner.
"I'm so, so grateful for my mom first of all, but obviously to Mazda Motorsports, Flis Performance, BFGoodrich and everyone that made it possible for us to be here," Little said. "This is such an incredible opportunity. There's no other manufacturer that does so much to support aspiring grassroots racers like myself. To be a part of the Mazda family and to do it in this way is unbelievable."
"We are very happy for the three recipients," commented Cook. "They all did everything asked of them and more. It's always a difficult process for the judges, though. We had six other MX-5 Cup finalists also deserving of scholarships. Tyler (Quance) was arguably the top Spec MX-5 driver this year, and could be the best NC MX-5 driver in the world. Aidan (Fassnacht) is 17 with only one year of racing under his belt, but came out on equal footing with those whom we awarded scholarships; he will be a force in 2021 and beyond. Hannah (Grisham) is the complete package and is always right there in the thick of it. Michael (Borden) won everything else he was in all year and is the other NC driver that could contest for its top spot. Konrad (Czaczyk) may have been the fastest on track today, and is quite polished off track; and Bryce (Cornet) is a national champion in Formula Mazda, and the best open-wheeler we've had at the Shootout. With his limited sports car experience, it was impressive he was also about as quick as the fastest sports car drivers. It would not have been hard to justify awarding a scholarship to him either. We are fortunate to do a lot for club racers; this is one of those days we just wish we could do even more."
To watch the three scholarship drivers and other top racers compete in the 2021 Mazda MX-5 Cup presented by BFGoodrich® Tires, check out MX-5Cup.com. The season gets underway in January, racing alongside IMSA at Daytona International Speedway, January 28 – 31.
Spec MX-5 Shootout Winners:
eKartingNews.com's nominations did exactly what Mazda desired – make the process difficult on the judges. The judges for MX-5 Cup knew their finalists before the competition. Mazda knew it would be difficult choosing between them. But Mazda didn't know the karting finalists apart from their submissions and the phone calls leading up to the event. But that didn't mean Mazda thought it may not be as difficult. By working with EKN, Mazda knew the 10 finalists would be exceptional on and off-track. And they were.
"It was not until 6 pm, minutes before we announced to the finalists, that we knew who our recipients were," commented Cook. "We were going to announce at 5:30, about 45 minutes after on-track sessions concluded, but one of the judges asked to speak again. If we had to choose at lunch, it would have been a different result. It was that close and that evolving. I would say thanks to eKartingNews for making it this difficult, but I have mixed feelings," Cook joked.
In the end, there were two. Bryson Morris (Mt. Juilet, TN) and Alexander Berg (Calgary, Canada) were selected for their on- and off-track abilities – for their consistency across all areas.
In 2021, Berg and Morris will compete in the Western Region for Spec MX-5 Challenge, representing the partner brands and receiving mentorship from Mazda DPi driver and 2020 Sebring 12 Hour overall race winner Jonathan Bomarito.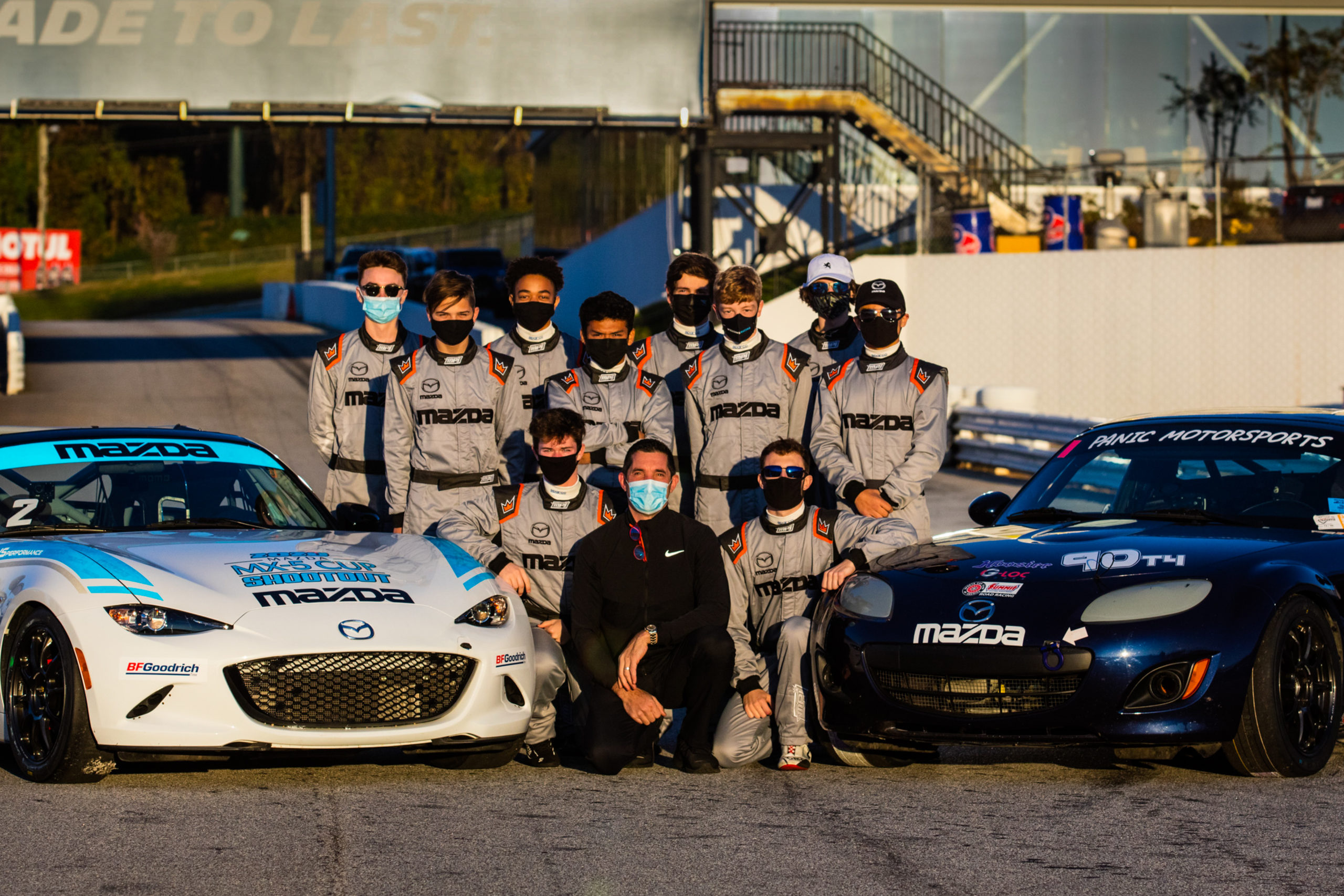 About Spec MX-5 Challenge, including the tentative 2021 schedule
About NASA's Teen Mazda Challenge