AFCO Shocks and Eibach Spring coilovers are specially tuned for 1990-2005 Miatas.

Part # 0000-04-5229
New Racer Price: $2,749.00
While you may enjoy spending countless hours experimenting, testing, tuning and making your own parts in the pursuit of suspension perfection on your race car, this tends to be an expensive and time consuming proposition. In fact, it took years for Jesse Prather to perfect a shock and spring package that has proven not only reliable, but one that wins National Championships. At the SCCA National Runoffs in 2014, Matt Reynolds took the win in E Production (and again in 2016 & 2018) and Brian Laughlin finished second in STL – both equipped with Jesse Prather Motorsports AFCO shocks. This same package is available through Mazda Motorsports.
The shock package includes AFCO aluminum threaded-body coilover double-adjustable racing shocks. The shocks have custom valving designed specifically by Jesse Prather for the NA first generation and NB second generation Miata race cars. The AFCO shocks have separate rebound and compression adjustment knobs and bolt on to the stock control arms. The front upper spring perch hole has to be opened slightly on NB Miata cars.
"The beauty of these AFCO shocks is the progressive valving. You can adjust them for any number of different cars and any number of different tire compounds and construction, whether it's a D.O.T. tire, a slick, radial or bias ply," stated Prather. Many top contending Solo competitors use this shock package, as well.
FEATURES:
• AFCO aluminum threaded coil over shock.
• Double adjustable- rebound and compression knobs for easy adjustment (30 positions).
• Custom, progressive valve tuning specific to the Mazda Miata (1990-2005); wide range of adjustment
• Rebuildable
• Eibach ERS springs installed (2.5" ID, 7' free length)
• Shock package is for all 1990-2005 Mazda Miatas, weighing between 2000-2600 LBS.
• Bolts to OEM control arms
• Spherical upper and lower bearing mounts
• Front shocks handle between 500-900LB spring rates; rear: 300-600lb.
• AFCO Shocks/Eibach springs/mounts are pre-assembled, ready to mount
• Suitable for many classes on different tire packages (DOT, slick, radial or bias-ply)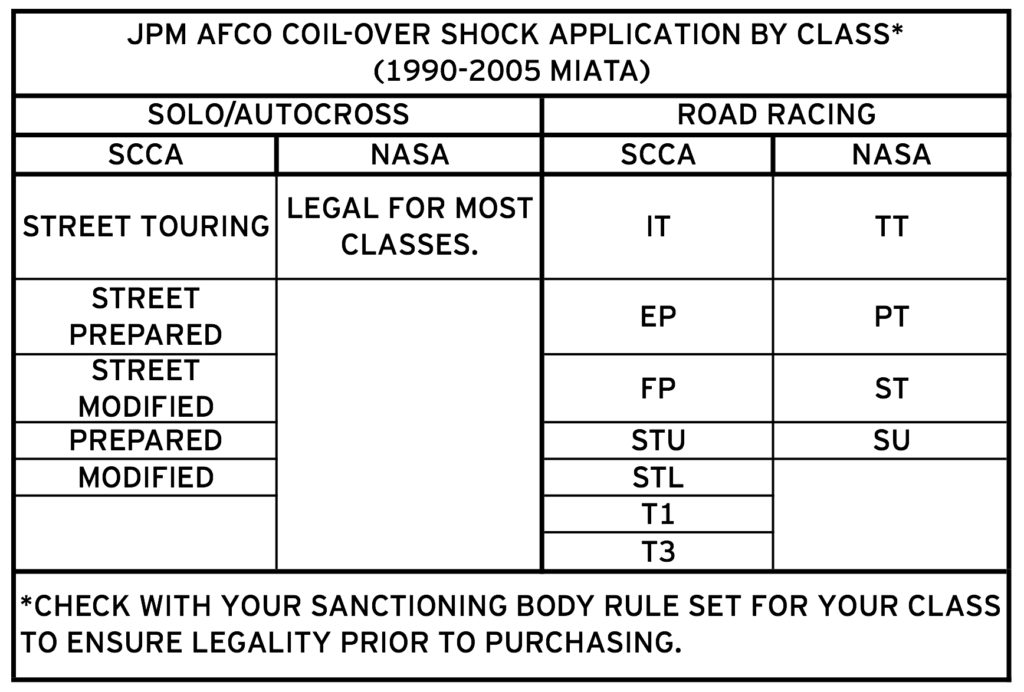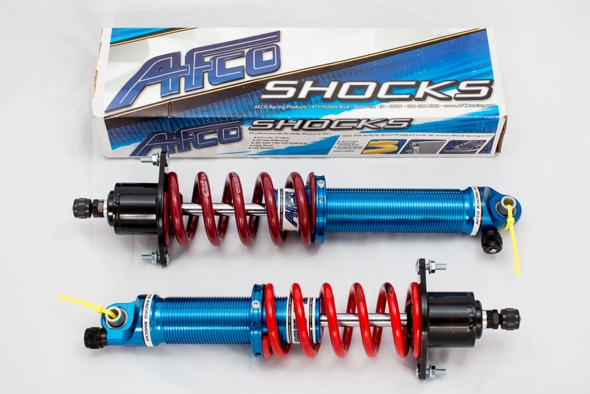 Call 800.435.2508 for more information or order online.
Pricing is subject to change.