Doing your homework before arrival allows racers to get up to speed quickly
The days of arriving at a track cold, with nothing to go on but a map, are long gone. Unless it's a brand-new club track, there are likely a variety of sources available for drivers to familiarize themselves with a circuit before arrival. Those include simulators, online on-board video and races on television. Any one of these resources will help a driver acclimate quickly when his or her wheels hit the pavement. Using a combination of these resources can help speed up that process. 
For Oliver Jarvis, driver of the MRT24-P in the IMSA WeatherTech SportsCar Championship, many of the tracks were recently new experiences for the English driver. But he's not going to the circuits cold. Aside from the advanced Driver-in-the-Loop simulator at Mazda partner Multimatic's Toronto headquarters, Jarvis uses his own home setup, onboard video and race broadcasts to make the most of limited practice time during a race weekend. 
"One thing I've loved in racing is getting to learn so many new tracks," Jarvis admits. "The challenge is getting up to speed quickly, because you might have two hours of testing, but you're sharing the car and you might have problems, so you might only get 10 laps before qualifying. I've really used the simulator at home because we haven't had all the tracks on the DIL at Toronto. I then compare that to onboard footage – I'll watch onboard laps, preferably from a DP car or LMP2 car from the year prior year, or on some occasions I've had to go to something like an IndyCar because that's the only footage available. When I jump in the car at the circuit, I know exactly where the track goes, I know the little nuances [and] where to be on which part of the track."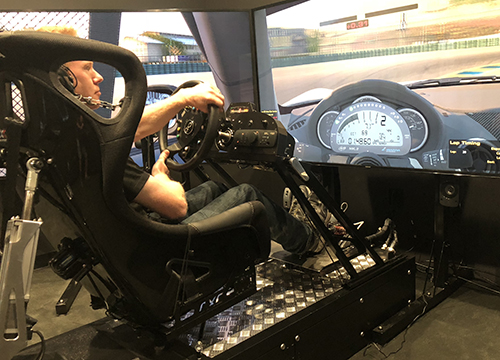 Jarvis stresses that using the sim and onboard video aren't going to give you precise markers, but they will give you an idea. "You're never going to arrive at a new track and be able to push straight away, but it gives me a feeling for the braking zone, so I'm already confident that if I brake at 150 meters for Turn 1, I'll make it," he adds. "Then the next lap it is 130, 120 and maybe you end up at 110, but it's just about reducing the learning curve."
Data acquisition is also a huge tool for learning a track. That's not just your own, but if you can look at someone else's – especially someone that is already familiar with the circuit – in a similar car, it's going to give you a lot of information. Jarvis may have the opportunity to review data from his co-driver Tristan Nunez, or Nunez may take a look at what Jonathan Bomarito is doing in the No. 55 Mazda RT24-P.
"Being a pro is about who gets comfortable, fast, who's going to push the limit; but you also can't go out there and throw it off, because there goes your practice time," says Nunez, a veteran with several years' experience in Mazda prototypes. "There's a fine line of finding the limit and saying, 'Enough is enough, I'm not going to push it any farther.' Then look at your data. That's the beautiful thing about this age; we can look over and see what our teammate is doing and we can learn from them."
Learning how to go quickly around a circuit is one thing, and an important thing. But races aren't won on fast laps alone. That's where actually watching a race on a track can pay big dividends.
"Watching the race itself is really good," says Jarvis. "One thing people forget, especially in sports car racing … Yes, it's about being quick, but it's also about traffic. You can learn so much by watching a race and watching onboard from a race – where to overtake in traffic, where to place the car, where you can't overtake. There is so much information available, a driver can do so much homework before arriving at a track."
All these resources may not be available if your next race is at Pitt Race, Eagle's Canyon or Pacific Raceways. But if you're headed to Sonoma Raceway, Circuit of the Americas or Daytona, you will have access to simulations, onboard video and years of races to study before arrival. There's no excuse not to have a pretty good idea of how to put together a lap in the first session.