Now through April 2020, Mazda Motorsports will place many competition parts on a weekly promotion.
"Each week, Monday through Sunday, we will run 'featured' price promotions and 'bonus' price promotions for many competition parts" commented David Cook, business development manager, Mazda Motorsports.
"The featured parts," continued Cook "will be high volume parts, whereas the bonus parts focus on the niche items. This is how we will span many racing verticals – autocross, club racing, and track day – and provide a representative cross section that should offer a significant savings for every racing customer – rotaries, Miatas, MAZDASPEEDs, Mazda2s, Mazda3s, you name it. There will be something for all our racers."
If one orders at least $1,000 in parts (stock or competition) from Mazda Motorsports (after discounts and before tax) and selects ground shipping (does not apply to freight or expedited orders), he or she will receive these parts without a shipping charge. Learn more here.
If this promotions are successful, Mazda Motorsports states it will continue these price promotions indefinitely.
(In the event that the promotions run Mazda Motorsports out of stock, the promo prices will be honored for those who ordered during the promotional week.)

The second week of price promotions, ACT is our feature. (Click here to expand the ACT sheet.)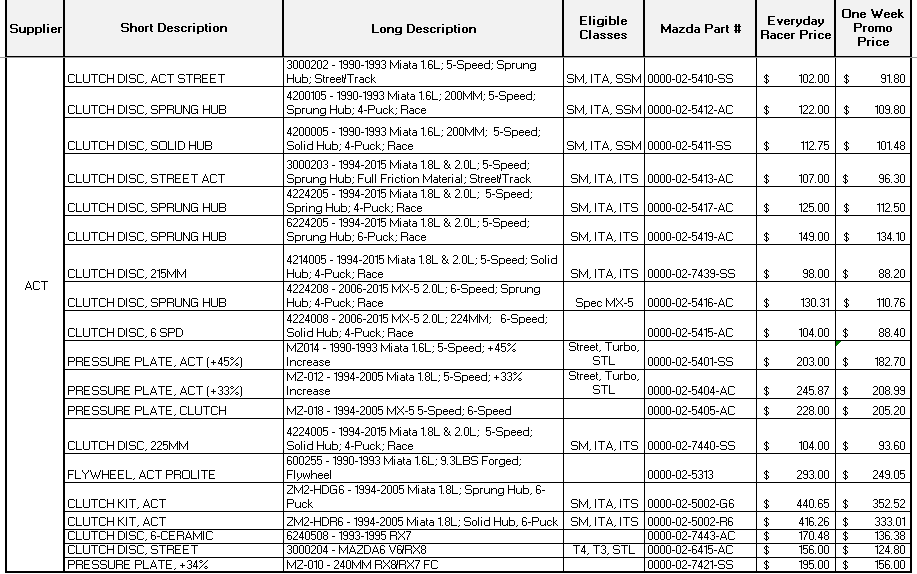 These promotional prices end Sunday, February 9. On Monday, Feb 10, we will launch the next weekly price promotions. Thank you for your support of Mazda.