The American Road Race of Champions celebrates a quarter century, and includes two special events of interest to Mazda racers
The American Road Race of Champions (ARRC) is a longstanding event that, although it takes its name from the original SCCA national championship event, began in the wake of the SCCA Runoffs leaving its longtime home of Road Atlanta in 1994. It became kind of a de facto national championship event for those classes that were Regional only, such as Improved Touring, Club Ford and, at the time, Spec Miata. Nearly a quarter-century later, SCCA Atlanta Region's ARRC remains one of the biggest racing events in the Southeast, and it's set to wow crowds once more with the 2018 running on Nov. 2-4.
For this year's 25th edition, there are two special events on tap in addition to the sprint races and enduro. The ARRC will host the finale of the Spec MX-5 Challenge, bringing East and Central championships together, and it will also host the first GT3 Challenge. Thus Mazda Motorsports is stepping up its support of the event.
"Our Southeast trackside support program makes its final stop of the 2018 season at the ARRC," says David Cook, manager, Mazda Motorsports Business Development. "In 2018, Josh Smith, Steve Strickland and myself focused on the Majors and Super Tour events in the Southeast region, but added the ARRC due to its history and significance in club racing. That significance has drawn the Spec MX-5 Challenge to its final weekend, where the East Series clashes with the Central Series, crowning one national Spec MX-5 Challenge series champion who will earn a $100,000 scholarship to compete professionally in a Mazda MX-5 Cup car."
Jason Connole and Peter Ensor are tied at the top of the East standings, with Manny Martinez just behind in third. Tom Martin III leads the Central Series with Noah Grey and Matt Million trailing.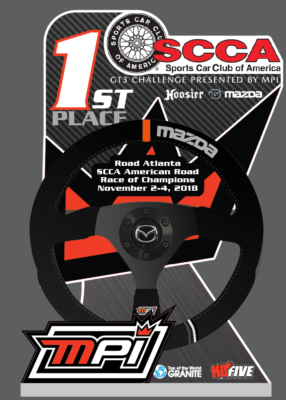 Supported by Mazda, Max Papis Innovations (MPI), Hoosier Racing Tire and AiM Sports, and open to racers in all makes, the GT3 Challenge aims to boost the number of GT3 competitors across the country. The ARRC will host the first GT3 Challenge race, which will run on Sunday. There, MPI will give steering wheels and stands to the GT3 Challenge podium, Hoosier will raffle off a set of tires, and AiM will give away a Solo 2 DL and SmartyCam.
"In addition to Mazda's race entry subsidies for all makes – not just Mazdas – Mazda has significantly increased the contingency awards for Mazda drivers," says Cook. "The partners are all contributing in valuable ways, product to be raffled is just one of them. All participants are eligible regardless of make. Our collective organizations are working to build on the already longstanding community in GT3 to regain critical mass in participation, which will lead to some of the most exciting racing in our sport."
For more information about the GT3 Challenge, see https://www.mazdamotorsports.com/2018/09/11/gt3-challenge-presented-by-mpi/. And read about the GT3 Challenge at the ARRC here: https://www.mazdamotorsports.com/2018/09/18/gt3-challenge-presented-by-mpi-the-scca-arrc/.
The Spec MX-5 Challenge and GT3 Challenge are in addition to the usual stellar racing that the ARRC provides. Spec Miata is especially strong, with nearly 40 entries that include Danny Steyn (2018 SM NASA champion and SCCA STL national champion), Elivan Goulart (2016 Pirelli World Challenge TCA champion), Chris Haldeman (Hoosier Super Tour SM 2018 point's champion) and Michael Carter (winner of the Spec Miata $30K Challenge). STL has a strong 12-car entry as well, with Steyn bringing his MX-5 and Alan Cross racing his beautifully built RX-8.
Qualifying for the championship races will be on Friday, Nov. 2, with the championship races on Saturday. Qualifying and races for Spec MX-5 Challenge and the GT3 Challenge will be on Sunday, with a 90-minute enduro concluding the event.