Johanna Foege has competed in numerous national SCCA autocross events in 2018 thanks to the Wendi Allen Scholarship
Prior to 2018, Johanna Foege had only been to a couple of national-level autocross events, including the SCCA Solo National Championships. This year she will do eight by season's end, traveling far and wide with her fiancé Clint Griest and his Mazdaspeed6 E Street Prepared car to compete – and win – in several types of national competition.
"I was super honored that someone, or enough people, thought I was qualified to have the award," she says of the Wendi Allen Scholarship, which in years past has been presented in honor of the late autocross competitor to two women so that they may broaden their range of autocross events. This year, with the help of Mazda, the scholarship was expanded to three competitors, and Youmna Zalzal and Lexie Murray joined Foege as recipients.
"I was humbled and very excited to figure out how I could use that to the best of my ability," she continues. "I have eight national events on my calendar this year, which is, for me, incomprehensible. We've been to one Match Tour, two ProSolos and four Champ Tour events. And Evolution Driving School gave me a free Phase 2 school. I was also offered a Starting Line school, but the car wasn't ready."
Foege is doing her best to give back as well and promote the idea of women in motorsports. She started a Facebook page for women interested in racing in her hometown of St. Louis, where she works as quality control manager for acclaimed brewery Perennial Artisan Ales. She has also started a blog at racecarromance.com.
"I'm totally not a blogging person, but I started a blog to keep track of everything I'm learning, and tell stories from all of my events. I'm hoping other young women might read it and feel inspired. It's a fun spin on our long-distance relationship," she says, noting that Greist is working as a Mechanical engineer in the Detroit area and the two usually meet in Indianapolis, which is about halfway in between, for autocrosses.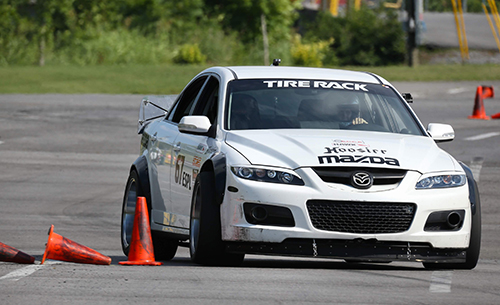 The Mazdaspeed6 isn't a typical autocross car. Griest bought it not with the intention of autocrossing it – he'd been doing that for a few years in a Mazdaspeed3 – but as he learned about the car, he saw some potential in the power, the suspension design and the all-wheel drive. At the time he was in college on the GI Bill, so development was slow. But since graduation, he has put his engineering prowess to work in exploiting the car's capabilities.
"I would say it's extremely capable," Foege says. "Any talented driver could get in it and do well. It does anything you would want it to do better than you think it is going to do. It's a riot to drive."
As she wraps up the national autocross season and turns her attention to the SCCA Solo National Championships in Lincoln, Neb., Foege can look back on the year in awe. "It's been an incredible way to spend a year," she concludes. "There's no way I could attend all of these events without the scholarship, so it absolutely made a huge difference. I'm one of those people that chooses a job that I love instead of one that gives me an excess of money, so it's an amazing and well-utilized opportunity for me."