New England prep shop specializes in Spec Miatas, but also rents and takes care of customer cars
Mendon, Mass.-based Flatout Motorsport was founded by Nick Leverone, Andy Bettencourt and Steve Ufelder in 1993 to be a service provider for autocrossers, but a decade later retooled itself as a Spec Miata rental company. After taking on partners Attilio A. Albani Jr. and Hugh McHaffie a few years later, the prep shop now has six rental cars and maintains another 20 cars for customers.
Flatout has built and fielded cars for a variety of styles of competition and series, including not only every level of club racing, but also Grand-Am Koni Challenge (now known as the IMSA Continental Tire SportsCar Challenge), where it has been a winner. It's now expanding into Idemitsu Mazda MX-5 Cup Presented by BFGoodrich® Tires, having entered its first race last year with Matt Koskinen and Tyler Kicera at Watkins Glen, and landed on the podium with Kicera finishing second. Flatout is looking for more MX-5 Cup customers in order to put together a full-season effort for 2018.
"We've been in business [as a prep shop] since 2003," explains Leverone. We started renting cars to SCCA Regional racers and the company quickly transitioned to taking care of customer-owned cars. We do everything for the customer – they show up, race it, then fly home. We do 30 to 35 weekends a year."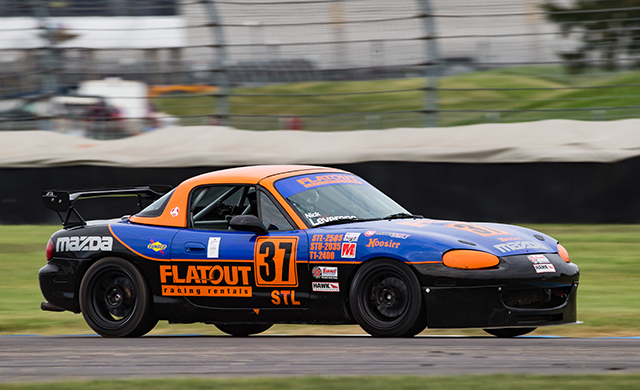 Although based in New England, Flatout is already well into its racing season, having taken customer cars to Florida for the Homestead SCCA U.S. Majors Tour, where Leverone took a couple of Super Touring Lite victories, and the Sebring Hoosier SCCA Super Tour. Circuit of the Americas and NOLA Motorsports Park Super Tours are also on the schedule, as are Majors at Road Atlanta and the VIR Super Tour before the Northeast begins its season. Leverone says he may also go West for a couple of Majors, including Sonoma, before the Runoffs, especially since two of his biggest customers live in the Northwest.
Aside from arrive-and-drive rentals and prep, Flatout also does full builds and has developed parts for Mazda race cars such as a splitter for the NC MX-5. The company also places driver development high on the list of services offered, and it's an area that Leverone says sets it apart from some of the other shops.
"One of the big things is that we include coaching in our support of the racers. Some teams, if you want a coach, you've got to hire somebody to come on board with you. With us, that's part of the deal. Maybe that's because I've been quick enough throughout my career to help my customers with coaching and all of that stuff," says Leverone.
The coaching side of the business is probably helped by the fact that Leverone, like a few other prep shop principals, is racing alongside or at least on the same weekend as his customers. He admits that he just has too much fun not to race. And while most of his racing recently has been in STL, he says he loves the Spec Miata community where much of his business is done.
"All the teams out there are good at what they do," he says. "The cool thing about the Spec Miata community is we're all friends. The camaraderie among the team owners and competitors is second to none."
Flatout Motorsports
Mendon, Mass.
www.flatout-motorsports.com