First SCCA Super Tour event of the year concludes with 16 Mazda victories over two days
While other series wait until later in the year to get things cranking, the 2018 Hoosier Racing Tire SCCA Super Tour couldn't wait and got going at Sebring International Raceway races this past weekend at an event hosted by the SCCA's Central Florida Region.
As usual, Sebring's 3.7-mile, 17-turn course elicits great performances from drivers. That was evident early in the Prototype 1 class on Saturday where Darryl Shoff and Bryan Putt did battle in a pair of Elan DP02/Mazda racecars. Putt went to the lead early and held the top spot for the first eight laps. However, Shoff was never far behind and took the lead on lap nine. Slowly, Putt faded and Shoff stormed on for the win in his No. 94 RAACE/Comprent car.
"I was running really close to Putt lap after lap," Shoff said. "We would get next to each other, but I couldn't make a really good pass. I pushed him hard, he got on the throttle too hard and spun it, and that made the pass easy. It was a really fun race." Jacek Mucha took the Sunday P1 victory in his JMSCPS-Mazda.
Spec Miata at Sebring looked a lot like it did at Homestead the weekend before, with the same two drivers swapping wins. During the last third of the Sunday race, Preston Pardus and Saturday's winner Michael Carter, driving the No. 08 Rossini Racing/Carbotech Mazda Miata, had up to a five-second gap on the rest of the field, but leader Pardus, who finished second in Saturday's race, couldn't shake Carter. In the last corner on the last lap, Carter went to the outside in an attempt to get around Pardus. The duo was side by side, and Carter had momentum as they headed to the finish line. The winning margin was 0.034sec, with Pardus claiming victory in his No. 42 Danus Utilities/ESR/5X Racing/PR Mazda Miata.
"Carter broke away from the pack and reeled me in," said Pardus, the reigning Runoffs SM champion. "We worked together to separate ourselves from everyone else. We ran hard and it was fun."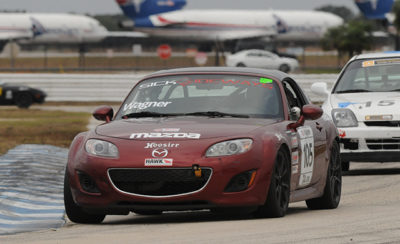 Five Mazda racers took double victories at Sebring to open the Super Tour season. Michael Kamalian won both F Production races in his Miata and Justin Elder also drove a Miata to a pair of Super Touring Lite wins. Kaylen Frederick swept Formula Atlantic in his Mazda-powered Swift 016, as did James Libecco in Formula Enterprises. Jeff Dernehl, fresh off a third-place finish at the Runoffs, won both GT-3 races in his RX-7. Gresham Wagner, who did some races in a MX-5 Cup car last year, including an SCCA Majors T3 win and a run with Sick Sideways in the NASA 25 Hours of Thunderhill, took both Touring 4 victories in an NC MX-5.
SCCA Hoosier Super Tour
Sebring International Raceway
Jan. 13 Mazda provisional winners
F Production: Michael Kamalian; Marietta, GA; Mazda Miata
Formula Atlantic: Kaylen Frederick; Potomac, MD; Swift 016
Formula Enterprise: James Libecco; Solon, OH; Formula Enterprises Mazda
GT-3: Jeff Dernehl; Woodstock, GA; Mazda RX-7
Prototype 1: Darryl Shoff; Reading, PA; Elan DP02
Spec Miata: Michael Carter; Savannah, GA; Mazda Miata
Super Touring Lite: Justin Elder; Lakeville, MN; Mazda Miata
Touring 4: Gresham Wagner; Williamsburg, VA; Mazda MX-5
Jan. 14 Mazda provisional winners
F Production: Michael Kamalian; Marietta, GA; Mazda Miata
Formula Atlantic: Kaylen Frederick; Potomac, MD; Swift 016
Formula Enterprise: James Libecco; Solon, OH; Formula Enterprises Mazda
GT-3: Jeff Dernehl; Woodstock, GA; Mazda RX-7
Prototype 1: Jacek Mucha; Highland Beach, FL; JMSCPS-Mazda
Spec Miata: Preston Pardus; New Smyrna Beach, FL; Mazda Miata
Super Touring Lite: Justin Elder; Lakeville, MN; Mazda Miata
Touring 4: Gresham Wagner; Williamsburg, VA; Mazda MX-5