At age 69, Kemper won the SCCA Formula Mazda national championship, stepping onto the Runoffs podium for the first time
Melvin David Kemper Jr. has been racing for nearly half a century, but it wasn't until this year, at the young age of 69 that this year's Formula Mazda Champion scored his first podium at the SCCA National Championship Runoffs.
It's not his first title – he started racing in 1970 in a Sunbeam Tiger in the International Conference of Northwest Sports Car Clubs, winning his first championship in 1971. He has won several championships with that group in a variety of classes, and won the SCCA Northern Pacific Division Formula Mazda title seven times. But in six attempts at the Runoffs, at four different tracks, his best finish was fourth. He figured if he was going to hit the podium – and Indianapolis Motor Speedway was the place he wanted to do it – he better put his work in.
"To race at Indy is a lifelong dream for someone like me," says Kemper, whose father took him to watch the Indianapolis 500 on a big screen presentation at Portland Coliseum in 1964, years before the race would be televised live. "I've been watching that race for a long time, so to race at that facility was a lifelong dream. If I was going to do it, I wanted to do my best, so I really did focus for a year-and-a-half. I'm an engineer, so I tried to apply all the features of being an engineer toward that. My goal was to be on the podium."
Toward that end, Kemper started with a fresh Daryl Drummond engine in August, 2016, and a frame-up total rebuild over the winter, with help from Eric Purcell, who also gave Kemper help with data and coaching. He read Ross Bentley's books, watched his track walk of Indy, and used iRacing. "I tried to take care of every detail so I would not have any surprises."
He had the speed to qualify well, but it wasn't until Thursday qualifying when the big group of formula cars was split up, that he got some solid, clear qualifying laps in and qualified third. Then the real fun began.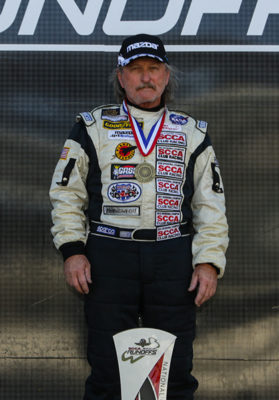 "I got a really good start; Mike [Anderson] and Jarret [Voorhies] and I came down the front straight absolutely side by side, and I was on the inside. But I thought if I forced my way inside, it was going to be a real mess. I kind of got pushed back to fourth at that point. Then the next lap, Jarret spun in oil that was dumped and, after the full-course yellow, I was second. I passed Mike – I think he missed a shift. I didn't think about it at that point, but after lap seven, we were in the lead.
"But Mike was right there; a lot of the time he was within a car length," Kemper continues. "On the last lap, he tried to pass me…coming into Turn 7 off the Hulman Boulevard straight, there was an oil flag and I could see a big stream of oil through 7 and 8, and I don't think Mike saw it. I slowed just a little early and got off line to miss the oil in Turn 8. Mike tried to pass me and spun. So from Turn 8 to the start/finish line is the only time in the race I thought, 'Hey, I can do this!' I didn't think I really had it until I could see the start/finish line, and then I really kind of opened up and went crazy."
Kemper says his mindset played a big part. At his last Runoffs in 2014 at Mazda Raceway Laguna Seca, he got taken out in Turn 2, so he was determined to not make any mistakes and put his race at risk.
"The guys that finished second and third both spun twice," he explains. "I had a clean race. You know you never have a perfect race, but I was trying to drive within myself and not put myself out. In this case, it worked."
For 2018, the Runoffs returns to the West Coast and much closer to Kemper's Oregon home, at Sonoma Raceway. He notes there's strong contingent of Formula Mazda racers that run really well at the track thanks to the Formula Car Challenge. But, he says, "We're going to try as hard as we can, that's for sure!"