Canadian USF2000 Championship racer is eyeing Pro Mazda for 2018
Parker Thompson just completed his third year of competing in the Cooper Tires USF2000 Championship Powered by Mazda, and it's do or die time. After finishing fifth and second in the championship in his first two years, he finished third in the 2017 standings. He went on an impressive tear toward the end of the season, winning three of four races, but a couple of bad finishes earlier in the year left him with little hope for taking the title in 2017. Still, despite not staking his claim on a USF2000 title, he feels he's proven himself enough to warrant a shot in the next rung on the Mazda Road to Indy ladder.
"I've been here three years and I've come close every single year," says Thompson. "Actually, last year, I led the championship pretty well from start to finish, then had a flat tire at Mid-Ohio while in second and that took me out of championship contention. So I've been right there, and I would think I have the talent to move up to Pro Mazda and compete. I look at my teammate, whom I battled for the championship last year. He's leading the [Pro Mazda] championship. I think I'd have the skill to compete in it as well."
Of course, without the championship and the Mazda scholarship that comes with it, moving up becomes more difficult. However, his team, Exclusive Autosport, which hails from Canada just like the Red Deer, Alberta, native does, has already purchased a Tatuus PM-18 Pro Mazda chassis, so who knows what the future might hold.
Thompson grew up watching his father race jet boats, and knew from a young age that he wanted to be involved in something loud and fast. That led, after a flirtation with dirt bikes that didn't make his mother particularly happy, to karting. He hooked up with 2014 Indianapolis 500 winner Buddy Rice's kart team, had more than a modicum of success, and spent a year racing in Europe at age 14 before coming back to North America and pursuing a ride in USF2000 and the Mazda Road to Indy.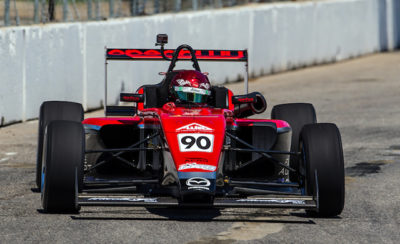 "It's one of the only series that gives a lofty scholarship to move the winning drivers up," Thompson says. "Along with that, I think the professionalism of the Mazda Road to Indy and what the Andersen Racing Group does…it's very well run and it's got big-name sponsors involved. They've done a fantastic job and I think they've really changed the game when it comes to junior motorsport and trying to move quick drivers up the ladder to IndyCar."
As one might expect, the Verizon IndyCar Series is, indeed, his goal, although he also knows he's going to have to find some funding to get there. But he feels he's ready for the next step on the MRTI ladder, and thinks his current team is the best one to take him there, especially with the way the team came to grips with the Tatuus USF-17, on which the PM-18 is based. Developing another new car should be a cinch.
"That's what I've done this year with Exclusive Autosport," he says. "From start to finish, we've run through all the changes we can make; we've found things that work, things that don't. It would be a great team to move up to Pro Mazda with just because of the relationship I've got currently. You look at this end of the season – three out of four wins the last two weekends is definitely strong. We've really clicked well and we've got the car working."
Team testing of the new Tatuus PM-18 begins in earnest with the series test on the Indianapolis Motor Speedway Grand Prix Circuit in October.