Mazda's partners in MX-5 Cup bring their own expertise to ensure a level playing field
The appeal of a spec class is that it is spec – all the cars are as identical as possible. Many drivers love the concept because the winner is the person who raced the best, not the one who engineered the most. Still, there are those who may seek a mechanical edge, or those who may suspect others of doing so, whether it's happening or not. These advantages, however, are not the case in the Idemitsu MX-5 Cup Presented by BFGoodrich® Tires. Part of that comes from the way the cars are built by Long Road Racing, some comes from the series technical inspection team, and more parity insurance comes from Mazda's partners in the series, such as BFGoodrich® Tires and AiM Sports. Both companies play a role in ensuring that the series is on a level playing field.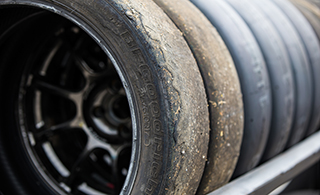 "We have a team of technicians and engineers that are at each event, to measure temperatures and pressures for competitors," says Ken Payne, technical director at BFGoodrich. "One, so that we can pass that information along to them if they're not taking it themselves; but also to see how the tires are behaving and if we see anything that's abnormal."
Payne explains that all the tires have a barcode on them, so BFGoodrich can track the tires and make sure the tires being used at the event are the ones that are registered for the event. BFGoodrich also builds the tires in batches, so that every tire it brings to a particular event was built at the same time – nobody has to worry about getting a set of old tires. There is one more trick that BFGoodrich does to make sure that no one is tampering with the tires after they receive them: the sniffer.
"It sniffs for volatile compounds that might be a signature of someone soaking tires or treating tires with chemical agents to alter the properties of the tread compound," says Payne. "That's something that, in discussion with IndyCar and Mazda, given some things that had been rumored as going on in the paddock, they asked if something could be done about. We dusted off a tool we had used when BFGoodrich was in circle track racing and we are now bringing that to events and spot checking tires."
Many of the safeguards aren't in place because competitors were cheating, but because there were rumors of it. Technology goes a long way to proving that some of these things aren't true without making competitors tear down their cars. For example, since all the cars use AiM Sports data acquisition systems, doing comparative analysis is pretty easy, explains AiM's Robbie Yeoman.
"We have a couple of tricks up our sleeve," Yeoman says. "Most of them come because it's a spec class and we can use relationship data very easily. There are some things we have to rule out – draft is probably the biggest one. But we download the data, and there are a few things we quickly check to go ahead and clear cars we're not concerned with. It takes the burden of pulling off parts away from the technical inspectors."
One of those things is the limited slip differential, often a favorite target for those looking for an edge.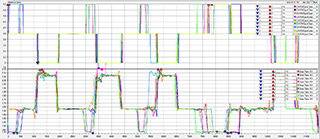 "We take the two rear-wheel speeds and subtract them; that let's us know if they are indeed slipping or if they've been welded or modified in any way – the slip factor will show. Another one is gear ratio. We designed a channel to quash a rumor that someone was using an RX-7 third gear. We take RPM, drive speed and we take the tire rollout and tire circumference, and we process it so it tells us each independent gear based off the final drive ratio," Yeoman explains.
They can also look at things like how the cars accelerate in a certain spot on the track, starting with a given speed and seeing how each car gains speed from that point in the same conditions.
The build process, the rigorous and professional tech inspections at the track and, finally, help from partners who provide expertise in their particular arenas means that competitors in the MX-5 Cup can rest easy knowing that no one is racing with any advantage other than their innate ability and hard work.