A strap to make it easier to open a door in an emergency, a way to secure Mazda windows for transport and a better way to mount a mirror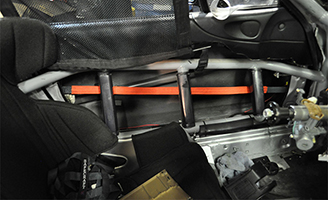 First, we'll introduce you to some of the safety and convenience parts, including a new way to open your door in an emergency. There are a lot of things to think about should you have to exit your race car quickly – belts, neck restraint, maybe radio and cool suit connections, for example. Thanks to an innovative new strap, finding the door handle won't be one of those concerns.
"It's a Kevlar door release, a long Kevlar strap so a driver that needs to get out in a hurry only needs to swipe their arm to the left and catch the strap anywhere along the door vs. trying to find the handle," explains Josh Smith, technical specialist for Mazda Motorsports. "It attaches to the stock factory door release mechanism in the back of the car and runs toward the front of the door. You just swipe the release and it opens the door. If you're in a smoke-filled cabin, car's upside down, you're confused – you just swipe. They're made of Kevlar so that won't burn, and they have a red polyester sheath so they're easy to see."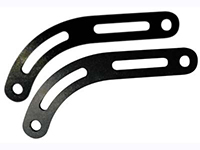 Of course, being aware of your surroundings is an important safety feature as well. Racers and their suppliers have come up with many ways to expand their field of vision, but maximizing it is still a tough task. Some of the roll cage mounts for wide-vision-field mirrors help, but in the case of the Miata, they are often too close to the driver. So, the creation was a simple set of extenders to get the mirror much closer to the stock location, closer to the windshield. The mounts bolt in between the aftermarket mount and mirror, getting it farther away from the driver and allowing full advantage of the convex mirror.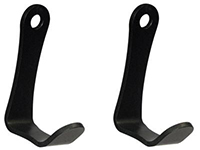 Finally, securing your Miata is a tough task once the windows are gone, as is keeping the rain out if you tow with an open trailer or when it's sitting in the paddock. Water-cut, lightweight aluminum clips that mount into existing holes in the door and allow you to put the stock door glass back in for transport, or even just sitting in the paddock, solve that problem.
Installed into the slotted holes that already exist in the door, the clips can be adjusted vertically and angled forward or back for a perfect fit. If you reinstall the upper stock door trim, the clips are invisible. Once you get everything lined up, it's just as if your windows were in the fully rolled-up position, keeping rain and anything else out of the cockpit when the car isn't on track. They come in a set of four, two for each side.
Kevlar Door Release
Part No. 0000-07-5311-MC
Price: $125.00
Rearview Mirror Extension Mounts
Part No. 0000-07-5312-MC
Price: $35.00
Window Clips
Part No. 0000-07-5300-MC
Price: $35.00
To order, log into the parts store or call (800)435-2508.
Pricing is subject to change.