Following last weekend's SCCA ProSolo event at Crows Landing, 243 competitors attended the Championship Tour at the NASA airport. This facility was formerly an auxiliary landing facility for the Navy, and boasts arguably the best concrete in the country. The sheer size of the site and the ability to use multiple runways, makes for some long and fast courses.
Course designer Ben Martinez took the opportunity to give the competitors a challenging and fun course. With the start at the intersection of two runways and assorted taxiways, the course went back and forth through four fingers. Speeds for most exceeded 60 mph, with many going over 70 in the fastest sections, as most competitors shifted to 3rd gear three separate times per run. The higher speeds also seemed to spread the competitors more than normal in some cases, with time differentials in many cases being over a second instead of just tenths of a second.
As with the ProSolo, Mazda was again well represented, with three of the top ten people on index driving various Mazda models.
The weather was fantastic with sunny skies and temperatures in the 80s. Once Friday's wind died down, things were much more comfortable.
Heat one featured ES and STR, and the competition was stiff. ES, which is "stock class" first and second generation Miatas and third generation Toyota MR2 Spyders, fortunately had less drama than last week at the ProSolo and was just good, fair competition. After Tony Rodriguez took the top spot last week in an MR2, the Miata presence was strong with seven of the ten drivers in this car. Rodriguez had a wedding to attend, so he was absent this week. Heidepriem showed that his '94 Miata R was strong right out of the box, and never looked back. While he didn't have the fast time in class on Sunday, his lead from Saturday was enough to take the win by 0.331 over one of the MR2 drivers. Dennis Hubbard in his '99 Miata Sport was able to take the fourth and final trophy spot.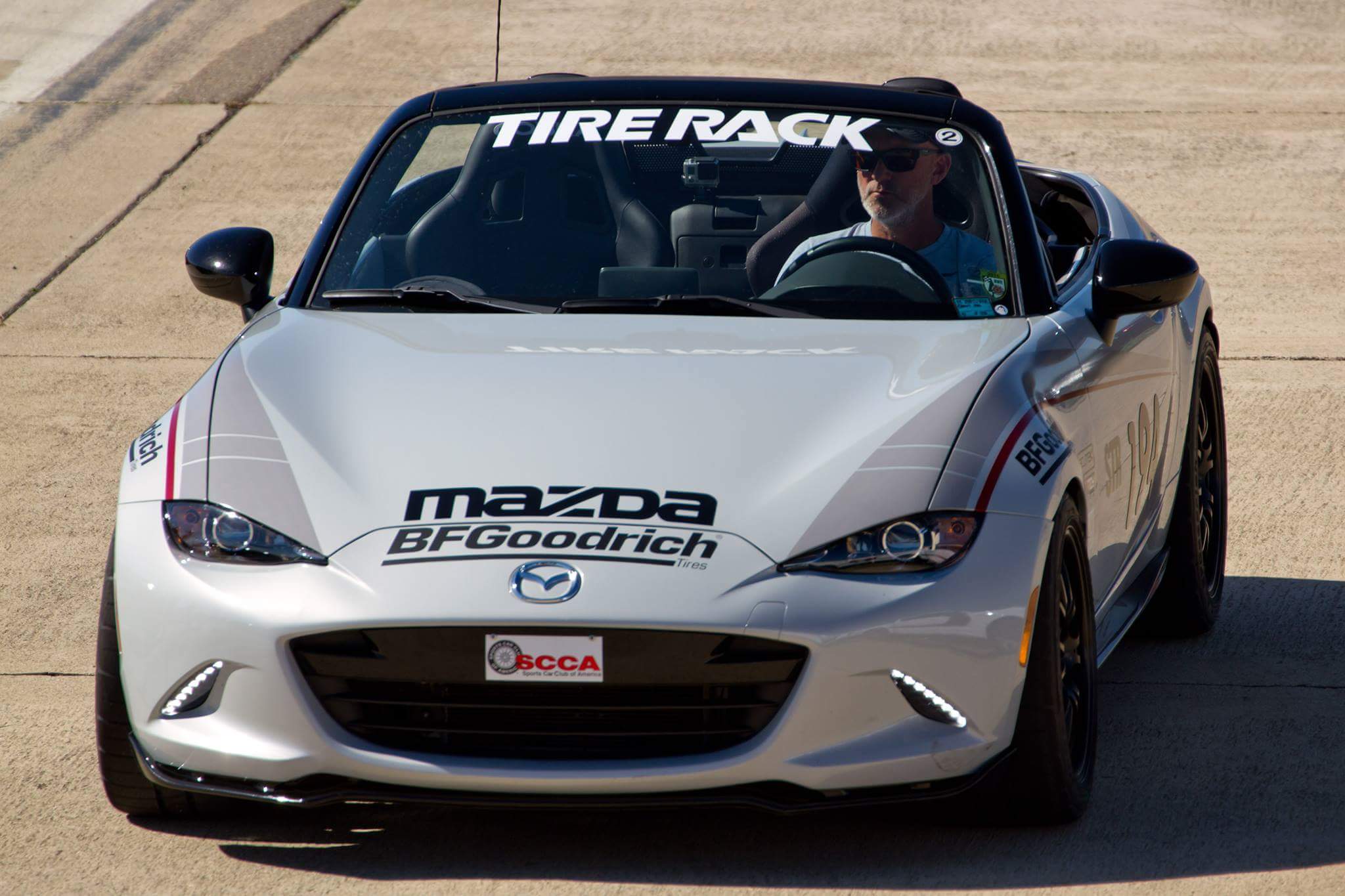 STR was down on attendance this week with "only" 14 drivers, but competition included three of the top four drivers from the 2016 Solo National Championships; competition was strong. As always, everyone would be trying to top James Yom in his 2008 Honda S2000 CR and Ron Bauer in his 2016 Mazda Miata. Ten of the fourteen drivers were in Hondas, with two drivers in NC Miatas and two sharing an ND. Ron Bauer has been developing the ND for Mazda Motorsports and came out strong this weekend, with a nearly 7/10ths lead after first runs. He'd continue to take off more time on subsequent runs while Yom would have to sit on his first run after coning his second and third runs. The day ended with Bauer leading by 1.2 seconds over Yom. Sunday dawned with Yom putting a quicker first run down than Bauer. With a clean run on the books, Bauer could then push harder. Always a fierce competitor, Yom shaved off 0.7 on his second run to pull within 0.064. Bauer answered with a 64.156 to move into the lead by 1.473. Yom's final run was half a second quicker, but had two cones. Bauer was also unable to improve, but would take home a huge win.
"The car was hooked up all weekend and I felt very good about my runs," said Bauer. "It's huge to finally get the first win over Yom. I'm absolutely loving how we've got the car set up. Anyone interested in setting up their 2016 or newer Mazda MX-5 would be well-served to come to Mazda Motorsports and duplicate our setup."
Second heat action brought CS and DP. These two classes are classic hotbeds for Miatas. After last week's CS class being all 2016 Miatas, this week it was 11 of the 14 competitors. A 2013 MX-5 Club and a 1964 Jaguar XK-E Coupe completed the class. All of the trophies would go to the new Miata, however. ProSolo winner Brian Coulson would take the lead on first runs Saturday, with Jeff Bandes moving into the lead on second runs, and Maurice Velandia bumping Coulson to third. By the time Coulson went out for his final run, Joe Goeke had bumped him to 4th. Coulson wasn't going to stand for that, and put down a 67.1 to take a nearly 4/10ths lead into Sunday over Bandes. Positions would stay the same through second runs on Sunday, but Velandia put down a 66.2 on his final run to move up to second. With the win already in hand before his final run, Coulson tore through the course after an early mistake, improving by a full second. David Peterson would end up in the 5th and final trophy spot behind Goeke.
DP brought seven competitors in familiar cars. The Paula/Ron Baker Miata was present, along with the ex-Keith Brown Miata with new owner Sean Green and co-driver Bret Dodson in that. A 1973 Datson 1200 and 1982 Toyota Starlet completed the field. Ron took the early lead over Paula, with Green taking over 2nd by the end of run 2. Ron increased his lead to a little over 0.4 on his 3rd run with Dodson moving up to 2nd, but Paula as second driver laid it down on her final run to end the day in the top spot! Dodson would take over the top spot on his first run for a few moments with Green moving in front of him as the second driver. Second runs brought Ron back up into the top spot, with Dodson coning away the class lead and Paula improving to bump Dodson out of the trophies. As it turns out, although 3rd runs brought some improvements, the positions would stay the same with Ron Baker taking the win, as Dodson again coned away the win. "I've finally had some time to work on the car, and it showed," said Ron, with Paula exclaiming: "I think this is my first trophy in something like ten years!" We are proud of them.
In the third heat, both STX and BSP were represented in Mazdas. STX had the largest field of the weekend with 23 drivers. This class is mostly dominated by the Scion/Subaru "twins," but that didn't stop Steve O'Blenes from bringing his 2005 RX-8 to the battle. Fueling problems plagued his car on Saturday, with the car pinging most of the day, but he was still able to put down a 3rd run that would leave him in the third position at the end of the day. A replacement fuel pump seemed to cure the problem for Sunday, but the 68 mph 2nd gear rev limiter that had been a benefit on Saturday, wasn't quite high enough for Sunday. Nevertheless, O'Blenes was able to hold onto the 3rd of 7 trophies. O'Blenes is working on being able to re-tune the car and is hoping that will give him what he needs to move even further up the standings.
BSP only brought three drivers in two cars, but reigning National Champion Anthony Porta would tear through the course both days to not only take the win, but finish 5th overall on index for the weekend in his 2005 Mazdaspeed Miata. "These courses were pretty much perfect for the gearing in my car," said Porta. He and his wife, Lauren Kane Porta, also spend a lot of time on these weekends taking pictures, and have been very generous in providing a few of those for this and other articles. Watch for this class to grow next year as Ron Bauer moves here in one of the ND Miatas.
The final heat of the weekend brought the largest number of classes, as SCCA put all of the Ladies classes together in one heat to provide a camaraderie amongst this group in hopes of increasing the attendance in these classes. While everyone would be competing for class wins, the Ladies classes would also be competing on index to determine an overall winner for the weekend. STS and XP open classes would also finish the weekend off.
STS had two drivers competing for one spot. NA Miatas and 1989 era Honda products normally duke it out in this class. Craig Naylor brought his 1995 Miata this weekend and showed no mercy, leading from start to finish.
In XP, eight drivers competed for three trophies. Andy McKee and his wife Teresa Neidel-McKee were again back in their 1993 RX-7. These two drivers showed the rest of the class that they weren't to be messed with, as Andy screamed through the course both days to not only take the win, but second overall on index. Teresa was able to take the second trophy spot home with a nearly two second advantage over the third spot.
ESL brought four Miatas. Jenna Taylor, in a '00, took the lead into 2nd runs on Saturday, with Cat Rice, in her '94 R, jumping to the front in front of Pam Kannan, in her '03. 3rd runs again saw a lead change as Kannan would move to the top spot by 0.3 over Rice. Rice took the lead back on Sunday, and despite losing her oil cap and then DNFing on her final run, would hold on for the win. Kannan nearly caught her on the final run, but fell short by just 0.150, taking the second trophy.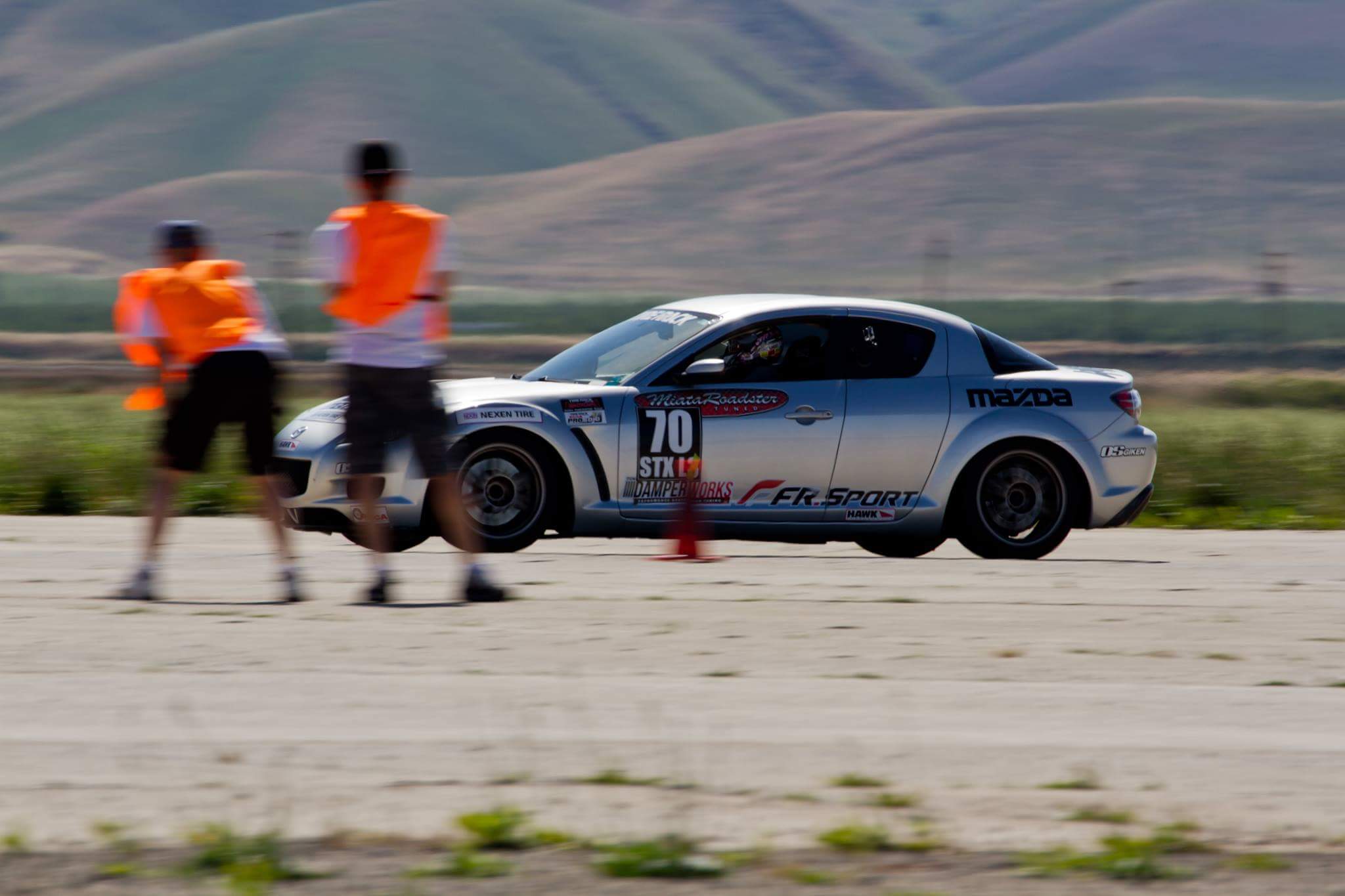 STXL had four drivers as well, with Catherine Tran running Steve O'Blenes' RX-8. Catherine led the class through the first two runs Saturday, but after a cone on her final run, handed the lead to Jessica Pao in a 2016 Subaru BRZ. Pao would hold onto the lead through second runs Sunday until Tran took off 1.6 seconds on her final run for the win!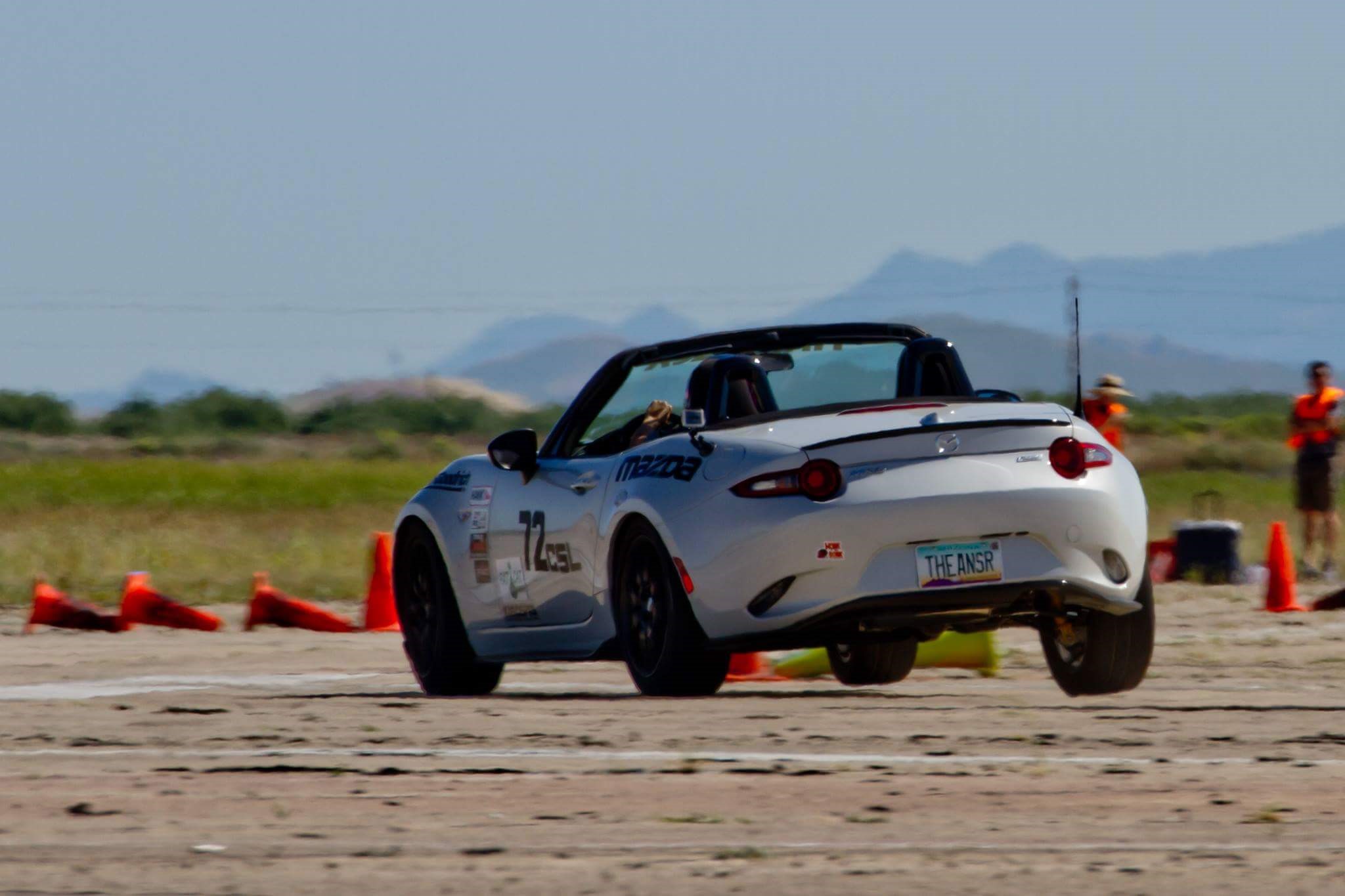 CSL brought back current National Champion Deanna Kelley in her 2016 MX-5 Miata against Jodi Fordahl in a 2006 MX-5. Deanna showed why she's the top driver in this class, leading start to finish. Her times would have placed her 5th in the Open class, and were also fast enough to earn her the overall win on the Ladies Index component.
The next event will be a ProSolo in Blytheville, AR the first weekend in May.