U.S. Marine Staff Sgt. Liam Dwyer described his victory at Lime Rock Park, where he co-drove the No. 27 Freedom Autosport Mazda MX-5 with Tom Long in the Continental Tires SportsCar Challenge, as "a storybook ending to a fairy tale that even Hollywood couldn't make up."
It's a story that began at 18 months old when the Connecticut native's father stumbled upon Lime Rock Park and, while driving through the paddock, saw his son's head pick up and look around. He noticed the excitement that began a lifelong love affair with cars and racing that ultimately led to that "Once upon a time…" moment.
But there was a detour along the way that included the Marine Corps and losing his left leg to an I.E.D. explosion in Afghanistan – almost exactly three years prior to the Lime Rock win.
"I signed up for the Marine Corps shortly after the U.S.S. Cole got attacked," Dwyer says. "I went to boot camp in January 2001. But I'm what you call broken time, meaning I got out and got back in, got out and got back in again. Total years of service, I'm at 9 or 10 now; but really I've been in the Marine Corps since 2001."
After losing his leg and being told he would never drive a stickshift again, he began racing. His prosthesis attaches to the clutch pedal.
His opportunity with Freedom Autosport came by chance at the Rolex 24 at Daytona two years ago when he met team principal Derek Whitis and team manager/driver Tom Long. After spending the weekend hanging out with the team, they kept in touch, and Dwyer sought out Whitis's advice about doing the One Lap of America, which Whitis had also done. Watching Dwyer's results there led to a test, which led to a three-race deal for 2014. The first race was at Mazda Raceway at the beginning of May. Dwyer admits he was having trouble getting up to speed, and he and Long's race ended with a crash.
Lime Rock Park, though, is Dwyer's home track, and he says he has a few thousand laps at the circuit. It showed when the Continental Series hit the track on Memorial Day weekend as the headlining event. With qualifying rained out and the team having no points, Dwyer started at the back of the Street Tuner field. During his stint, he moved the car up 10 positions in the 33-car field before the team pitted early during a full-course caution. Long then spent much of the rest of the race moving to the front and battling with the CJ Wilson MX-5s, but maximizing fuel efficiency kept the team from having to make a late-race stop.
It was a special moment with a special team. Obviously, Freedom Autosport is a good fit for Dwyer, and the Marine Staff Sargent is a good fit for the team.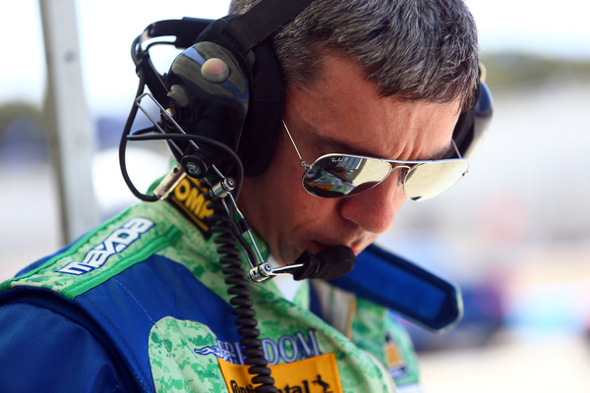 "The team obviously has a huge affiliation with an organization I'm somewhat involved in, the Semper Fi Fund," he says. "It's an organization that I know personally. They've helped me out, they've helped my family since I got injured. To be involved with this team, obviously supporting veterans, means a lot to me. It's not like other teams around here don't support veterans; they just do it at a different level. So to be involved with a team that is all about the military and supporting it means a lot."
Dwyer had a lot of injured veterans cheering him at Lime Rock. His accomplishments beg the question of whether he is an inspiration to other wounded warriors.
"A lot of people say that to me, 'You inspire me….' I'm just Liam Dwyer. That's all I am. I'm just a guy missing a leg who happens to be a Marine and happens to be racing a car. If I can set an example for people to want to try to do something they didn't think they could do, I'm more than happy to do that," he says.
"The people that inspire me are the doubles, the triples, the quadruple amputees at the hospital," Dwyer continues. "I see what they go through on a daily basis. The difficulty that I have with certain things… the reality is that those doubles, those triples, those quads will never do what I'm doing. So I just think about the difficulty they have in everyday life. That's what inspires me to drive my life and drive these cars, and hopefully put more of a face on us."
Dwyer and Long will team up again at another track that Dwyer is familiar with, VIRginia International Raceway, on Aug. 23-24.