Cooper Tires Prototype Lites Powered by Mazda driver Matt McMurry has a pretty clear goal: Break the 55-year-old record for the youngest driver to compete at the 24 Hours of Le Mans.
Arizona native McMurry, the 16-year-old son of sports car racer Chris McMurry, is off to a good start in accomplishing that goal this year. Having competed in the Prototype Lites in 2013 and again this year with Performance Tech, he has also raced in the Cooper Tires USF2000 Powered by Mazda and the Bob Bondurant Formula Mazdas. More significantly toward that end, he just had his first run in Greaves Motorsports' P2 car at the opening round of the European Le Mans Series at Silverstone in England, where he partnered with Tom Kimber-Smith and Chris Dyson for a fourth-place finish.
While he hopes to compete at the Circuit de la Sarthe in June, he isn't abandoning the Prototype Lites series, which he started in last August. While the youngest-driver-at-Le Mans record would be nice, winning championships is a better way for a young racer to make his mark.
"It's all kind of related because it's important that I do well in Prototype Lites," McMurry says of his dual pursuits in 2014. "Not just because I want to win it, but also because people will be watching that."
For a driver seeking a career as a professional sports car racer, McMurry believes the Cooper Tires Prototype Lites Powered by Mazda is the ideal steppingstone. The USF2000 series contributed greatly to his learning curve, but time in something more akin to a P2 car will help him toward that hoped-for ride.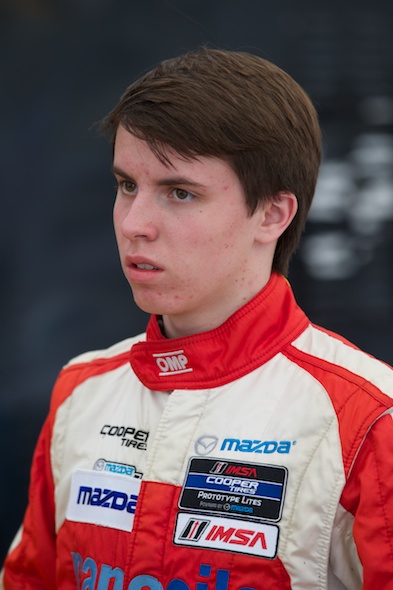 "I've pretty much only driven formula cars until Prototype Lites," McMurry explains. "The big thing was just driving a car that's a little bit heavier and one that has a lot more downforce. That's a big, big jump from USF2000. It has downforce, but not a lot. So just getting used to driving a car like that where you're going through a high-downforce turn, you can't really feel that there's a lot of grip there, but you just have to know that there is and trust that there is and go faster because when you go faster, it usually works better with downforce."
McMurry is the first member of the Junior Development Program created by Dyson Racing. It's an opportunity he earned in part by competing in Prototype Lites.
"With Prototype Lites, it's in the IMSA paddock with the TUDOR series, so you get to meet a lot of people who are involved at a high level of the sport. I met Dyson guys and Greaves in the IMSA paddock. And also working with Performance Tech because they also are a PC (Prototype Challenge) team. So besides getting to drive their PC car, you also get to work with a team and crew that has worked around that type of car and I guess has a little bit different kind of mentality and feel to them. "
McMurry's next stop for the ELMS is at Imola in Italy on May 17-18, and then he's back in the Cooper Tires Prototype Lites Powered by Mazda at Kansas Speedway on June 7.