Hello friends! My name is Scott Hargrove. Last year I ran in the Cooper Tires USF2000 Championship Powered by Mazda with Cape Motorsports with Wayne Taylor Racing and had an amazing year, ultimately leading the championship through the final round and securing the coveted MAZDASPEED Scholarship. As a team we have decided to move up together, entering a new chapter for the Capes, as they become a Pro Mazda team for 2014.
This was set in motion right after the Houston race in October, and since then the amount of work the team has put into this program is mind-boggling. I can't thank all the guys enough for making this happen and I'm extremely excited to see where we end up.
For myself, the off-season has been quite a relaxing one. It was a treat to know the plans for 2014 even before the USF2000 season ended. Having graduated from high school in June of 2013, this was really the first time I have had free time on my hands. I put it to good use by increasing my fitness routine and helping out the local community. I joined a crossfit gym thanks to the recommendation of my awesome teammate Neil Alberico. Speaking of Neil, this is going to be the third year in a row that we are teammates. I think that is pretty unique within the junior formula car world.
I also visited children's hospitals to hang out with some of the kids. One boy had a PS3 and challenged me to race in Gran Turismo. He promptly destroyed me, as he was legitimately good! Keep your eye out there is a new star on the rise!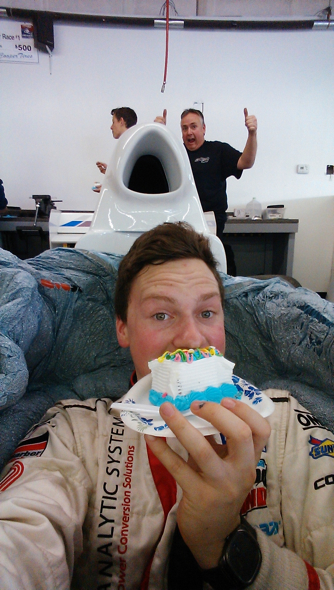 I spent a decent amount of time in Florida throughout the off-season – not a bad place to be during the winter that's for sure. I also turned 19 while I was in Florida with the team. We were making a seat that day and they surprised me with an ice cream cake. Being a Canuck, my heat tolerance is pretty low, so the cold cake was a welcoming treat! That's Will in the background. He has done a tremendous amount of work to the cars and has worked his butt off all off season. Thanks Will!
I also purchased a car over the winter. I am now a proud owner of a 1993 Mazda RX-7. This thing is a monster. Low mileage and high horsepower, I couldn't turn down the offer!
Of course the racing season is now upon us, and focus has shifted to that. Coming into the Cooper Tires Winterfest, I knew the cars felt pretty good from a handling standpoint. However, we still didn't know where we were going to stack up against the competition. It was also only the second time I had worked with our engineer Tom Knapp.
Throughout the NOLA Motorsports Park races, we ruled out certain things and made good progress with the car. We then went to Barber Motorsports Park with what we had learned. Instantly we were in contention, with qualifying being a lot closer than in NOLA. Every time we would go on track, the car seemed to get better in one aspect or another, which was really encouraging. In the last race I started second and after a good start, I got the lead. Spencer Pigot was close the entire time, but I was able to hold on for the win. This was a massive accomplishment for the team and myself. Both the team and myself are rookies in the series, and four races in we have already won! The progression was very promising too, as I finished fifth, fourth, second and then first.
So now here we are. St. Pete is almost here and things are looking very positive. The MAZDASPEED No. 3 car looks great and I'm thrilled to be representing them this year. Of course I could not have made it here without the support of Analytic Systems and my parents. This will be a fun year and I'm sure it will be a dogfight right to the end. One thing is for sure, however: We are here to win. There are no excuses with this team and we will all give it everything we've got to make it to that top step at the end of the year. I can't wait to get started!