Mazda's new LMP2-spec racer is a combination of proven technologies – Lola's B12/80 coupe and the SKYACTIV-D Clean Diesel engine from the Grand-Am GX program. Combining the two presents several challenges that SpeedSource Race Engineering and Mazda are facing head-on. They do so, however, in a rather unique environment full of unknowns.
It is not only the car that is new, but also the series in which it will race. The Grand-Am Rolex Sports Car Series and the American Le Mans Series have come together to form the TUDOR United SportsCar Championship. The premier class of the new series is Prototype, which is composed of the Grand-Am Daytona Prototypes and the ALMS LMP2 cars. The Mazda falls into the latter category.
Making developing a new car even more tricky is that series officials will likely be making frequent rules tweaks as they try to balance performance between two rather different types of racecar. So even as a team finds the sweet spot, rules changes might make the sweet spot a moving target.
Still, tempering any grand expectations of immediate success, SpeedSource feels up to the task at hand and is putting together a package that has great potential to be competitive, even as it is unique. The Mazda will be the only diesel in the series, and that diesel is still derived from a production unit, with 51 percent of the parts stock.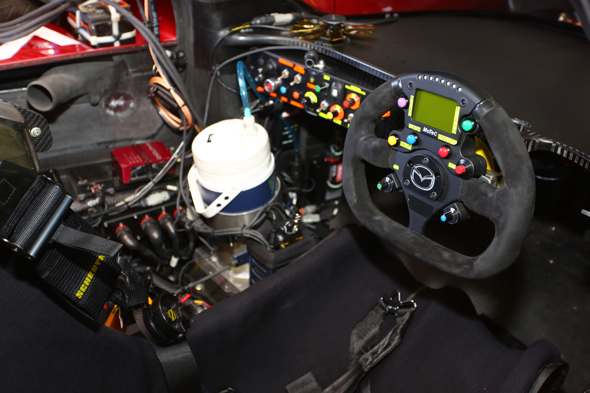 "The engineers here and the engineers at Multimatic [which took over Lola parts and car manufacturing] did a great job," says Sylvain Tremblay, SpeedSource Race Engineering's principal and driver of the No. 70 car. "It's got the proper crank height, they managed the weight distribution, we worked quite a bit to have the lightest possible engine package we could, at about 315lbs. So we're very competitive within our class."
Tremblay and the other drivers, including his co-driver in the No. 70, Tom Long, have some differences to get used to compared to the GX car. The cockpit is very different, but an even greater difference is the capability of the car.
"The most impressive thing would be the braking," says Long. "That comes from the downforce and the carbon brakes. I think the biggest challenge is going to be knowing where the limit ultimately is. In a GT-style car, as it gives up grip, it starts to move around. The prototype doesn't move around much – and if it does, something is going to go wrong. Having all that downforce and trusting the car and the amount of grip that it offers, and knowing you can go faster and create more grip by adding downforce can play a trick on your mind."
2014 Mazda Prototype Specifications
| Spec | Measurement/Type |
| --- | --- |
| Engine Displacement | 2191 cc (133.7 in3) |
| Bore x Stroke | 86.0 mm x 94.3 mm (3.39 in x 3.71 in) |
| Engine Weight | 143 kg (315 lbs) |
| Horsepower | 336 kW (450 bhp) |
| Torque | 786 Nm (580 lb-ft) |
| Max. Engine Speed | 5200 rpm |
| Engine Block | Production Mazda SKYACTIV (Aluminum) |
| Camshaft | Dual Overhead |
| Valves | Four Valves Per Cylinder |
| Cylinder Head | Production Mazda SKYACTIV (Aluminum) |
| Valve Train Components | Production Mazda SKYACTIV |
| Pistons | Mahle (Steel) |
| Connecting Rods | Carillo Forged Alloy (Steel) |
| Crankshaft | Pankl Alloy (Steel) |
| ECU | Bosch Motorsport MS 15.2 |
| Intake Manifold | SpeedSource Race Engineering |
| Exhaust Manifold | SpeedSource Race Engineering |
| Turbo and Wastegate | Garrett Motorsports; air-to-air Intercooler; Tial wastegate |
| Fuel Injectors and Pump | Bosch Motorsport |
| Fuel Rail | Bosch Motorsport |
| Oiling System | SpeedSource Race Engineering |
| Cooling System | SpeedSource Race Engineering |
| Transmission | Xtrac 6-speed sequential with paddle shifters |
| Chassis | Carbon-fiber monocoque coupe |
| Weight | 900 kgs (1984 lbs) – Without driver or fuel |
| Length | 4634 mm (182.4 in) |
| Width | 1990 mm (78.3 in) |
| Wheelbase | 2890 mm (113.8 in) |
| Top speed | Approximately 300 kph (186 mph) – in Daytona aero trim |
| Brakes | AP carbon drilled discs |
| Suspension | Independent double A-arms |
| Tires | Continental Extreme Contact |
| Front | 320/650/R18 |
| Rear | 325/710/R18 |
| Wheels | Motegi EVO 14 Technomesh; Forged Aluminum |
| Fuel | Dynamic Fuels Renewable Diesel |
| Fuel Capacity | 73 liters (19.3 gallons) |
Next: Expectations for the Season