KERSHAW, SC (Nov. 17, 2023) – The fourth annual Spec MX-5 Shootout (SMX) took place at Carolina Motorsports Park, November 15 – 16. The event saw 12 candidates narrowed down to three, who will become Mazda Factory Team drivers in 2024.
Created in 2020, the Spec MX-5 Challenge (SMX) Shootout was added alongside the Mazda MX-5 Cup Shootout to search for younger drivers looking to break through into sports car racing. Once its own series, SMX was recently named a SCCA National Class, creating a greater number of events and additional personnel support. By becoming a Mazda Factory Driver, the three winners will be assisted by Mazda financially and have a bevy of coaching and advice available from professional drivers.
The three drivers carrying etching their name on Mazda's factory roster are Ethan Jacobs, Helio Meza, and Camden Hibbitt.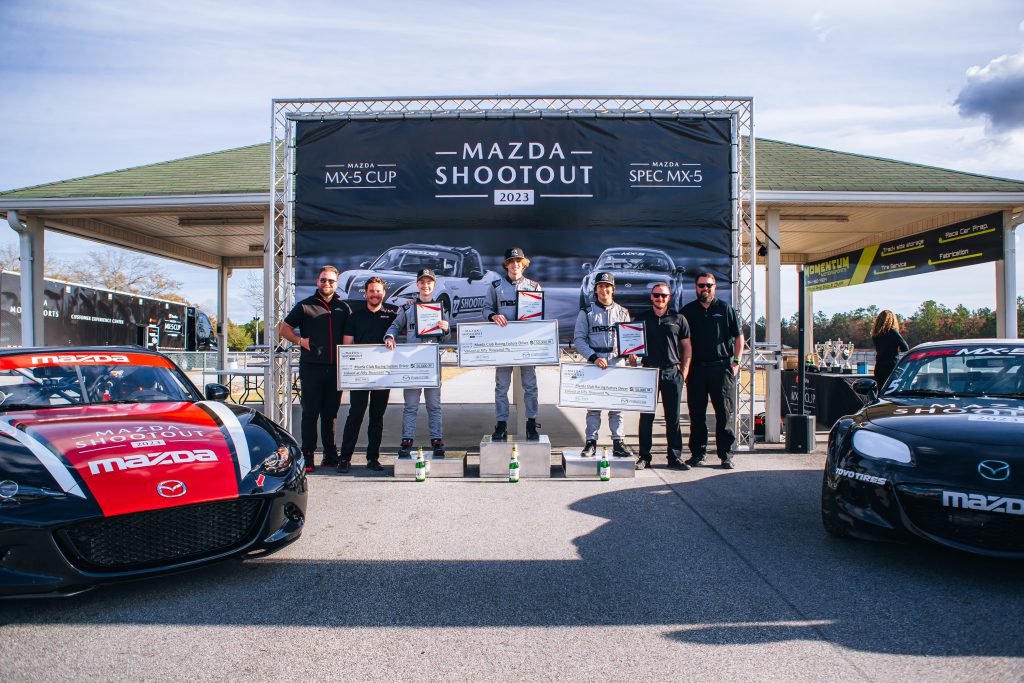 Ethan Jacobs (Oshkosh, WI)
"I'm pretty excited to be a part of Mazda's grassroots racing program. I'm excited to see what I can do in the car next year and see if I can make it to the Shootout for the MX-5 Cup series. I think I had good pace all week and drove consistently, especially through that last session, which I think pushed me over the edge and I felt really comfortable talking to everyone. I made a good impression and had a great time all around."
Helio Meza (Houston, TX)
"It feels amazing. It's been a lot of hard work, not only on my side but on my friends and family. Last year we got nominated but I wasn't a finalist, so this year to be picked as a finalist is an accomplishment on its own. To be here with the little seat time I have and be on the podium winning a check is unbelievable. I have to thank all the Mazda staff and coaches and all the people I've met who have helped me over these past two days. I look forward to working with Mazda in the future."
Kamden Hibbitt (Westerville, OH)
"It's been an incredible experience. I can't thank Mazda Motorsports enough. We don't really have the money to much farther beyond the club racing stuff, so for Mazda to give drivers like me and the other winners this opportunity is incredible, and I can't thank them enough for this opportunity."
The trio will get to compete at select SCCA Hoosier Super Tour events in the Spec MX-5 class, which was recently elevated to a SCCA National category. They will receive a racing school, plus testing and a full arrive-and-drive season that will include the 2024 SCCA National Championship Runoffs. All entry fees and consumables are covered, along with a travel budget, a car damage budget, and more.
"I was massively impressed with this group from a talent side," Mazda Motorsports Business Development Manager Josh Smith said. "All of these young drivers, every year they step it up and make our job much harder. I feel like a broken record saying that, but it's the truth. They have learned how to operate within the sport and they're only just beginning. We couldn't be more proud of them and it's only going to set them up for success in their future endeavors."
Several Spec MX-5 Shootout winners have gone on to earn invites to the Mazda MX-5 Cup Shootout, which offers several scholarships to participate in the IMSA-sanctioned MX-5 Cup series. The two most recent MX-5 Cup Shootout winners—Nathan Cicero and Westin Workman—were also Spec MX-5 Cup Shootout winners.
Keep your eyes peeled for these three prodigies at upcoming Hoosier Super Tour events. The 2024 schedule can be found here.