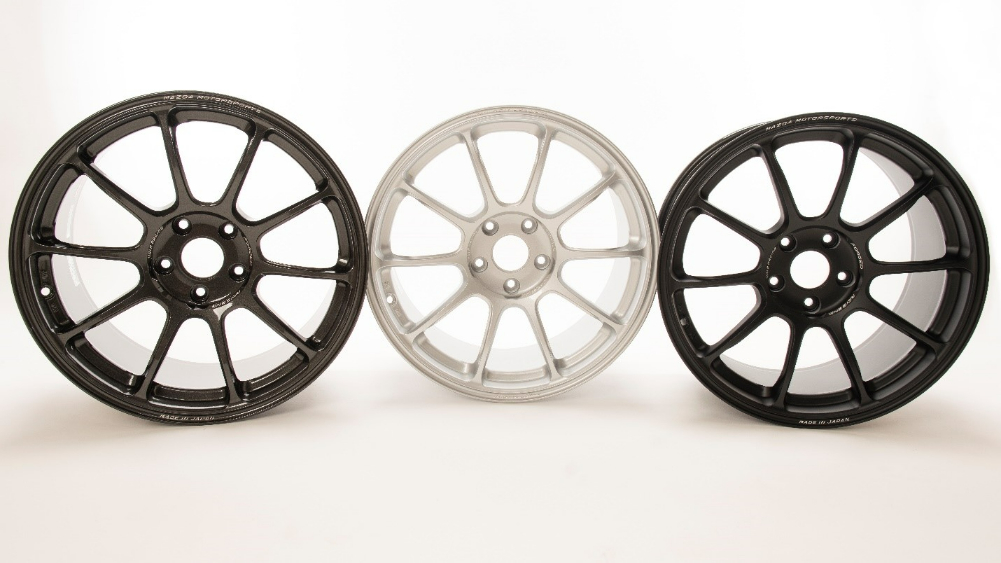 With every opportunity possible, Mazda Motorsports celebrates the FD- RX-7 (1993-2002). Mazda Motorsports has collaborated with Rays CO. in Japan to get the ultimate FD RX-7 track-focused-wheel fitment to be available without having to order custom wheels. With the ZE-40 wheel, you can fit up to a 295/30/18 tire on all 4 corners of your FD RX-7. Depending on tire size selected, the fender rolling is highly suggested.  This setup works well on the FD RX-7 due to the chassis being designed around a square wheel & tire setup.  The FD RX-7 has the same track width front and rear along with the same wheel sizes on all 4 corners.  This just takes that approach to the max available fitment possible with the OEM body panels.
Color options and PT#'s – $677.00 each
0000-04-7803 – Gunmetal
0000-04-7804 – Matte Black
0000-04-7805 – Silver
Popular tire size options:
275/35/18
285/30/18
295/30/18
The ZE40 is a completely new wheel design with each of its 10 spokes featuring an aesthetic finish that also helps reduce weight. Those spokes will also feature 4 different concave faces, depending on the width and offset of the ZE40 you choose. The wheel center of the ZE40 incorporates a new overhang design for strength and looks. Detail touches on the Volk Racing ZE40 include machined logos and black high-speed air valves. The ZE40 barrel will include the anti-slip bead knurling learned from Formula 1 competition wheels.
Wheel specs:
18"x10"
+50mm offset
5 x 114.3 bolt pattern
19 lb
Hub bore 67.1mm (hub-centric fitment for the FD)
Face – 2 design clears big brake kits (Brembo & AP)