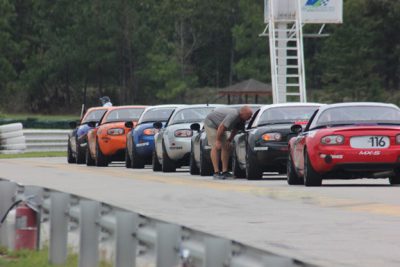 Photo credit: Tom and Rocco Pasquarella
I arrived at the track feeling optimistic. That's not often the case; it usually doesn't take much to unnerve me when I'm trying a new car or a new track. Once I learn it, I'm pretty stable emotionally, but this was an unusual feeling of familiarity that carried me through the pits and into the car I'd drive the next day.
Some of that must've been due to the fact I've been writing about these Spec MX-5 cars for over two years now. I've followed Wyatt and Dave Couch build their cars for the Western Region, I've watched a couple races in person, and I've pestered quite a few folks in my area for a chance to test one.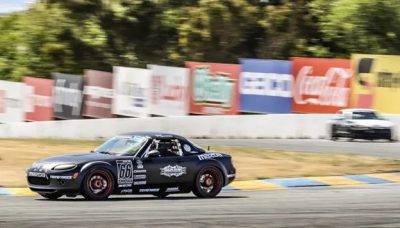 Wyatt's time-crunched build has been one of the fastest in the Western Region.
It was through a conversation with the charitable Lisa Caceres that I learned about Mazda's plan to offer thirty talented kart and quarter midget drivers a chance to test these wonderful Spec MX-5s. Thanks to data acquisition and great coaching, we would truly get to terms with these cars by the end of the proposed two-day test.
I loved the car for a few reasons. One was its simplicity. I loved the fact they brought new technology into the equation without diluting the Miata's raw driving experience. It also seemed to be built to encourage real mechanical parity and close competition among the drivers. So many talents emerge from spec racing, so this newer, more powerful, more tail-happy MX-5 must cultivate real driving skill just like its predecessors did.
Lisa put in a good word for me and soon, after a heavily caffeinated and enthusiastic conversation with David Cook, I learned I'd be joining them. It was hard to sleep that night.
The day before the first official test day, most of us arrived at dusk to a deserted Carolina Motorsports Park for seat fitting. CMP is remote and many of us had traveled serious distances to get there. Nevertheless, everyone seemed pretty chipper in the pits, save for a few mechanics who were drowsy after driving all the way from the Great Lakes.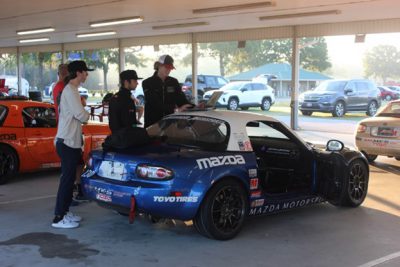 I let out a sigh of relief as I slid into my assigned car. Being a little "stocky" side, as a mechanic there was nice enough to mention, I expected to feel squeezed. While the interior of a caged Spec MX-5 isn't exactly spacious, it is much roomier than an NA or an NB Miata, and I realized navigating around the roll cage, even with a HANS and a helmet on, wouldn't be too tricky. We adjusted a couple things so that I sat comfortably and I shook a few hands before heading back to my hotel, where I listened to some evil bird cawing outside of my room until two in the morning. My dreams that night involved me dispatching it with a twelve gauge.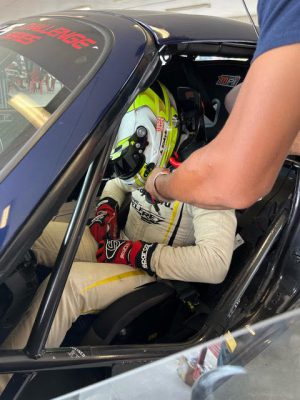 Even medium-large drivers will find the Spec MX-5's interior spacious.
Back at the track at 7:20 sharp, David Cook and the rest of the Mazda brass gave us the spiel about what to expect throughout our two days, how to push in an intelligent way, and how important it was to adhere to the proposed schedule. With thirty karters sharing ten cars, we had to make sure we were ready at the right time. Thankfully, everyone watched the clock carefully and kept the show rolling with minimal setback.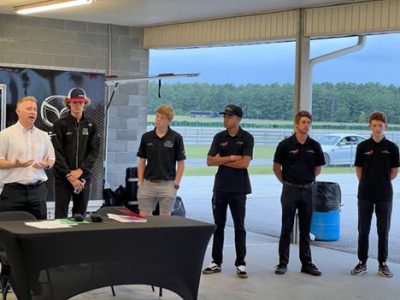 Cook (L) getting everyone up to speed.
Even more impressively, all this seat time was accomplished even with an introductory lesson on shifting for the karters less familiar with the intricacies of an h-pattern gearbox. The van-arounds took place after the shifting seminar, which helped build upon the homework I'd done on a burner map of the track in Assetto Corsa. In real life, Carolina Motorsports Park has a few subtle features which aren't replicated that well in its simulated version.
Over a few introductory laps in a rental car, Nathan Saxon, Northern Region Spec MX-5 Champion and MX-5 Cup shootout nominee, was able to point out where I should fourth gear even though my gut was telling me third, how to attack the curbs, and what sort of touch I'd need to get my car rotating as he likes his to.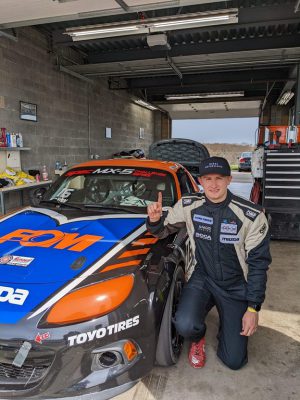 Nathan Saxon, the man was responsible for so much improvement those two days.
I took his advice into my first session in the car. Once the pack settled into a formation, we started pushing a little, but still driving quite tentatively. I figured we had plenty of time to deal with the broad brushstrokes of driving this car and this track. Plus, with a camera in my car, it would be easy for Nathan and me to analyze my line and technique after each session.
After each session, the drivers met with their assigned coaches and studied the track. Among those coaches were some of Mazda's best: Connor Zilisch, Westin Workman, Nate Cicero, Michael Borden, Grant West, Chris Nunes, and Andrew Carbonell.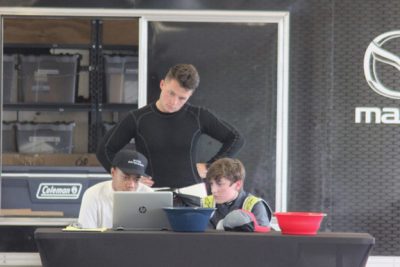 Westin Workman (L) helps get his students up to speed.
Quality coaching helped us move forward at a rate which deserves a tip of the hat—CMP requires a lot of thought. There were areas where it was wise to exercise a little caution, but with ample runoff most everywhere, we were given a chance to really explore the limit without taking excessive risks.
I'd already learned the basic line from the simulator; however, the way the curbs would be negotiated, the way the car would be trailbraked and throttle-steered, and the general level of slip angle we could get away with took more time. Thankfully, all the related questions were answered through Nathan's stellar instruction, and even when Nathan was busy coaching his other students, I could bounce a question or two off any coach when they walked by. They made themselves available.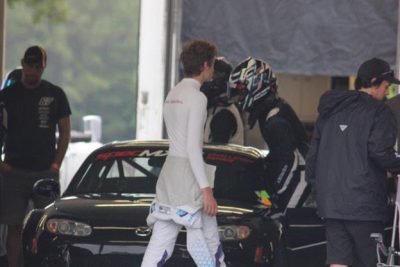 Despite the commotion in the pits, people knew when they were up for their next run, even with a few schedule adjustments.
Because the information we were given wasn't prescriptive was what made it so fun. We were given the essentials and then set free to push as hard as we felt we could. We were given time and space to improvise and begin to understand how the car behaves when it's dancing around like it ought to be—like how all the quickest guys drive it. Though we were reminded that this was a test and there was relatively little payoff for the fastest time, everyone was experimenting with new approaches every session and then bouncing back to the pits with a new list of questions for their coaches. Some were spinning, though most kept it clean.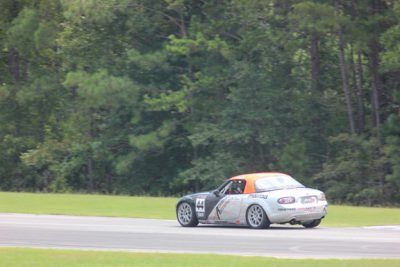 Though the sports car rolls more than a kart, the soft transitions and great damping helped drivers adapt to the Spec MX-5.
Getting around others was left largely to the discretion of the drivers. Every driver on track dealt with traffic intelligently, which, with fields of drivers separated by as much as twenty-five seconds a lap, is commendable. We were instructed to watch our mirrors, let the faster traffic by, and make ourselves obvious to the slower guys and girls before passing. We got through the day without any careless fender banging or negligent paint trading.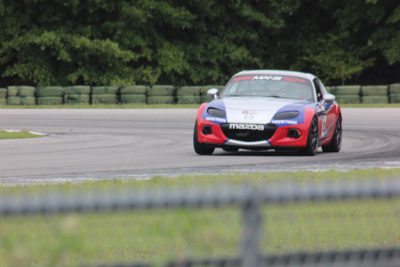 Which isn't to say there weren't a few incidents. We were encouraged to be sensible, as this was only a test, but we were never told not to push. There was just no point in chasing the ultimate lap time—this test was not about that.
The second day was a continuation of the first, but with a calmer atmosphere and a tighter schedule. With new tires and brakes for all the cars, we first accustomed ourselves to a track a little damp from the morning drizzle, and started taking big chunks out of yesterday's lap times. Now that everyone knew the routine, we got in and out of the cars fast enough to squeeze in five sessions.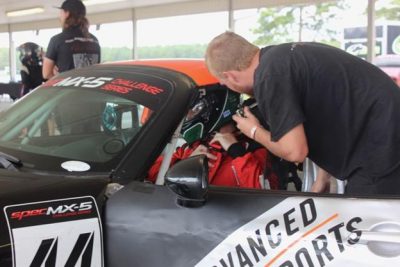 The author getting situated in a new car the second day.
Since everybody seemed a little calmer the second day, it was easy to find new folks to talk to between sessions. Many of them volunteered to share their story and tell me about what got them to this point. Ethan McKay had been karting seriously for a year. Even with relatively little experience, he's already enjoyed plenty of success at the local level. When his friend sent him an article announcing this test, Ethan did what he could to get the money together. He knew he wouldn't miss the chance to finally drive a full-sized race car.
"I was attracted by the costs, really, but I've learned I prefer the bigger cars. I love the big tracks, the higher speeds, and the new challenges of driving—it's so much more complex than karting. I've been running with Flatout Motorsports and they've been really helpful. It's been so easy to learn here. Actually, I'm not sure whether I'll continue karting," he said with a smile.
Rocco Pasquarella and his dad Tom were also happy to chat. We've been running karts over the last eight years and we've been testing various cars for ways to progress. After we got a taste for Spec Miata last year, we had to give the SMX a try."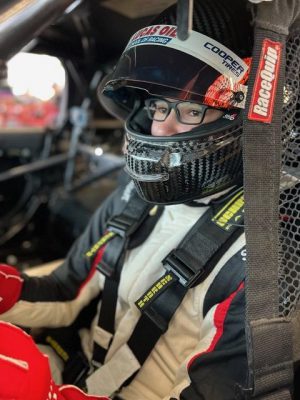 Pasquarella sitting comfortably.
"After we learned about this event through an eKartingnews article, we just had to give it a try. We're trying everything we can to find the best driver development program available as Rocco transitions from karts to cars. Mazda has one of the best overall packages of car, cost, and support we've seen yet," said Tom.
One interested racer chimed in as Tom and I were talking and it became clear this man had seen a lot. Jonathan Kotyk, a veteran who karted against some big names, was there to help get a few drivers up to speed and share some of his wisdom from twenty years in the business.
"It's so hard for karters to chase the single-seater dream in America now. There's just not much ROI for the sponsors in most of the lower formula series since those series' publicity isn't great. Unfortunately, a lot of these series cost playboy money."
"In comparison, there are a lot more opportunities in the sports car market. Mazda takes great care of their drivers, cares about promotion, and, obviously, the MX-5 is much more affordable than something like an F4."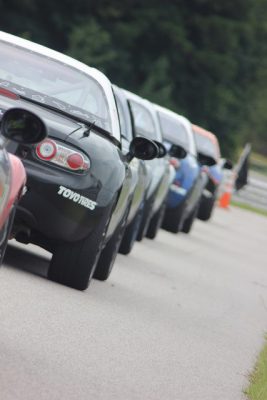 Lower costs and more opportunities make sports cars appealing.
All these takes had me thinking a little more about what I was going to do, but I couldn't ponder too long—I had a debrief to get to.
At this stage in the day, data had become the focus. The big chunks had all been hacked off, and now we were whittling away the smaller bits. My line was good, my braking points were fine, and my downshifts were timed and synchronized well. However, Nathan pointed out I wasn't pushing the tires as hard as I could've.
The Spec MX-5 rewards a forceful hand. I learned that the car, while wearing a forgiving set of Toyo RRs, really has to be driven with a lot of slip angle. Comparing my lap to his, it became obvious I was rolling on the throttle too slowly, steering a little too smoothly, and not "telling it what to do," as he put it.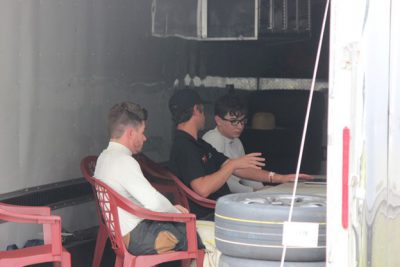 Tailored instruction made everyone improve at a rapid pace.
After that, realizing there was room for more assertive driving, I tried to climb the curbs, use more throttle everywhere, and deal with the car as it moved around. The damping was stellar and it handled the curbs so confidently—I really wasn't ready for a car that could be monstered over the curbs without any consequence.
Predictably, I found a few tenths and enjoyed real exhilaration from getting to manhandle the car through places where before I was tip-toeing. The car seemed to get better with a more assertiveness; it turned in more eagerly than I had thought it would. With a little oomph, the Spec MX-5 is remarkably agile. Even when the tires wore down towards the end of our day, it was still predictable enough to never surprise me.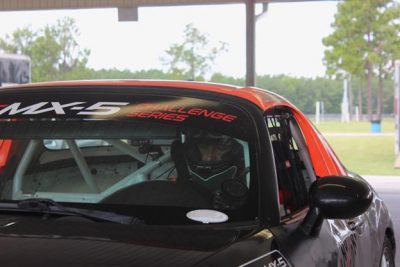 Even as the tires wore down, the friendly character of the car made it possible to continue improving.
That sort of confidence and prescience usually takes me at least a few weekends to find; however, the combination of a well-sorted car, ample seat time, and tailored instruction from drivers who know these cars helped me find a good amount of pace far faster than I would've otherwise.
At the end of it all, I could rest knowing I'd truly digested some of the finer points of driving this car—enough to feel fairly comfortable talking about it and determining whether it was for me. In other words, a conclusive opinion on the challenging, sometimes snappy, and always rewarding Spec MX-5. To get that in such a short span of time is unusual, and I only hope Mazda gives more students of the sport a chance to sample one.