Numerous new racers and shops are gearing up to join the many returning to this year's Spec MX-5 Challenge presented by Toyo Tires racers. With a focus on pro tracks, this year's Spec MX-5 Challenge 17-event season is shaping up to be the best yet.
In this spirit, Spec MX-5 Challenge is excited to announce Alex Bertagnoli is transitioning from a part-time 2021 SMX racer into a full-time competitor in 2022 expected to vie for the overall championship and unseat reigning champion Matt Fassnacht.
Bringing 14 years of karting experience and four national championships to the SMX, Bertagnoli will return with Advanced Autosports for seven events.
"I am going to do everything I can to make the championship happen," Bertagnoli reflects. "I am doing everything possible to mentally prepare for the season. My confidence is higher than it has ever been, I am super excited."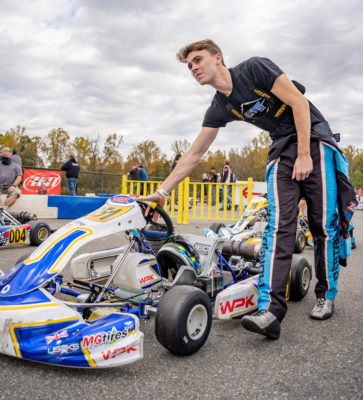 Bertagnoli's love for racing started at five. His father, a former Superbike racer, brought him to Mid Michigan Raceway Park and offered him a day of karting. In a moment, Bertagnoli was hooked. From there, hobby turned to obsession. Bertagnoli was fast and wanted to compete. Eventually, he began karting at the Regional and National levels finding great success.
After applying and competing in the 2020 Mazda Spec MX-5 Shootout, Bertagnoli began to connect with different members of the Spec MX-5 Challenge community, learning he had a knack for the cars. In 2021, that knack came to fruition as he competed in three SMX event weekends with Advanced Autosports. Following four top-ten finishes and two wins it became clear that a full run in 2022 with a championship in his sights would be possible.
"They [Advanced Autosports] have similar personalities to me, making for such an easy transition to Spec MX-5 Challenge and I wouldn't want to run with anyone else," Bertagnoli commented.
Apart from his goal of the championship, Bertagnoli hopes that a successful run in 2022 brings him closer to reaching Idemitsu Mazda MX-5 Cup presented by BFGoodrich® Tires and the top-levels of motorsport.
To prepare for the season, Bertagnoli spends his days training on the simulator, while coaching up-and-coming karters and viewing countless in-car videos to help him learn race-craft. With his racing career, Bertagnoli balances a full course load as a sophomore in college, often thinking of his first days at Mid Michigan Raceway Park as a constant reminder to why he works so hard.
Expect to see Bertagnoli competing in both the National and Regional options for the 2022 Spec MX-5 Challenge season.
###
Spec MX-5 Challenge: Is THE Driver Development Series for amateur racing. The third generation MX-5., coming just after the Spec Miata and prior to the MX-5 Cup cars, Spec MX-5 Challenge offers a variety of competitions to appeal to diverse needs and to support driver development from karters to novices to masters to pros. Spec MX-5 Challenge also offers a National Championship with $65,000 in prize money.