In October of 2021, Mazda announced five scholarship winners from its two Shootouts held at Sebring International Raceway.  Today, we share a little more about Westin Workman.
Westin Workman, "I was not chosen previously (as one of the Mazda club racing factory drivers at the 2020 Spec MX-5 Shootout), but I knew where I needed to improve. Over the past year, I have been working to better myself off the track because to succeed in the racing industry, you must bring value. I was fortunate enough for Mazda Motorsports to invite me back for 2021," Workman recalls on social media (October 2021). "They noticed my off-track improvements and on-track consistency. I am proud to announce that I am now a Factory Spec MX-5 driver for Mazda Motorsports along with Nate Cicero," Workman continued.
Workman and fellow shootout winner Nate Cicero will join Advanced Autosports for a National run in 2022. They will compete at VIRginia International Raceway, Mid-Ohio Sports Car Course, Road America and Daytona International Speedway in the national series, and then compete at the championship event that has an additional $65,000 in scholarship money up for grabs
"It has been wonderful getting to meet Westin," Spec MX-5 Challenge series manager Anna Osburn commented. "Humble and passionate, I see how committed he is to getting the most out of this experience. I look forward to seeing the success that will inevitably follow him throughout his career."
A love for racing came early for Workman; his father taking him to tracks at seven years old now offers Workman a vast resume at age 17.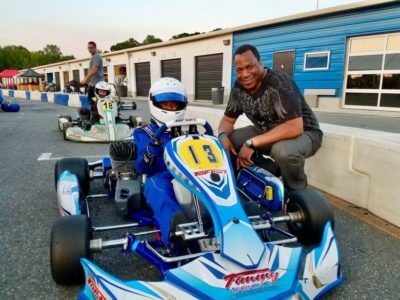 Significant Karting Achievements
2021: Won World Karting Association Manufacturers Cup National Championship F100 Sr (100cc)
2021: Top 10 United States Pro Karting Series Championship in rookie year as Senior (X30)
2020: 1st ROK Fest East (Team USA Qualifier – ROK Superfinal)
2020: 2nd Rotax Max Grand Nationals (Team USA Qualifier – Rotax Grand Finals)
2020: 3rd United States Pro Karting Series Championship
In addition to the Mazda scholarship, Workman was rewarded a fourth-place scholarship at the Lucas Oil shootout event, which enables him to compete in Formula Cars in 2022.
Beyond racing accolades, Workman finds success in the classroom. As a high school Junior, Workman maintains a perfect 4.0 GPA whilst taking Honors AP and International Baccalaureate classes.
Catch Workman on track for the National option opener March 18-20, at VIRginia International Raceway.
###
Spec MX-5 Challenge: Is THE Driver Development Series for amateur racing. The third generation MX-5., coming just after the Spec Miata and prior to the MX-5 Cup cars, Spec MX-5 Challenge offers a variety of competitions to appeal to diverse needs and to support driver development from karters to novices to masters to pros. Spec MX-5 Challenge also offers a National Championship with $65,000 in prize money.
Mazda Motorsports: Mazda Motorsports is responsible for all auto racing initiatives within the North American market. From promoting and servicing grassroots racers, to developing the open-wheel and sports car drivers of the future, to competing in the top-tier of North American endurance sports car racing, Mazda Motorsports oversees one of the largest and most diverse racing programs anywhere. Our mission is to ensure that anyone who wishes to race a Mazda at any level has the support they need to be competitive. Through our Mazda Team Program membership, Mazda racers have access to parts at discount, technical support, and can earn a variety of contingency awards and scholarships as well as benefit from at-track support at many events around the country.