World karting champion chooses Mazda, which promptly awards him with a $110,000-valued scholarship
His trophy cabinet is already filled to the rafters, but Connor Zilisch will probably just build an extension or two to make room for the incoming flood of hardware. Between regular karting events and his burgeoning sports car career, he's received many times his own body weight in hardware, and of late, a big scholarship check from Mazda. It certainly appears that professional sports car racing's next prodigy has arrived.
Chatting with Connor, you get the sense you're talking to a confident young man in his late twenties or early thirties—not somebody partway through high school. Perhaps he has that air of maturity because he's been racing nearly eleven years and succeeded at every step along the way. That sort of reassurance and intimate knowledge of the racing world takes time to acquire on most paths in life, but Connor's path has been lined with laurels and metal cups, and maybe they help a young man find his serenity a little sooner.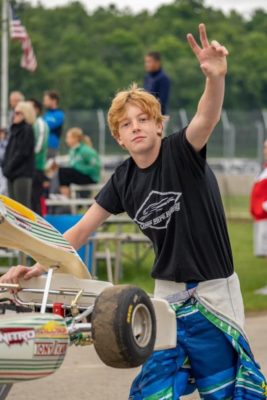 Being unusually astute for a fifteen-year-old has undoubtedly helped him along his rapid rise, and so did being in the right hands at the right time. His father Jim sold his Corvette to buy a few karts for his three sons, and after witnessing Connor's unusual level of drive, his father did what he could to help.
Within just a couple years, Connor had moved into a pack-leading position in most of the serious karting organizations: FIA, SKUSA, ROK, USPKS, and WKA. Alternating between 125cc X30 and 125cc OKJ for his American and European efforts, respectively, along with a smattering of ROK 125cc races on both sides of the pond, he's made quite a name for himself with karting successes that few Americans can match.
In 2017, he beat 163 drivers from 30 different countries to become the second American to the ROK World Championship; the only other American being current F2 driver Logan Sargeant. Connor also enjoys the distinction of being the first and only American to win the CIK FIA Academy Trophy, which he did in 2020.
Understandably, karting is something he swears by. Even when his schedule got more complicated this past year, he didn't stop progressing up the karting ladder. In 2021, Connor moved up to senior division in ROK and X30 with SKUSA and USPKS. His streak of at least one win every weekend was unheard of—juniors never enjoy those results when first fighting among the seniors. With a record like that, Connor and his dad had to start contemplating how to grasp the next rung of the racing ladder.
The Natural Next Step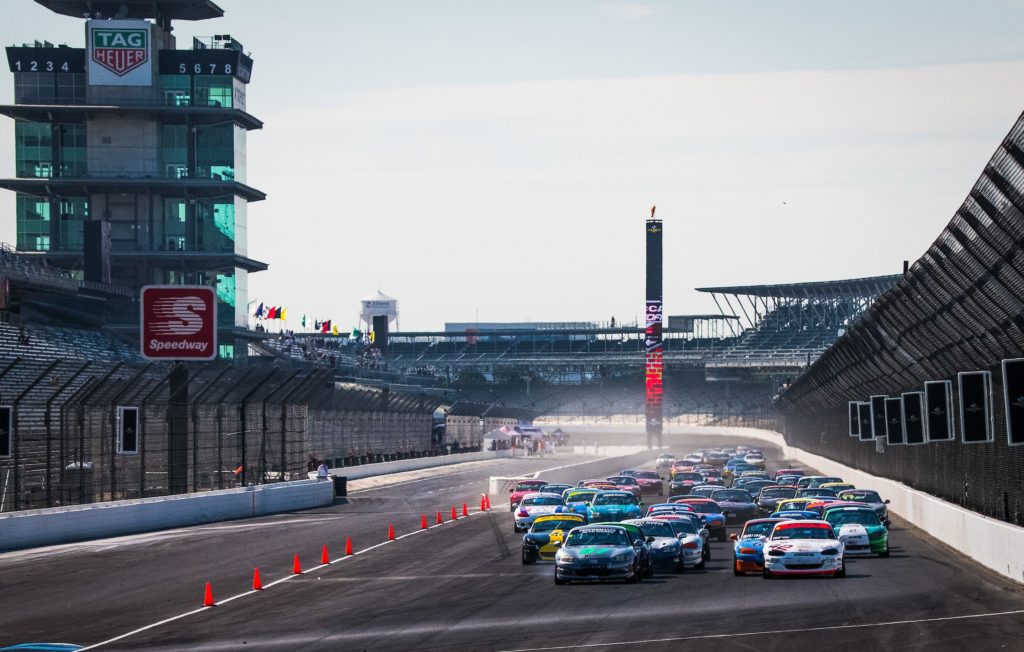 "We'd taken a look at formula cars, but it's not the most cost-effective path out there," said Connor. "Nowadays, you're not going to drive in Formula 1 without a billionaire for a dad. Even in INDYCAR, half of the field pays to play. Formula cars were pretty much unattainable for us, but that was OK. I was always more interested in the extremely close racing you get with sports cars," he admitted. "Plus, there's more of a chance for a professional career in something with fenders."
Coincidentally, the Zilisch family had already acquired one sports car at that point. Connor's brother had tried his hand at Spec Miata before hanging up his helmet and going off to college, and Connor saw an opportunity in that second generation (NB) Miata gathering cobwebs in the corner of their garage.
 "I really think there's no better sports car for beginners (than the Miata)," he declared.
Connor got his start in full-sized cars by taking the family NB Miata to track days in the Charlotte area, and towards the end of last year, he began racing this car in club events. Money and connections limited his growth at this critical stage, but, fortunately, there were some benefactors out there taking notice of his rapid development.
Connor's outstanding record was sent to Mazda Motorsports via the folks at eKartingNews.com. in response to Mazda's request for qualified candidates for its Spec MX-5 Shootout. From there, things were developing rapidly for the then—fourteen-year-old, who was elated to find himself looked after by one of the last brands to have a real interest in giving young drivers a chance to establish themselves.
His Next Challenge – Spec MX-5 Shootout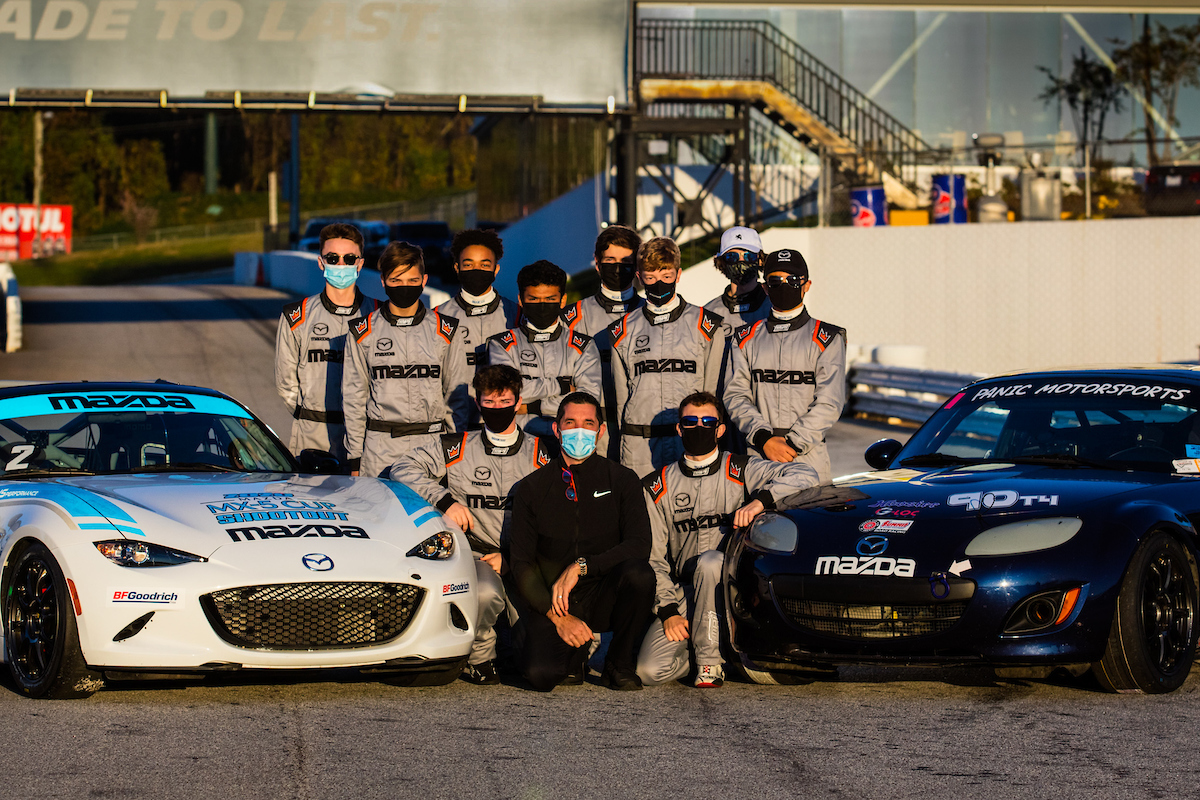 After a few events in the old SM by the end of 2020, Connor tried his hand at a newer form of Miata: the Spec MX-5 (SMX) – based on the third generation (NC) Miata – in the Spec MX-5 Shootout.
The SMX is the rightful successor to the SM. Easy to access, fast, reliable, and great for close racing, it's raised the bar without changing the spirit at all. The driving challenge differs with slightly more horsepower, single-adjustable Penske shocks for a little better driver development (as opposed to non-adjustable shocks in Spec Miata), and an ABS system. The SMX spec, controlled by Mazda, is kept very tight to ensure fair competition and to keep costs from escalating, whereas the spec for SM is controlled by the various sanctioning bodies that it competes under.
While there is significantly more contingency awards available for Spec MX-5 drivers and the majority of the MX-5 Cup Shootout nominees came from the Spec MX-5 Challenge Series presented by Toyo Tires, those who run at the front of Spec Miata or Spec MX-5 will be well prepared for the next step: the Idemistu Mazda MX-5 Cup presented by BFGoodrich® Tires – Mazda's professional sports cars series running the fourth generation (ND) MX-5, sanctioned by IMSA.
If Connor could manage the pressure at the Shootout (pressure has not been an issue for Connor), adapt to the new machinery, and impress the judges at that year's Spec MX-5 Scholarship Shootout, he'd have a season of competitive racing paid for—as well as the backing of a marque which cares about nurturing young talent. With all that on offer, it wasn't hard to decide how to move forward, but figuring out how to wear many hats on top of a perpetually cool head wasn't so simple.
Along with 20 nominees, Connor submitted his written and video applications to Mazda. By the end of the week, he and nine other nominees were informed they'd been selected as finalists to compete at the two-day Shootout. Soon after, he packed his bags and made the trek south to Michelin Raceway Road Atlanta. Throughout the two days, they were interviewed by the judges on matters such as value creation (for sponsors/partners), driving acumen, and their impressions of the car. When the drivers weren't chatting with the judges and Mazda representatives, they were learning the intricacies of the Spec MX-5.
A little more power made learning the Spec MX-5 fun, which Connor was able to get on top of it quickly on track. Off track, Connor's maturity and presentability had won over the judges. Approaching end of day two, it was looking very promising for Connor. Many expected him to be named as one of the Mazda club racing factory drivers.
In Connor's last on-track 18-min session of the Shootout, a rare mistake was made. Connor put the car in the wall, ending his chances at the prize. "During the last session that day, I misshifted into Turn 1—and then I was on the grass. After you make a mistake in Turn 1, it's pretty tough avoiding the wall," he said stoically.
While Connor did not earn one of the two scholarships Mazda awarded from that Shootout— they went to Canadian Alex Berg and American Bryson Morris, Connor's resilience helped quickly bounce back, and perhaps lead Mazda to make a change to its long-standing Shootout policy. (Many may have overlooked that Mazda changed its rule for the following year's Shootout; in 2021, if you hit the wall during the Shootout, you were not necessarily eliminated from winning a scholarship as you were in all Mazda's previous Shootouts – a clear tribute by Mazda to Connor's talent level.)
Spec MX-5 Challenge Series & Spec Miata 2021
Connor hadn't given up on the idea of a big-time sports car career. Thanks to some of the connections he'd made at the Spec MX-5 Shootout, he was soon receiving letters encouraging him to try his luck in the Spec MX-5 Challenge Series presented by Toyo Tires. His dad recognized that doors could be opened by campaigning the Spec MX-5—namely the way Spec MX-5 standouts get a shot at another step on the Mazda racing ladder—and so they picked one up for themselves.
Over the twelve months following the first Mazda Shootout, Connor demonstrated his ability in twelve events between Spec Miata and Spec MX-5. His results here were good enough to win him an invitation to another, more prestigious Mazda Shootout: the 2021 MX-5 Cup Shootout. This would put him in contention for an even greater prize than the last: a $110,000 scholarship towards a season in MX-5 Cup, which also offered two additional scholarships, each worth $75,000.
MX-5 Cup Shootout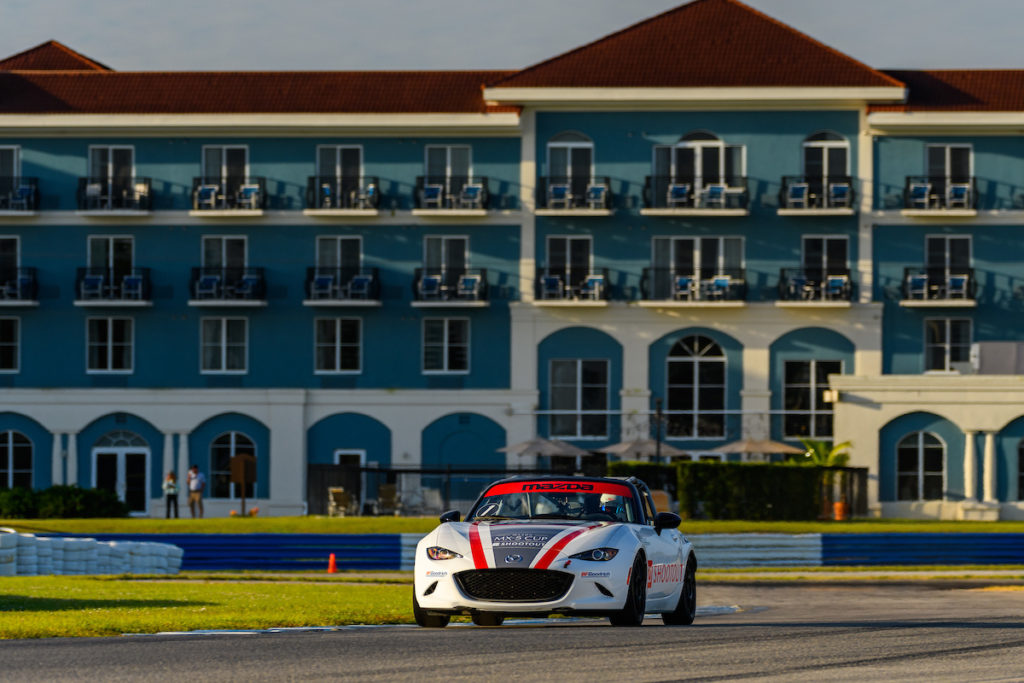 After submitting a brief video summarizing his racing accomplishments and efforts off track to sustain a long pro racing career, Connor was selected as an MX-5 Cup Shootout finalist, and booked a flight to Florida.
Over two days at Sebring International Raceway, Connor and eleven other competitors demonstrated their abilities over six sessions on a truncated version of the track which omitted Turns 1 and 17—the two biggest car-breakers.
But like any Mazda Shootout, the on-track portion wasn't the only way in which the drivers would be evaluated. It is a question of speed, the ability to consume data, understand vehicle dynamics, as well as effort to create value for partners, communication skills, and marketability – all the requirements to sustain a long-term, paid career in racing.
The MX-5 Cup judging panel consisted of Mazda Senior Manager, Brand, Entertainment, and Sponsorships Chris Hill; Mazda Motorsports Program Manager Jonathan Applegate; Motorsport Marketing Manager for BFGoodrich® Tires and Michelin Pete Calhoun; professional racers Tom Long and Andrew Carbonell; and Manager of Mazda Motorsports Business Development David Cook.
"The people I met and the friendships I made were truly the best part of the Shootout. It was great that we were all so supportive of each other, even with competition and the possibility that this could change our lives. That camaraderie is something I'll treasure for a long time," Connor recalled.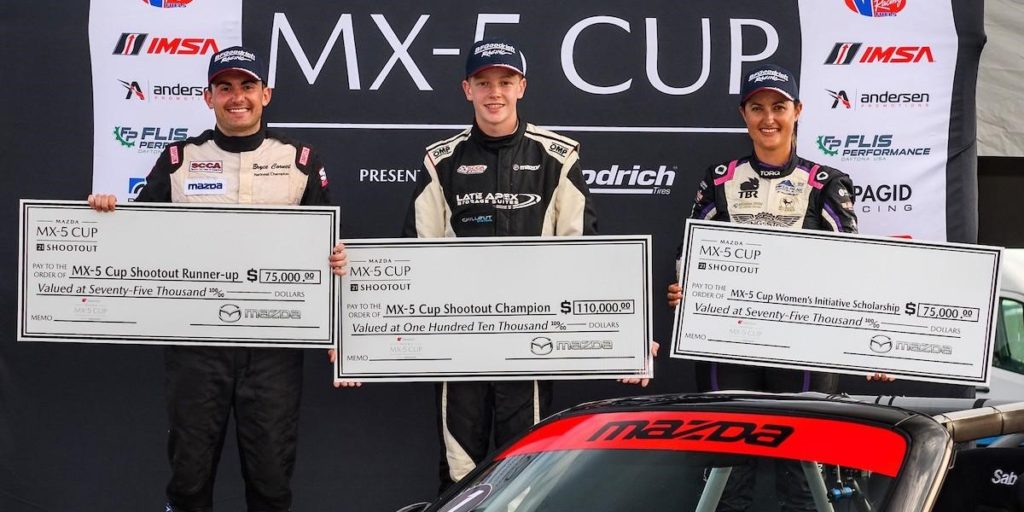 After the two-day Shootout, taking all the criteria into consideration, the judges handed the big check to Connor. In their eyes, he was simply the best-rounded of the entrants, even if he wasn't the fastest overall during these two days.
Along with Connor on the podium stood Bryce Cornet and Laura Hayes, each taking home a $75,000 scholarship. (Note: In 2020, Mazda established two additional scholarships – one of which guaranteed the top woman earned a scholarship as part of Mazda's effort to attract and retain the top women talent in sports cars.)
MX-5 Cup Pro Debut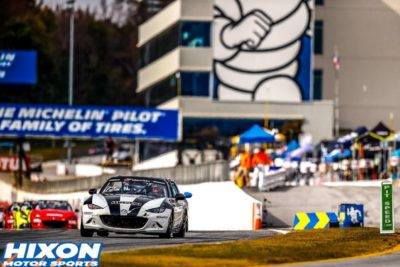 It wasn't long after the ceremony concluded that Connor was planning the next step. He used all of his steely composure to make the leap into IMSA competition—and no ordinary event, either. When the event is something as competitive and respected as Petit Le Mans, some folks buckle under the pressure, but Connor's toughness, combined with the support of Hixon Motorsport, meant he was in good stead for his first full race in an MX-5 Cup.
Though it was Connor's first MX-5 Cup race, Road Atlanta was site to the finale for the 2021 championship, where battles for the championship and its $250,000 prize and Rookie-of-the-Year and its $80,000 scholarship were hotly contested.
During his pro debut in MX-5 Cup, Connor showed his speed, but also had a learning experience. While running in second, a big drift over the curbs in Turn 5 damaged his car, which resulted in a DNF. His resiliency tested once again, when Connor returned for the second and final MX-5 Cup race of the event, he played it slightly more conservatively, bringing home his MX-5 in a very impressive fifth, putting the entire series on notice for 2022.
Considering the caliber of the competition throughout Connor's career thus far, the often new race cars and tracks, for such as young driver, Connor's career has been unusually distinguished.
In 2022, and now in a professional category with some of the closest competition in all of road racing, Connor will yet again find himself in high-pressure situations. But with his talent and resilience, as well as the support of a brand which cares about real talent getting their shot, great things are on the horizon for this prodigy.